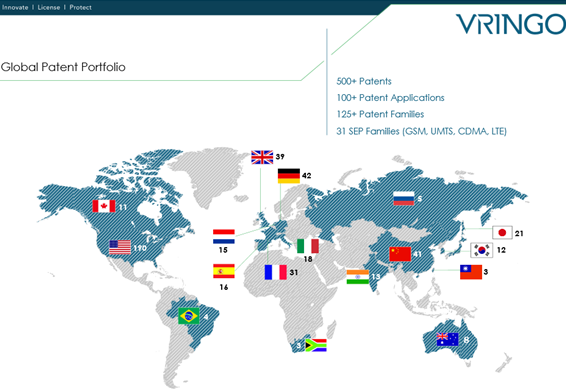 On May 8, 2014, Vringo Inc. (VRNG), a company engaged in the innovation, development and monetization of intellectual property ("IP"), announced its first quarter earnings results, or the lack thereof.
Anybody who has been following the Vringo story knew very well that there wasn't likely going to be anything out of the ordinary when the Company reported its first quarter earnings.
With litigation against Google (NASDAQ:GOOG), ZTE (OTCPK:ZTCOY), etc., still ongoing, and an agreement with Tyco (NYSE:TYC) at the end of April, there was not much of any kind of revenue to report for the quarter ending on March 31, 2014. Luckily, for investors, that should all start to change over the upcoming quarters as the cash finally starts hitting the Vringo books.
Vringo Q1 Key Takeaways
1) Infomedia Services Ltd. - On February 18, 2014, Vringo officially closed the sale of its mobile social application business to Infomedia in exchange for an equity stake of 8.25%. In addition, Andrew Perlman, Chief Executive Officer of Vringo, will share his wisdom as a member of Infomedia's Board of Directors.
2) ADT/Tyco Confidential Agreements - On September 12, 2013, Vringo filed a patent infringement lawsuit against ADT (NYSE:ADT), and TYCO in the United States District Court for the Southern District of Florida. Then on January 15, 2014, Vringo filed a patent infringement lawsuit against TYCO in the Regional Court of Mannheim, Germany.
Four months later, Vringo was able to enter into a confidential agreement with ADT (January 28, 2014), which resolved all pending litigation between both parties. Then on April 28, 2014, Vringo added Tyco to the confidential agreement list as the parties entered into an agreement, which also resolved all pending litigation between both parties.
3) More Injunctions Placed On ZTE - On April 14, 2014, Vringo filed a patent infringement lawsuit in the 5th Trial Court of Rio de Janeiro State Court in Brazil, alleging infringement of a Brazilian patent related to 3G/4G/LTE infrastructure. On April 15, the court granted an ex-parte preliminary injunction restraining ZTE from manufacturing, using, selling, installing, testing, or importing such infrastructure equipment, subject to a fine. To enforce the injunction, Vringo posted a bond of approximately $900K on April 17, 2014.
Not to be outdone in South America, Vringo, on May 5, 2014, paid a bond of approximately $1.4M in Germany in order to enforce another injunction against ZTE. In case you haven't already noticed by now, Vringo is squeezing ZTE from every continent and corner of the earth. At this rate, ZTE will not have much of a choice but to either accept Vringo's offer or be severely limited in what it can and cannot do as injunctions continue to pile up against them.
4) Cash Is King - Looking at the current cash situation is always a top priority for shareholders investing in any type of company. However, because Vringo does not have an established underlying revenue stream, the cash burn rate can quickly add up thanks to those pesky lawyer fees. This is why added attention is given to Vringo's current cash situation every quarter.
As of March 31, 2014, Vringo had approximately $27.8M in cash, down from $33.6M just three months ago. In the earnings release, management stated that they expect their funds will be sufficient to support the Company's current operations and allow timely execution of its current business plans.
Is A Secondary Offering On The Way?
While many believe the Company will be able to operate through 2015 without budgeting for a significant revenue event, expecting and delivering are two very different things. Shareholders have already felt the pains of dilution back in 2012 and another round could very well be on the way.
So with that, I wanted to take a look at Vringo's current cash burn rate and to see how far the Company could actually go before they would need to raise some additional funds. The table below shows Vringo's burn rate over the last seven quarters.
As we can see, Vringo's cash burn rate has never been quite consistent, averaging anywhere from $3.1M to $7.4M per quarter. After crunching the numbers, Vringo's average cash burn rate comes out to $5.3M per quarter. This figure actually comes in line with management's vision through 2014.
During the fourth quarter earnings report in March, management stated that they expect the $2M per month burn rate to decrease in 2014. With Tyco and ADT out of the litigation picture now, I believe Vringo's burn rate will drop down to $1.5M-$1.6M per month. At this rate, Vringo would be going through $4.5M a quarter, or $18M for the year.
However, after seeing Vringo put up significant amounts of cash to enforce injunctions against ZTE in Germany and Brazil, next quarter's burn rate could very well be up in the $6-$7M range.
So with $27.8M of cash left in the bank, Vringo would be able to last five quarters before they would eventually go bankrupt. Of course, any company wouldn't wait that long to raise additional funds, but you get the idea here. Based on Vringo's history of raising additional funds and what they have accomplished so far, raising those funds likely won't be a problem at all.
Conclusion
Based on Vringo's trading actions the last couple of weeks, the market seems to be pricing in another secondary offering. At the same time, that wasn't the only reason why shares have sharply sold off since then.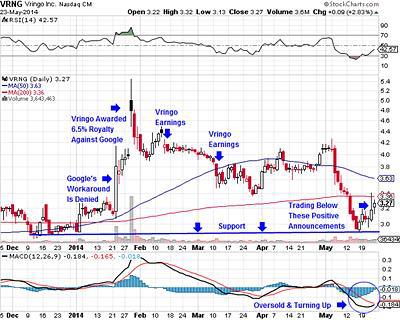 On May 6, 2014, Vringo and Google squared off once again. The only difference this time was that it was in front of a three-judge panel of the U.S. Court of Appeals. The purpose for the meeting was for oral arguments to be made by both sides concerning only the verdict and not subsequent court rulings that have been made (e.g., Google's attempt at a workaround).
While Google wants the entire verdict thrown out, Vringo is looking for a bigger piece of the damages pie as Judge Jackson, a federal judge of the United States District Court for the Eastern District of Virginia, limited the period from which damages could be collected.
After a quick hearing (30 minutes), reports from various news outlets quickly surfaced with their views on what took place. Like usual, Bloomberg seemed to be more interested in creating news instead of fairly reporting it. Based on the tone and the way the report was crafted, implied that Google came away with the upper hand during oral arguments and that Vringo was in some kind of dire trouble.
This of course caused shares to slide more than 10% in just a matter of minutes and unfortunately, for longs, shares have not been able to recover since. My question for investors is what did you really expect to happen during oral arguments? A settlement to come about?
It's not rocket science that Google was doing everything in its powers to get off the hook for infringing Vringo's patents. This is a billion dollar case after all. While Google's tactics are nothing new for investors who have been following the case closely, the recent drop in share price does provide another wonderful opportunity to buy on very oversold conditions.
While Vringo could very well do a secondary for any number of reasons, I doubt they will do so because of these reasons:
First, if Vringo was going to do a secondary offering, they would have likely already done so when shares were trading in the $4 - $5 range. Because they have not already done so, tells me that they are confident in the cash situation and that past and pending deals will give them enough firepower going forward.
Second, management is well aware of the Company's cash position and understands what lies ahead of them If management feels they can operate through 2015 without budgeting for a significant revenue event, they are more than likely right. Nobody knows more about the company than management, and betting against them hasn't been the wisest thing to do, just ask Google.
Thirdly, On April 28, 2014, Vringo announced that its hearing against ZTE, which was scheduled to take place on April 30, 2014 at the Mannheim Regional Court, has been postponed by mutual agreement of the parties. This mutual agreement has fueled speculation that ZTE will more than likely sign a global licensing agreement with Vringo. If this is indeed the case, Vringo would have no reason to raise funds with the hundreds of millions of dollars that would be rolling in from ZTE. The terms of that agreement can be found here as well as below.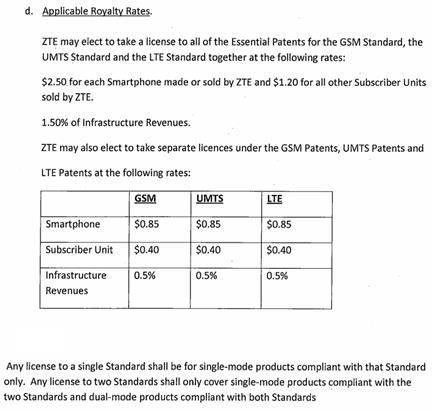 Lastly, with confidential agreements with ADT and Tyco already in place, not only are litigation costs now dropped, but revenues will start to hit Vringo's bottom line. While nobody knows for sure what the exact details of these confidential agreements are, if management believes they can operate through 2015 with budgeting for a significant revenue event, these deals in all likelihood must be of significant/decent value.
Add the fact that Google could very well come to the table with an agreement, and Vringo would go from being cash poor, to cash king. These are some of the reasons why I believe that a secondary offering will most likely not come to pass. Of course, things could quickly change, but based on what has transpired so far, Vringo looks well positioned right now.
As always, I'm providing you with my track record and other particular stocks that I recommend. The link provided will show you all of my picks, how they have fared, and where I think they will be going in the near future. I think you will find my track record to be very impressive and useful.
Disclaimer: Investors are always reminded that before making any investment, you should do your own proper due diligence on any stock mentioned in this article. On that note, have a great day and as always, I look forward to hearing your thoughts or questions that you might have.
Disclosure: I am long VRNG. I wrote this article myself, and it expresses my own opinions. I am not receiving compensation for it (other than from Seeking Alpha). I have no business relationship with any company whose stock is mentioned in this article.
Editor's Note: This article discusses one or more securities that do not trade on a major U.S. exchange. Please be aware of the risks associated with these stocks.