Samsung Meets With Another Legal Challenge From Apple
In a recent jury verdict, Samsung Electronics Company (OTC:SSNLF) was ordered to pay Apple Inc. (NASDAQ:AAPL) $120 million for patent infringement on three of its patents. The May 2 verdict handed down by a jury of eight and administered by U.S. District Judge Lucy Koh was only a fraction of the $2.2 billion Apple was seeking.
In connection with the verdict, Apple on May 23 made an additional request of Judge Koh to have nine Samsung devices barred from being made available for sale. Such a request, while not unexpected, is largely perfunctory and unlikely to be granted. The same judge in a 2012 patent infringement verdict won by Apple against Samsung twice denied a request by Apple to bar sales of Samsung's products, which were found to infringe on Apple's patent in both design and feature aspects.
Samsung Sees Apple's Claims As Grossly Exaggerated
Samsung spokesman Adam Yates, after learning of Apple's request to bar sales of its products, said in an email statement, "After the jury rejected Apple's grossly exaggerated damages claim, Apple is once again leaning on the court to push other smartphones out of the market. If granted, this would stifle fair competition and limit choice for American consumers."
Included in the list of nine Samsung devices Apple is seeking sales to be barred are Galaxy 2, Galaxy S2 Epic 4G Touch, Galaxy S2 Skyrocket, and Galaxy S3. Samsung's newest smartphones, the Galaxy S4 and Galaxy S5, were not involved in the litigation. Samsung is banking on the Galaxy S5 to compete head-to-head with Apple's latest iPhone offering for high-end consumer smartphone sales.
Post-Resolution With Google, Apple Turns To Samsung
This verdict comes on the heels of a May 17 agreement by Apple and Google Inc. (NASDAQ:GOOG) (NASDAQ:GOOGL) to end its legal battles over Google's Motorola Mobility handset unit and focus on patent legislation reform.
While the agreement is positive for Apple and Google, it is likely to be a negative development for Samsung as many believe Apple will double down its efforts in patent infringement suits against them. It certainly appears to be doing so at present.
Even though both companies stated after the verdict that ending their patent infringement battles would be pursued, each company stated that the other had taken positions that make an amicable agreement outside of court a difficult proposition.
Apple's Efforts Won't Likely Stop Samsung: Investors Should Maintain Positions
It's no secret that Apple is focused on reducing Samsung's lead in the global smartphone arena. According to Strategy Analytics, Samsung holds 31 percent of global smartphone shipments as of the first quarter 2014, while Apple's share is only 15 percent. The figure below depicts similar figures.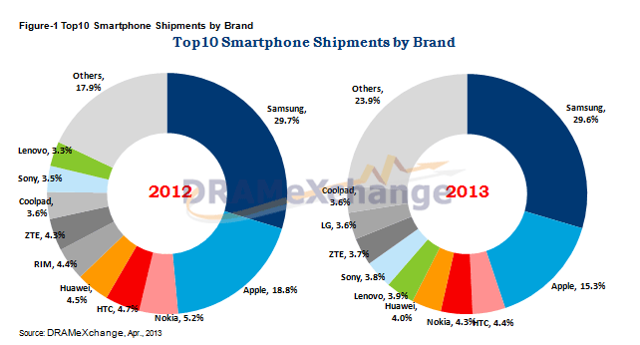 (Source)
Apple's patent infringement lawsuits and requests for Samsung products to be barred from sale are clear evidence of this focus.
Recently, some analysts have cited reasons to worry that the mighty Apple machine may have reached a plateau. Given Samsung's double-digit lead in the global smartphone shipment arena, and its appetite for innovation leading to hundreds of new patents and products, the concern is legitimate.
Given Samsung's decentralized, flexible corporate structure and success in bringing new products to market in an efficient, profitable manner, it is unlikely investors will see a strong dent in Samsung's ability to perform, based on Apple's efforts.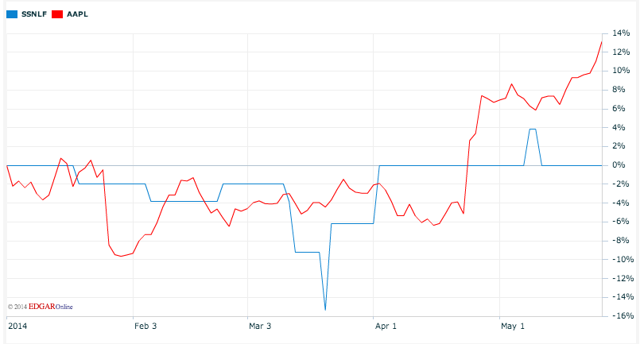 (Nasdaq.com)
We reiterate our positive stance on Samsung in 2014.
We invite readers wishing to join the conversation on Apple and Samsung to click the +FOLLOW button above the title of this article and follow @DRDInvestments on twitter.
Disclosure: I have no positions in any stocks mentioned, and no plans to initiate any positions within the next 72 hours. I wrote this article myself, and it expresses my own opinions. I am not receiving compensation for it (other than from Seeking Alpha). I have no business relationship with any company whose stock is mentioned in this article.
Editor's Note: This article discusses one or more securities that do not trade on a major U.S. exchange. Please be aware of the risks associated with these stocks.