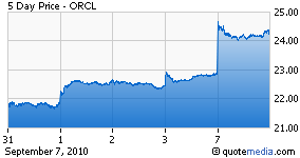 Former HP (NYSE:HPQ) CEO Mark Hurd joined database manager Oracle (NASDAQ:ORCL) today. Hurd will be the co-president of the tech giant. There will be rumors and chatter that Ellison is looking to step aside at Oracle. I doubt that a man of Ellison's competitiveness and ego would step aside anytime soon.
The move is a stroke of genius for Oracle CEO Larry Ellison. Hurd brings years of experience in the tech sector to Oracle and can help Oracle with its most recent underperforming acquisition.
Sun Microsystems is a smaller player but is a direct competitor to HP. Oracle bought Sun Microsystems for $7.4 billion dollars earlier in the year. Sun Micro sells computer hardware, software, and information technology services. It will be interesting to see what Hurd can do with Sun Micro.
I am surprised that Hewlett-Packard did not place a non-compete clause in Hurd's contract. Most technology companies make executives signs contracts agreeing not to compete in the same industry for a number of years. A freshly fired Hurd may have access to sensitive HP information that has helped make HP the number one seller of computers in the United States.
Disclosure: No positions