DaVita (NYSE:DVA) has been publicly traded since the mid '90s, but its stock did not perform well initially. Shares hit an all-time low of about 90 cents in March 2000 before taking off for 7600% cumulative gains or 36.3% annually over the next 14 years.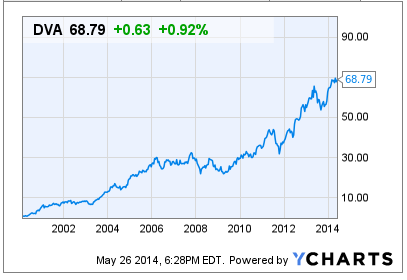 The company name means 'giving life' in Italian, and DaVita stock has certainly done just that for its stockholders in the past 14 years, but will it continue to perform so well?
In a prior article, I detailed why and how I would begin performing one hour of preliminary research on potential investments with an emphasis on reasons not to invest before delving any further into the idea. In this article, I will organize my findings on DaVita.
Competitive Position
71% of the US dialysis market is controlled between DaVita and Fresenius Medical Care (OTCPK:FMCQF), and DaVita has almost exactly half of that with 35% share in US outpatient dialysis. It may be the closest thing to a complete duopoly I have observed in US commerce. This is excellent for both businesses. DaVita and Fresenius do compete, but seem to have a rather friendly business relationship. In addition to providing outpatient and in-home dialysis care, unlike DaVita, Fresenius also manufactures and distributes medical devices and supplies for dialysis care. DaVita purchases much of its devices and supplies from Fresenius. DaVita seems to have embraced the consolidation strategy as it continues to supplement organic growth with acquisitions of existing dialysis clinics. This is typically the favorable make or buy decision for DaVita because new clinics take a while to ramp, require regulatory approvals, and expensive equipment purchases and initial working capital. However, this also increases the company's bargaining power with suppliers, insurance companies, and the US government.
I also really like that DaVita offers a very necessary service that there are few (and often no) alternatives for. For those with ESRD, a kidney transplant is usually favorable, but transplants are very expensive and often the organ is unavailable. In that case, the patient either chooses dialysis or a slow and painful death. Treatments are several times a week so it is a recurring revenue business. Good stuff.
90% of the company's patients are in a government program and 79% are enrolled in Medicare. The company breaks even on Medicare business because it pays at such a low rate. Just about all of US Dialysis, profits come from private insurance companies that insure the rest of the company's patients. The insurance companies pay at a much higher rate because they have far less bargaining scale and do not have the power of the US government, but according to DaVita, they have been attempting to band together in negotiations to attain better rates. This is very familiar to me as my largest current holding, Express Scripts (NASDAQ:ESRX) acts as a middleman between insurance companies and pharmaceutical companies to reduce prescription drug costs for the insurance companies. Pharmacy benefit management is ingrained in pharmaceutical commerce in the US and does save insurers money, so I am not surprised that health insurers are pushing to cut claims costs in other areas using this method.
There is also negative pressure on Medicare rates. Originally, substantial drug utilization cuts were to come in 2014-2015. Under the 2014 ESRD (End Stage Renal Disease) Rule, drug utilization cuts of 12% were pushed to 2016-2017. As I understand it, now DaVita's bundled payment rate will instead be updated to market basket minus 1.25% in 2016 and 2017, and market basket minus 1% in 2018. This is a cumulative ~3.5% decrease over the 3 years, far less than the original 12%, but still enough to do damage to the business.
Overall, I have a mixed outlook on the company's competitive position. The company has huge market share and I love the recurring revenue, few alternatives, etc. business model, but pricing pressure on both commercial and Medicare business is really concerning.
Industry Prospects
From the 2013 10-K:
Growth in Medicare spending is expected to continue due to population demographics. According to the U.S. Census Bureau, from 1970 through 2012, the overall U.S. population grew 54% while the number of Medicare enrollees grew by more than 140% over that time period. As an increasing number of the baby boomers become eligible for Medicare, the senior market is expected to be 20% of the total U.S. population by 2050 according to the Congressional Budget Office.
I should also reference my article on Express Scripts in which I point out some healthcare trends that benefit ESRX and DVA alike.
DaVita has had a lot of help from expanding TAM in delivering 36% annual returns to shareholders in the past 14 years and the expanding TAM should continue.
Berkshire Hathaway Ownership
DaVita is Berkshire Hathaway's (NYSE:BRK.A) (NYSE:BRK.B) 10th largest publicly-traded, partial equity holding. Berkshire owns 17.56% of the company, worth $2.6B and has been adding to its stake recently. Buffett did not select the position, however. One of his underlings, Ted Weschler, made the buy decision. Of the funds he manages, it is his largest position by far. The Berkshire stake is still very telling, as Weschler seems to have a very similar style to Buffett. In an interview he said (paraphrase from memory), "I don't know what it will be worth in a year or two years, but believe it will be worth substantially more in 5-10 years than it is worth and trading for now." Sounds eerily like Buffett.
Chart
I derive a great deal of security buying stocks at relative lows. DaVita stock does not look timely at all. It currently trades above all its moving averages, is 30% off its 52-week low, and just 3% off its 52-week high.

(Source: Finviz.com)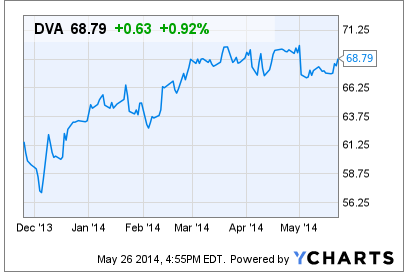 Valuation
The following revised guidance was offered with the company's Q1 results: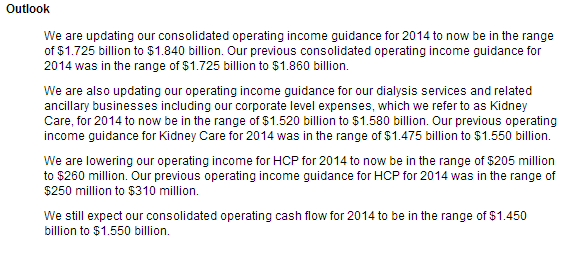 At current quote of $68.79 per share, DaVita trades for:
8.36x 2014 estimated EBIT
14.04x 2014 estimated EBIT after tax
9.93x 2014 estimated operating cash flow
10.62x ttm free cash flow
The company pays no dividend, so these numbers seem to imply per share FCF and earnings growth of 10-12% going forward. In the last 5 years, the company has grown:
EPS 14.2% annually
Net Income 14.8% annually
Operating cash flow 21% annually (however the 2014 guidance implies trailing 5-year growth at the end of the year of 13.56%)
Free cash flow 14.8% annually
The analyst consensus for annual earnings growth in the next 5 years is 10.75% and Value Line's estimates, which were last updated in March, are 12% and 11% for operating cash flow per share and earnings respectively.
In Q1, revenue grew 7.4% Y/Y and operating income declined 5.5% Y/Y ex. loss contingency reserve in 2013. In dialysis, treatments are only growing 6-7% and the company will probably have trouble supplementing that via price increases due to the pricing pressures I previously mentioned. The company's Healthcare Partners business is doing even worse.
So essentially:
history suggests the stock is cheap
analyst and Value Line estimates suggest it is fairly valued
recent performance suggests it is expensive
I tend to think DaVita is cheap but that is far too uncertain a picture for me.
Conclusion
DaVita has delivered handsome returns to its shareholders over the past 14 years, but I am very skeptical that the company will continue to do so. 8-15% returns over the next 5 years are far more realistic, but the uncertainty surrounding those returns is too great for my concentrated portfolio of conviction buys. The company should continue to benefit from TAM growth and industry consolidation, but faces serious pricing pressures from both Medicare and insurance companies. The company is a large Berkshire holding, and I find this meaningful despite it not being selected by Buffett. The stock does not seem timely at all above all moving averages and near its 52-week high. I am moving on for now and setting a price alert at $62.50.
Disclosure: I am long ESRX. I wrote this article myself, and it expresses my own opinions. I am not receiving compensation for it (other than from Seeking Alpha). I have no business relationship with any company whose stock is mentioned in this article.
Editor's Note: This article discusses one or more securities that do not trade on a major U.S. exchange. Please be aware of the risks associated with these stocks.