I have to confess, I'm usually not a big believer in growth stories. Unless one can identify a growth investment in the very early stages, it can be dangerous to buy a stock that has gained mainstream recognition (for those older investors, you still remember the dotcom bubble right?). Occasionally, though, a strong growth company with a convincing business model comes along that warrants attention. In this case, the company is Sirius XM Holdings Inc. (NASDAQ:SIRI), a satellite radio business which generates substantial amounts of free cash flow and adjusted EBITDA.
Recent financial performance
Sirius XM Holdings delivered extremely good financial results for the first quarter of 2014. Revenues increased from $897 million in the first quarter of 2013 to $998 million in the first quarter of 2014, an increase of 11% y-o-y. Subscriber revenues, which account for 85% of total first quarter 2014 revenues, increased 9% y-o-y to $851 million. Operating expenses increased from $650 million last year to $750 million in the most recent quarter (up 15%) and were largely driven by increases in revenue sharing and royalties which increased 32% y-o-y. Increases in cost of services were also responsible as to why Sirius XM Holdings' operating profit remained largely flat y-o-y at $247 million.
Solid subscriber growth
Sirius XM Holdings had 25.8 million subscribers for its service at the end of first quarter 2014, up 6% from 24.4 million in the first quarter of 2013. Based on subscriber numbers, Sirius XM Holdings is about four times bigger than Spotify and more than seven times bigger than Pandora. The chart below highlights the enormous success Sirius XM Holdings had in the past few years in building a subscriber-based broadcasting model.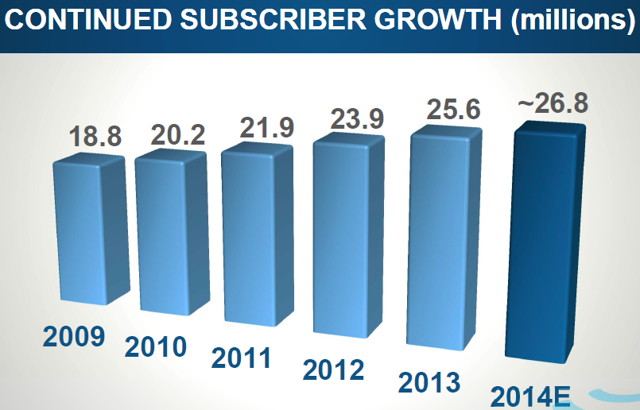 (Source: Sirius XM Annual Stockholder Meeting Presentation, May 19, 2014)
Adjusted EBITDA
It is always a good idea to look at Sirius XM Holdings' adjusted EBITDA since a variety of one-off items affect its business. In the most recent quarter, Sirius XM Holdings reported an adjusted EBITDA of approximately $335 million vs. $262 million in the year-ago quarter (a plus of 28%). While y-o-y adjusted EBITDA growth rates are great, it is also good to put things into perspective. The chart below from Sirius XM Holdings' annual shareholder meeting highlights the massive increase in adjusted EBITDA since 2009. Should Sirius XM Holdings meet its 2014 adjusted EBITDA guidance of $1.38 billion, the satellite radio company will have increased its adjusted EBITDA by almost 200% in as little as six years.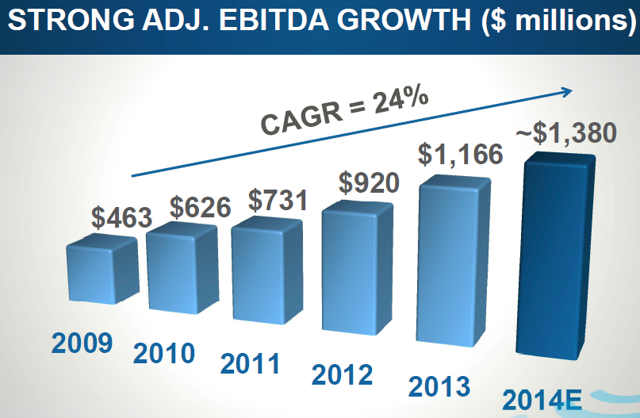 (Source: Sirius XM Annual Stockholder Meeting Presentation, May 19, 2014)
Outstanding free cash flow growth record
Sirius XM Holdings' subscriber growth over the last years has resulted in an explosion of the company's free cash flow. In the first quarter of 2014, Sirius XM Holdings reported free cash flow of $223 million vs. $143 million in the year-ago quarter, a y-o-y increase of a whopping 56% which was almost entirely driven by a 49% increase in its operating cash flow. Putting things into perspective, the chart below highlights Sirius XM Holdings' free cash flow growth over the last six years.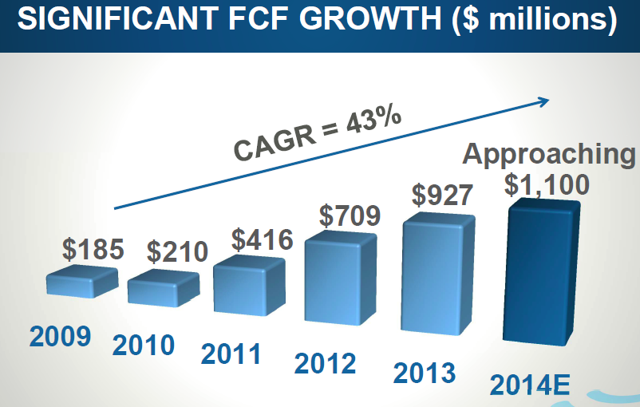 (Source: Sirius XM Annual Stockholder Meeting Presentation, May 19, 2014)
Reaffirmed guidance
As part of its first quarter results release, Sirius XM Holdings has reaffirmed its full-year 2014 outlook with respect to the following key metrics:
Free cash flow somewhere in the neighborhood of $1.1 billion.
Adjusted EBITDA of approximately $1.38 billion.
NSA (net subscriber additions) of about 1.25 million.
Chart situation
After an extended consolidation that drove shares of Sirius XM Holdings down to the low $3s, I think the stock now has found a bottom. Shares of Sirius XM Holdings have repeatedly tried to break through the $3.30 mark and the recent close above this level is definitely a positive sign for shareholders. After testing the lows from April 2013, I think there is a good chance that shares continue to move higher now.
Shares of the satellite radio company have consolidated more than 20% since their 52-week high at $4.18. Buying at 52-week highs is rarely a good move in my opinion and there is nothing wrong with purchasing shares on a decent pullback before shares gather new strength.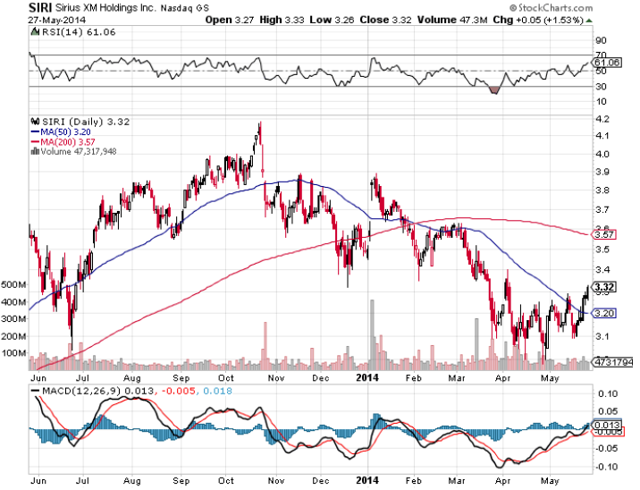 (Source: StockCharts.com)
Final assessment
With very encouraging first quarter results and strong free cash flow and adjusted EBITDA growth and guidance, I continue to be bullish on Sirius XM Holdings. The satellite radio company has one of the strongest free cash flow stories I have ever come across - and that does not only go for the broadcasting business. Sirius XM Holdings has excelled at building a solid subscriber-based business with strong EBITDA margins and outstanding scale advantages. Strong buy.
Disclosure: I am long SIRI. I wrote this article myself, and it expresses my own opinions. I am not receiving compensation for it (other than from Seeking Alpha). I have no business relationship with any company whose stock is mentioned in this article.