There's been a lot of confusion about why Growlife's (OTCPK:PHOT) Q1 2014 10Q report was so bad. The overall numbers look detrimental to PHOT. However, I wish things were that simple. PHOT faces a problem with its nearly depleted bank account. The income statement looks horrific, with a massive loss of -$37.7M on just $2.3M of revenue.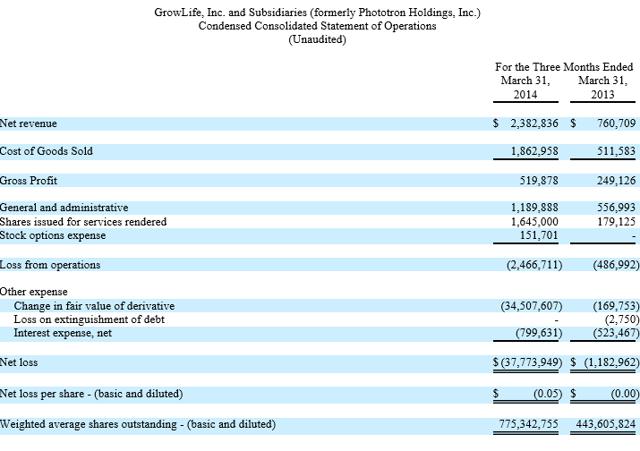 Source: Q1 2014 10Q
On top of all that, share dilution is running wild. In a 1-year period from March 2013 to March 2014, shares went from 443M to 775M. Currently, outstanding shares are over 809M.
PHOT faces 2 problems:
1. Dilution
2. Possible bankruptcy
The problems are very real. Dilution has been extremely high in the past 2 years. Banks are reluctant to offer loans. PHOT has 2 options left, and I'll discuss these below. Let's get into the details to see why investors should take caution when investing in PHOT.
Cash

Source: Q1 2014 10Q
PHOT's cash on hand is $742k, significantly down from $1.8M in December. That's dangerously close to going into the red. It has about $185k in accounts receivable, which is money that would be coming in soon. Regardless of how you look at it, that's under $1M in cash for a company that bleeds more than that in a quarter. To put things in perspective, its COGS were $1.8M, G&A was $1.1M and interest expense was $800k. These expenses far overshadow the revenue of $2.3M. It's only a matter of time before PHOT runs out of cash, unless it does something about it.

Source: Q1 2014 10Q
PHOT did not try to hide this fact. It disclosed this growing concern in its 10Q report. I have no doubt that PHOT will try its best to solve this problem. The biggest concern I have is how and when. Any delay would have high potential of hurting its business expansion, and stagnate growth. Hyper-growth rates are the only thing justifying PHOT's lofty market cap of over $100M

Source: Q1 2014 10Q
Its other cash problem is its bank account. Growlife is having a hard time keeping its bank accounts open. This is not surprising, as most banks are not very friendly with businesses that have anything to do with marijuana. They consider it a risk, because it is still illegal at the Federal level. The banks did not offer an official explanation.

Source: Q1 2014 10Q
PHOT still has options. It can raise capital by finding private lenders and/or continue issuing stocks. Obviously, issuing stocks at these prices will force it to issue more shares than when the price was above 50 cents. Lenders might be hesitant with such a terrible income statement and balance sheet. It doesn't help its case after its stock has recently been halted by the SEC.
"The Commission temporarily suspended trading in the securities of PHOT because of questions that have been raised about the accuracy and adequacy of information in the marketplace and potentially manipulative transactions in PHOT's common stock." Source
Derivative Liabilities
Looking at the overall numbers, all we saw was the massive net loss of over $37M due to derivative liabilities. That's an incredible amount of loss when compared to its $2.3M revenue. All of sudden, the impressive 200%+ growth YoY is underwhelming when you manage to lose more than 10x the revenue you pull in. The company made no attempt to hide that, and disclosed it in its 10Q.

Source: Q1 2014 10Q
On the balance sheet, the derivative liability is $28.4M. This is where I think most investors are confused as to the calculation of this value.

Source: Q1 2014 10Q
This huge liability came from 6 unsecured 7% convertible notes worth $1.85M and issued in 2013. This was calculated using the Black-Scholes-Merton option pricing model. If you want to see the full calculation, you can find it here. I highly suggest using a prepared Excel worksheet or a web calculator. However, I'll show you the easy way to understand it.
The $1.85M of convertible notes can convert its outstanding principal into common shares at a strike price of 2.5 cents.
$1.85M / $0.025 = 74M shares total
On February 28th, the derivative liability was $25.4M for the full 74M shares. The derivative liability is the potential value to the lender. The value to the lender is the liability to the business and shareholders. For shareholders, it means dilution rather than debt. In the contract of this note, the conversion will create dilutive common shares. Regardless of whether it causes dilution or debt, it has to show on the balance sheet as a liability.

Source: Q1 2014 10Q
The simple way to understand this derivative liability is to measure its current value at the time. The current value of the conversion option makes up most of the value of the derivative liability. If you take the number of share and multiply it by the current price per share, then your number will be pretty accurate. Here's an example:
On March 31, the derivative liability is $28.4M, with 50M shares remaining. There are only 50M shares remaining, because $600k worth of outstanding principal was converted into 24M shares in March.
50M x $0.58 (share price on Mar 31) = $29M
$29M is pretty close to the $28.4M calculated by using the full formula with all the other variables. Basically, the overblown net loss in the 10Q was because of PHOT's hyped up share prices in March. However, there's more to note.
The debt conversion into common shares causes volatility and dilution. On March 18th, lenders exercised their option and converted $550k of debt into 22M common shares. The interest was also converted into shares as well at the same strike price of 2.5 cents per share.
The total number of shares converted into common shares for the 7% convertible debt is 24.7M. It is based on a total of $600k of principal plus interest. You can see it below.

Source: Q1 2014 10Q
Look at the result of the share price and volume on March 19th after 22M shares were exercised on March 18th.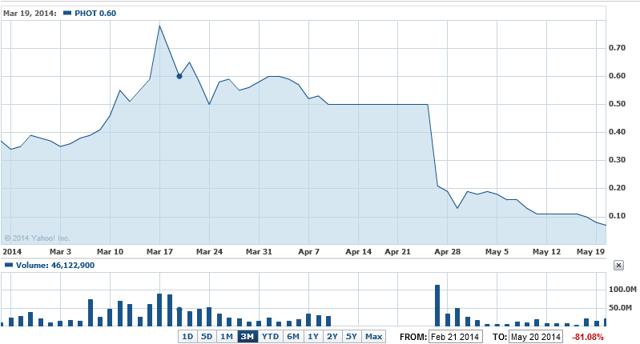 Source: Yahoo Finance
By March 19th, the stock price is down to 60 cents from its 52-week high of 78 cents on March 17th. Coincidence? Maybe, but probably not. Those shares probably made it to the market. That's a smart move by the lender. They paid 2.5c per share, and sold for more than 20x that amount. They've gotten their money back in multiples, and still have $1.25M left in debt plus interest. That's 51,112,280 shares, since both principal and interest can be converted.
How Much More Dilution?
According to PHOT, about 319M additional shares will hit the outstanding share count in the future. It's right there in a simple chart. Do you see the 7% convertible notes I explained above? That's the 50M shares remaining plus interest, if converted.

Source: Q1 2014 10Q
Basically, what we are looking at is over 1.1B shares in the future. This is if PHOT decided not to issue anymore additional shares beyond that. If you say that's not a big deal. Let's look at another company in hyper-growth and compare for reference and perspective. 3D Systems increased its share count by 5.8%, and the stocks dropped 3%.

Source: Seeking Alpha
Just from the conversion of the 7% debt alone, you are seeing over 5% dilution. Imagine the full 319M shares. That's over 25% of dilution. I really don't know how much longer investors will bear the continuously ridiculous rate of dilution.
Insider sales are also ridiculously high. Keep in mind that its executives don't exactly get paid highly. However, they are literally dumping the stock. I know these executives do need money to maintain their lifestyle, but this amount of stock sales isn't insignificant. Its CEO, Sterling Scott, sold well over 10% of his shares in April. That's not something you see everyday in a company.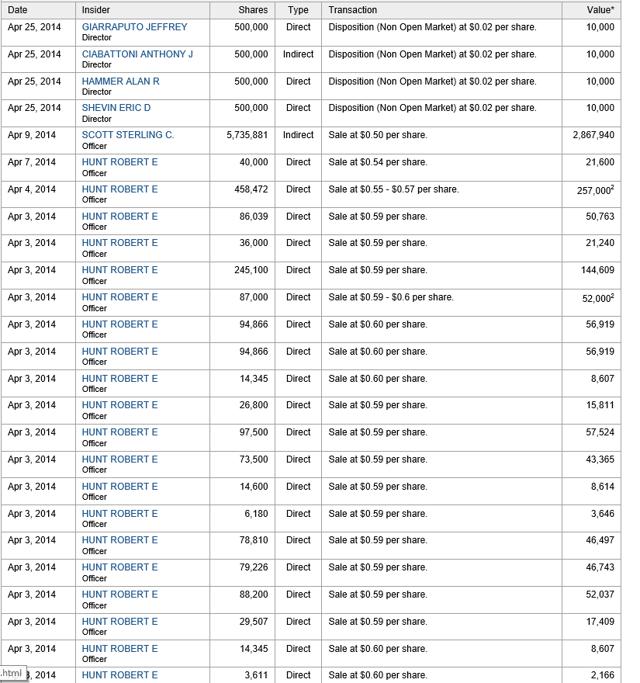 Source: Yahoo
How Can Bankruptcy Happen?
The convertible debt is terrible for shareholders when stock prices are high. If you assume that the lender sold those 24.7M shares at 60 cents average, then it is about $14.8M. That's over 23X in returns from their $600k. But if the lenders keep converting the shares, then PHOT is safe, because it incurs "non-cash" losses. That's the derivative liabilities. It hurts investors due to dilution and rewards lenders. The worst part is there's over 51M shares to go just from the 7% convertible note, and 319M overall.
Let's look at things on the flip side. The conversion price is 2.5 cents per share. If PHOT common stocks dived under 2.5 cents, then the lender would not convert. They would take the cash instead. The lender would exercise their legal right to take the principal and interest in cash. Let's look at PHOT's current income situation.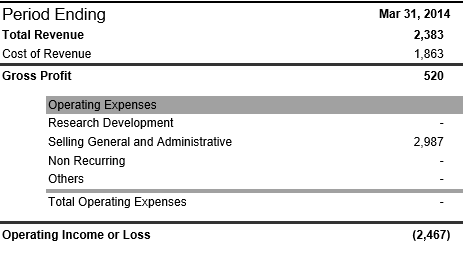 Source: Yahoo Finance
PHOT may have a positive gross profit, but it is still very much net negative, even without counting derivative liabilities. This means it is bleeding cash, and quickly. If the lender wants cash, it is bankruptcy without additional funding from somewhere.
I don't think bankruptcy will happen unless something drastic happened. The lenders don't want PHOT to fall. Most of their notes are still payable. They are making money at the level of payday loans. They can keep lending PHOT money and exploit the low conversion rate. This will work as long as the market is foolish enough to keep pumping up the share price. Why wouldn't they do it? They've converted 1/3 of their $1.85M notes into ~$14M. The longer they keep PHOT afloat, the more money they can make off other investors.
PHOT will be able to find capital and continue operations. However, all its choices will most likely cause massive dilutions, because it's either more convertible debt or more shares issued. PHOT does not have the near-term positive income to pay for a regular loan. It may be able to generate break-even if it stopped expanding. But ceasing expansion would mean stagnating growth. Slow growth would not justify its current market cap of ~$100M. That would send the stock price diving again. If the stock price goes under 2.5 cents, then lenders would ask for cash. Then PHOT could face possible bankruptcy. It's a race where the real winners are the ones selling the stock.
Conclusion
I expect the net loss for Q2 to dramatically decrease, because the stock price fell over 80% from its high of 78 cents. However, I also expect the high rate of dilution to continue. PHOT is cornered financially right now. It's obvious banks are not very friendly, so financing there is more difficult than keeping its bank accounts, something which it has trouble doing. Possibility of bankruptcy is very real. There are only 2 ways PHOT can find financing to continue operations, since expense is much higher than revenue.
1. Issue shares and cause dilution
2. Private lending (probably more convertible debt that causes more dilution)
Currently, it's at over 809M shares outstanding, compared to just 245M in 2012, according to its 10K. Yes, you are not mistaken. Share count increased 3X in just 2 years. There's nothing that suggests that the dilution will cease.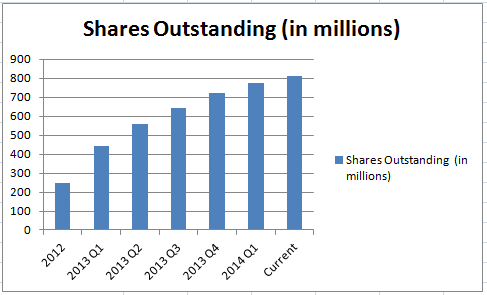 Source: 10Q, 10K, Yahoo
My major concern about the derivative liabilities are the convertible notes itself. The liability part is really on the shareholder. 74M shares are a lot of shares. I understand that PHOT does not have the funds to pay interest and principal. Convertible notes are also very common for start-ups. However, as an investor, I would also be concerned with how much dilution has happened and is continuing. Its current low cash situation negatively affects its ability to find further funding for operations, and I'm only seeing the trend of high dilution continuing in the future. Lenders have a lot of bargaining power with PHOT in this situation.
The one question investors should ask themselves is, "Will growth far outpace dilution to justify the current valuation?" Because if it doesn't, then investors would lose confidence. When investors lose confidence, the debt may be on Growlife instead of investors. PHOT is walking on thin ice trying to keep this delicate balance between dilution, debt and growth. It's going to take a lot of talent to work itself out of this.
I still have a glimmer of hope. Sterling Scott has finally been replaced by Marco Hegyi. I don't exactly agree with the sensational headline "GrowLife, Inc. Restructures Leadership To Drive Major Expansion." Nothing happened besides one person leaving and another taking his position. That's not exactly restructuring leadership.
Mr. Hegyi brings a lot of experience and a successful career as an executive from Microsoft and Yahoo. However, nothing has been released about "Drive Major Expansion." That is as empty as Growlife 2.0 that Sterling Scott kept promoting, but for which no plans materialized. It's promising big, and I hope it delivers. The last thing it needs is another drop in investor confidence sending shares plummeting.
The bottom line being, the current situation has been manifesting itself over the past 2 years. Sterling Scott has been with PHOT for the past 2 years, and resigned as CEO. Investors rallied on this bit of news, sending PHOT shares up 38.8% on May 27th. But the problems still remain intact. PHOT's 7 stores generate about $2.3M in Q1 2014, and expect to take in $10M by year-end.
Revenue of $10M may seem like a lot, but it really isn't. For reference, $10M is the revenue of 4 average McDonald's restaurants. The big difference being the 4 restaurants will bring in about $1M of net income annually, instead of losing money. PHOT's market cap is hovering at $100M. I've never seen a McDonald's restaurant sell anywhere near $25M. Unless PHOT comes up with a huge potential contract for a catalyst, I don't think it can hold its current market cap. With the continuing dilution, share prices will drop, even if market cap remained the same.
I highly recommend PHOT investors to risk only what they can afford to lose. Risks are extremely high. There are better marijuana stocks out there with less financial risks.
The risk/reward ratio is simply not there for PHOT. If share prices rise, you face massive dilution. If share prices fall too far, PHOT faces bankruptcy. The ticking time bomb is how far will dilution go before investors lose their patience. In my opinion, PHOT is a mess financially. The way it issues stocks and works its convertible notes seems unethical to me. That's not good business fundamentals. It should've issued preferred shares. Investors are bearing the most risks and have lost the most money.
Disclosure: I have no positions in any stocks mentioned, and no plans to initiate any positions within the next 72 hours. I wrote this article myself, and it expresses my own opinions. I am not receiving compensation for it (other than from Seeking Alpha). I have no business relationship with any company whose stock is mentioned in this article.
Editor's Note: This article covers one or more stocks trading at less than $1 per share and/or with less than a $100 million market cap. Please be aware of the risks associated with these stocks.