One sure sign that investors should stay away from an investment and allocate funds elsewhere- insider sales. Insiders (board members, executives or early investors) can be expected to know more than the average investor about the company they serve or have invested in. In their executive position they are exposed to privileged information which allows them to judge the intrinsic value and growth prospects of the company more accurately than anybody else.
Bloomberg recently published an article (see excerpt below) about insider sales of early Facebook (NASDAQ:FB) investors as well as Mark Zuckerberg himself. While Zuckerberg's transactions were likely conducted in order to meet tax obligations, it is astounding to see that early stage investors such as Marc Andreessen or Peter Thiel have sold large positions of their Facebook shares: A total of $7.2 billion worth of Facebook shares were offloaded according to Bloomberg.
Bloomberg highlighted the scale of insider sales in an article published on May 17, 2014:
Facebook's insiders and executives have cashed out of a bounty of stock since the company's initial public offering. Their reward: $7.2 billion.

On the eve of the social network's second anniversary as a public company, an analysis by Bloomberg News shows that the company's top holders have executed transactions totaling at least 186 million shares over that period, reaping them $7.2 billion. Eleven holders have each sold more than $100 million of stock, including Chief Executive Officer and co-founder Mark Zuckerberg, Facebook underwriter Goldman Sachs Group Inc. (NYSE:GS) and early investor and director Peter Thiel.

The analysis shows how Facebook insiders and executives are locking in gains from the company's shares amid ups and downs. The Menlo Park, California,-based social network priced at $38 a share on May 17, 2012, and began trading the day after. It soon fell below its IPO price as investors questioned its business, before roaring back last year as its mobile advertising flourished. The shares have been under pressure in recent months and are down 19 percent from an all-time high in March through yesterday.
Insiders still hold a majority of their shares. However, I am always critical with respect to venture capital firms or private equity businesses selling their stakes during or after an IPO. Those firms share a common goal: To get top dollar from you, the retail investor. I never like to buy when a venture capital or private equity fund is selling.
Some of the insider trades, according to Bloomberg, were enacted at substantially lower prices - in the $20s. In any case, early investors were eager to secure their gains and to cash out.
Risk of overpaying
Facebook's first quarter 2014 results were respectable, to say the least. The social networking company delivered first quarter revenues of $2.5 billion vs. $1.5 billion in the year ago quarter, a gain of 72%. Adjusted income from operations jumped 144% y-o-y to $1.4 billion and adjusted net income literally exploded from $312 million a year ago to $885 million in the most recent quarter, a stunning 184% y-o-y. Facebook's diluted earnings increased 183% to $0.34 y-o-y. It should be clear, though, that Facebook will be unable to sustain such growth rates in the coming years and investors take on substantial risk when buying Facebook's shares. With Facebook trading at 35x forward earnings and 9x book value, investors pay an extreme premium.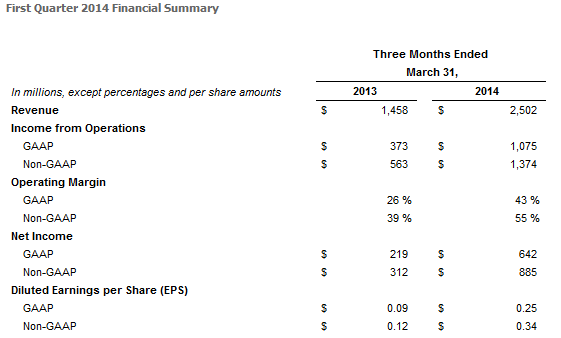 (Source: Facebook Investor Relations Website)
Partnership with Publicis
Just last week it was announced that Facebook struck a digital marketing deal with French advertising agency Publicis Groupe SA. The partnership will work on video ads appearing on Facebook and Instagram. Video-based advertisements could be a vastly growing source of revenue for Facebook - important for an e-commerce business that is largely evaluated on incremental revenue growth. The deal is rumored to be worth $500 million.
Chart situation
Facebook's shares have performed well over the last year. After a sluggish IPO performance, Facebook's stock kicked into high gear: Shares are up 155% over the last twelve months and 12% YTD.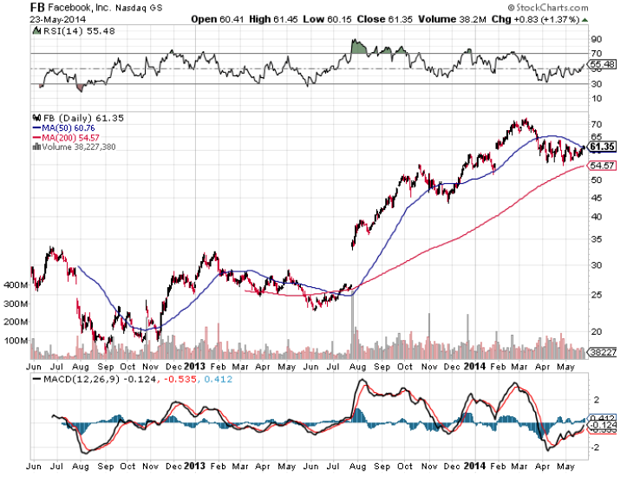 (Source: StockCharts.com)
Final assessment
Facebook's revenue and earnings growth has exceeded analyst expectations in the last year and first quarter results clearly were more than satisfying. Going forward, I think there is a good chance that insider sales will accelerate as early stage investors take advantage of increasingly lofty prices in the $60-plus region. When insiders are leaving the ship and private equity firms divest, it is usually time to carefully examine the investment thesis.
The partnership with Publicis highlights Facebook's intention to push forward with video-based advertisement strategies which is certainly a sensible approach and helps develop an additional revenue stream. However, even with prospects of additional ad revenue, Facebook's 35x earnings multiple already reflects a very rich valuation and extremely high investor expectations. Avoid.
Disclosure: I have no positions in any stocks mentioned, and no plans to initiate any positions within the next 72 hours. I wrote this article myself, and it expresses my own opinions. I am not receiving compensation for it (other than from Seeking Alpha). I have no business relationship with any company whose stock is mentioned in this article.