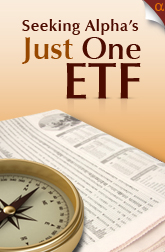 Several times a week, Seeking Alpha's Jason Aycock asks money managers about their single highest-conviction position - what they would own (or short) if they could choose just one stock or ETF.
---
Kevin Mahn is chief investment officer of Parsippany, N.J.-based Hennion & Walsh, a full-service securities firm founded in 1990. He's responsible for asset management activities and directs the portfolios for the SmartGrowth family of mutual funds. Prior to joining the firm in 2004, he worked as a senior vice president at Lehman Brothers.
Which single asset class are you most bullish (or bearish) about in the coming year? What ETP position would you choose to best capture that?
Asset classes that we have the largest proportionate allocations in are a function of each risk-based strategy that we manage. For example, our more conservative strategies generally tend to have higher relative allocations to fixed income strategies, whereas our more aggressive growth strategies generally have higher relative allocations to equity and alternative asset classes.
With that said, given that our SmartGrowth Mutual Funds rebalance (or rather reposition) themselves every calendar quarter, one of the largest allocations across the three target-risk portfolios for the third quarter of 2010 is the iPath S&P 500 VIX Mid-Term Futures ETN (NYSEARCA:VXZ).
We believe that the economy and market will continue to struggle to find their respective legs during this transition year, and a measured flight to quality will continue to occur as a result of heightened volatility and increasing investor fear and pessimism. Accordingly, this ETP, which benefits from increased volatility and flights to quality, is positioned well to perform in this type of environment.
How does it fit into your overall investment approach? Tell us a bit about your strategy and goals.
This ETN is an excellent example of our innovative approach to providing for risk-adjusted growth opportunities. Our overall mission at Hennion & Walsh is to help individuals invest in accordance with their unique risk-return needs and objectives, with disciplined strategies that have the potential to provide superior long-term results. Our belief is that gaining an understanding of the correlation between risk and return is critical for all investors, particularly those planning for long-term goals, such as retirement.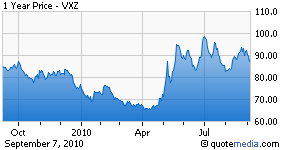 To achieve these long-term goals, our funds incorporate exchange-traded funds (ETFs) and exchange-traded notes (ETNs), collectively exchange-traded products (ETPs), and asset allocation to help produce superior risk-adjusted returns for long-term investors.
We seek to protect beta first and capture alpha second - meaning that we strive to avoid downside risk before searching for growth. We want to maintain a consistent risk profile and provide downside protection in all markets while providing our clients with reasonable growth opportunities based upon a level of risk that they are comfortable with.
The ETP universe provides us with an abundance of opportunities to achieve our mission by allowing for long and short investments in a broad array of asset classes and sectors. An investment strategy that focuses on the VIX Volatility Index, or even the iShares 20+ Year Treasury Bond Index (TLT), for example, is generally not found in most asset allocation/growth portfolio, but is in ours. This is how our approach is so different. In a sense, we are playing a different game than our competitors.
Many asset allocation or target-date-based funds have high-level asset-class constraints and operate under the assumption that stocks should always be used for growth in all markets and bonds should always be used for safety and income in all markets. We believe that not only are these assumptions flawed, but the imposition of constraints in the portfolio creation process can, and has, resulted in sub-optimal results. I believe that 2008 is an excellent case study into the overall effectiveness of the different approaches.
Tell us a little more about the area this ETP covers. What makes it your top pick?
To reiterate, we believe the U.S. economy will continue to struggle to build any type of sustainable recovery in the face of historically high levels of unemployment, continued fears over potential sovereign defaults and political uncertainties leading into this fall's midterm elections. Volatility will likely stay at elevated levels during the third quarter of 2010 and the likelihood of several intermittent starts and stops in the stock market has increased in our opinion. Accordingly, we believe that it is appropriate for investors, working with their financial advisers, to consider adding a wider range of asset classes to their strategies given the trendless volatility and lack of conviction among market participants.
For these reasons, products like VXZ that benefit from increased volatility and flights to quality are positioned well to perform in this type of environment.
Are there alternative ETPs that could be used to capture the same theme?
Yes - however, it is important to recognize that all ETPs are not created equal and often perform differently despite similarities in theme or objective. As part of the selection criteria that are utilized by Lipper in constructing their Lipper Optimal Indices, which the SmartGrowth Mutual Funds attempt to track on an exclusive basis, if multiple ETPs are found in a given asset class or sector, factors such as tracking error and expense ratios (after other factors such as liquidity and time in market are factored in) are considered to select the final ETP for the asset class or sector in question.
This specific ETP was likely selected by the Lipper Optimal Index methodology due not only to their security-specific selection criteria but also because of the negative correlation it has to the stock market in general. Within a global capital markets system where asset classes are growing more and more correlated to one another, finding pockets of negative correlation is critical to help deliver the diversification that investors want and need.
Does your view differ from consensus sentiment in this area?
Our view is consistent with overall investor sentiment at present, which appears to be pessimistic and fearful given the recent catastrophic downturns in the economy and markets. As evidence of this cautious sentiment, one needs to look no further than the year-to-date flows into mutual funds.
According to the Investment Company Institute (ICI), as of June, over $509 billion in assets have flown out of money market funds since the start of the year. This would seemingly be good news associated with investors coming off of the sidelines and feeling comfortable taking on risk in the markets again. However, where is the money going?
According to the ICI, it's going into bond-oriented mutual funds. Of the total net new cash flows into mutual funds thus far this year, over 88% of the new money has been deposited into bond-oriented mutual funds. If you include flows from hybrid mutual funds (which generally represent a blend of stock and bond investments) into the equation, less than 5% of the new flows have been directed toward stock mutual funds. Hence I believe that investors are still just dipping their toes back into the capital markets waters and are waiting for the catalyst to emerge that will signal "all clear" to them - though rarely does such a signal identify itself.
Barclays recently launched an inverse VIX product (NYSEARCA:XXV) and has more VIX-linked ETPs in the works. Do you see this opening up of the ETP market as an indication that volatility's getting more attention? More of a sign that investors are committing to a "trendless volatility" future?
I believe that Barclays is tapping into growing investor appetite for innovative products that can help to dampen volatility within a given portfolio. While I believe that the market is currently within a period of trendless volatility within a fairly typical transition year, I think most investors, with the repercussions of 2008 still ringing on their monthly brokerage statements, fear that another pullback is around the corner and are looking for products that offer downside protection at various points of duration. The VIX-based products from Barclays are just another example of the ongoing evolution of the world of exchange-traded products.
What catalysts, near-term or long-term, could make a significant move in this area?
Factors leading to increased uncertainty or pessimism such as unemployment, housing and corporate earnings could. Should any of these factors move in such a manner as to suggest a growing momentum in the U.S. economy, we could see a reaction by the Federal Reserve in terms of interest rates, and investors in terms of a reversal of their flight-to-safety strategies. These reactions would have a detrimental impact on VXZ. While we do not view the likelihood of this occurring at any point in 2010, it should not be discounted in its entirety.
Conversely, if unemployment increases, residential foreclosures start to ramp up again and corporate earnings continue to suffer, this ETP stands to benefit.
What could go wrong with your pick?
If the market finds a catalyst for the next leg of this bull market recovery either through the job market or corporate earnings, this ETP could suffer.
However, our primary concern centers on job growth. According to the Bureau of Labor Statistics, the current U-3 unemployment rate stands at 9.5%; however, when one considers the wider-encompassing U-6 unemployment rate - which counts not only people without work seeking full-time employment (the more familiar U-3 rate) but also counts marginally attached workers and those working part-time for economic reasons - of 16.5%, it begins to become very difficult to imagine a scenario where consumers will start to spend at the levels needed to build a sustainable economic recovery.
Remember that the United States economy is now more service-oriented than manufacturing-driven, and service-oriented economies, which thrive on innovation, do not tend to have the capacity to produce large numbers of new jobs. Further, it remains to be seen if any new job creations will go to existing displaced U.S. workers. As a result, it is entirely possible that the United States will continue to have a relatively large percentage of labor force underutilization.
As a result, we believe that volatility will remain at heightened levels throughout the quarter and that bonds will still provide for a safe haven for concerned and wary investors given that the Federal Reserve is not likely to raise interest rates for the balance of 2010.
Thanks, Kevin, for sharing your ideas with us.
Read more Just One ETF interviews »
If you are a fund manager and interested in doing an interview with us on just one stock or ETF position you'd hold, please email Rebecca Barnett.