Trina Solar (NYSE:TSL) has been performing consistently well since the last three quarters. The company declared its Q1 2014 results which sharply exceeded expectations and led to a sharp one day stock jump of ~30% on 23rd May. The company reported improvement in all operational and financial parameters such as gross margins, shipments and revenues. Trina Solar is one of the better run Chinese solar stocks companies and its valuation is also quite cheap, when compared to its counterparts. I had written about the company's turnaround in performance in January and the company continues to show improvement almost every quarter. Trina Solar was amongst the top global panel suppliers in 2013 and has diversified its foothold in other emerging markets in the current year as well. Trina Solar's efforts to enter the solar development business is also starting to pay dividends. I had earlier advised investors about the prospects of this company and would continue to recommend the stock as a buy, given its solid performance, diversification and the Chinese Government support to large domestic companies.
Why is TSL a Buy?
1) Good Quarterly Results
Trina Solar gave very good quarterly results, with the gross margin jumping by more than 500 bps to 20.6%, as compared to 15.1% in Q4 2013. Though Revenues were down by ~15% q/q to $ 444.8 million, it improved by ~71% over last year. The decline in the revenues in the first quarter was due to a soft demand in China. However the company achieved a remarkable decrease in the costs and strengthened its ASP. Also the company reported a net income earnings growth of 73.5% quarter on quarter. EPS of 37c/ADS was much higher than expectations, leading to a jump in the stock price. Operating margin also improved to 8.6% from 3.8% in the last quarter.
2) Strong growth in non-Chinese markets
The company increased its activities in the US and Japan. Q114's total shipments amounted to 558 MW. As per the table below, we can see that the TSL's marketshare has almost doubled in the USA and more than doubled in Japan. The reason for a decline in the Chinese shipments was due to the seasonal demand in China and also as a contingency effect due to the EU-China trade war. The slowdown in Chinese markets was made up by a strong surge in shipments to Japan and USA. Trina Solar has become a global player, which can mitigate risks of cyclical downturns in one market through higher shipments in the other markets.
Country wise shipment as a percentage to total shipment

US

Japan

China

Emerging Markets

Q1 2014

31.9

30.4

12.2

14.6

Q4 2013

16.3

12.6

43.8

7.6
Emerging markets include India, Australia, Singapore and other Asia-Pacific countries.
We have made further progress adjusting our sales mix to achieve relatively stable ASP in spite of the general downward trend in prices. This is critical to our sustainable growth and long-term profitability. In this quarter, our shipments to high ASP regions, such as Japan, grew significantly, accounting for 30% of our total external shipments. We have also further penetrated into new and emerging markets by leveraging our strong on-the-ground sales networks and our industry-leading technology to deliver high quality solar solutions tailored for each region.

Source: Trina Solar
3) Solar Development Business gets a great start
Trina Solar took a plunge into the system development business last year following in the footsteps of its counterpart Canadian Solar (NASDAQ:CSIQ). The company had initial plans to develop 100-200 MW of solar plants per quarter. The company has managed to do well in this front also. Trina Solar recently sold a 50 MW solar project in Gansu province and will complete a ~24 MW project in UK. It has a strong pipeline of projects in China and is adding projects in other countries such as Greece, UK, Japan and USA as well. Solar development business offers a good opportunity for the solar companies these days, as it is yielding gains and is also more profitable than plain vanilla module sales.
Now, let's talk about our downstream business. I am pleased to say that in the first quarter, we successfully completed the sale of our 50 MW Gansu, Wuwei power plant achieving results. Furthermore, we recently announced the construction of our 400 MW phase two production in Wuwei, Gansu province.In addition, we expanded our 90 MW solar project in Toksun, Xinjiang Turpan Prefecture in June. In addition we have some projects in different stages of development in China and overseas. These projects are expected to significantly support our target of completing 400 MW to 500 MW or downstream projects in 2014.
4) Financially Strong
The company had $577.7 million in cash and cash equivalents in Q1 2014. Trina Solar has got one of the lowest debt to equity ratios in the Chinese solar industry. Though most Chinese solar companies do not enjoy unstinted support from the Chinese banks anymore, Trina Solar continues to get strong financial backing from the state owned Chinese banks. The company recently received a loan of $17 million from the China Development Bank to fund 16 MW of utility-scale solar power projects in Greece. Companies such as Suntech (OTCPK:STPFQ) and LDK Solar (OTCPK:LDKSY) were forced to default on their bonds, as the Chinese banks refused to give them additional loans. The Chinese governments want to bring rationalization to the industry, by weeding out weaker and smaller Chinese companies.
5) Strong Guidance
Trina Solar gave a very strong guidance for Q214, with shipment forecast of 950-1010 MW out of which shipments for system projects will be around 150-170 MW. This indicates that the company should be able to meet its solar system installation target of 400-500 MW for 2014. If the company meets its Q214 guidance, then it will mark a ~100% growth in shipments over the current quarter. For the full year 2014, Trina Solar guided shipments of 3.6-3.8 GW which means it will become one of the top 3 module shippers in the world. In comparison, First Solar will ship less than 2 GW of modules.
6) Low Cost of Production & Increased Capacity
Trina Solar is amongst the lowest cost solar panel producers in China. The company has a total in-house manufacturing cost of only 50c/watt. The total blended panel cost decreased from 54 cents/watt in Q4 2013 to 53 cents/watt in the current quarter. The company has an annual wafer capacity at 1.6 GW and PV sales and module capacities at ~ 2.5 GW and 3 GW respectively. This will be further increase to keep up with the growing demand. Trina Solar recently tied up with a financially distressed Chinese solar company, to increase its capacity without spending money to build additional capacity.
Risks
a) Global Solar Trade War
The consequences of the solar trade war hangs like a sword on Chinese solar companies. With the anti-dumping duties being imposed, the Chinese face a competitive disadvantage compared to the other Asian and western solar companies. The USA will announce a decision to impose further sanctions on imports of Chinese solar products, while India and Australia may also impose duties.
b) Increase in Polysilicon Prices
Polysilicon prices have increased in recent times, as global demand for solar products has increased by leaps and bounds. The overcapacity in polysilicon and wafer part of the supply chain has reduced with the exit of the weaker players. Trina Solar acknowledged that the price of polysilicon may reduce its gross margin going forward.
Stock Valuation
Trina Solar is currently trading at $12.83, which is almost the mid-way point of the 52 week price range of $5-18.77. The company has low valuation ratios with P/B and P/S at 1.1x and 0.5x respectively. This compares favorably with the US solar stocks, which are trading at a P/S of greater than 1.5x. Trina Solar has also returned to profitability in the last couple of quarters. The company has much lower debt than the other large solar companies such as Yingli Green Energy (NYSE:YGE).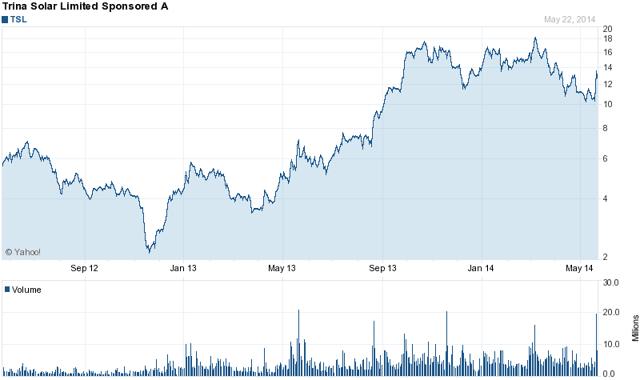 The company gave good returns over the last one year, when compared to its counterparts like Renesola (NYSE:SOL), JA Solar (NASDAQ:JASO), Yingli Green Energy , First Solar (NASDAQ:FSLR) and Hanwha Solar (HSOL). TSL is a better stock to own when compared to First Solar. Though FSLR is a very large system business developer in USA, its modules are not getting enough traction. Trina Solar is also becoming a strong solar system developer like First Solar and is also a major player in the module segment. It would be preferable to buy TSL as compared to First Solar.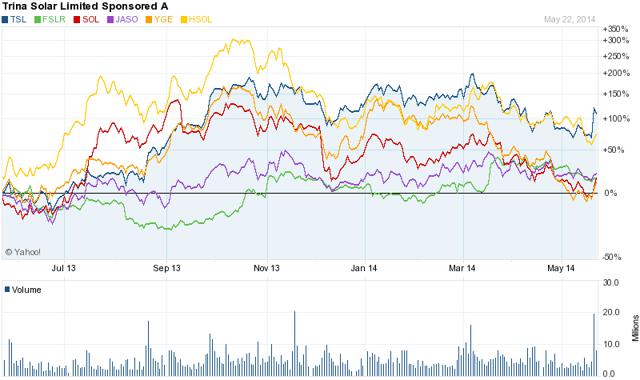 Source: Yahoo Finance
Conclusion
Trina Solar has turned around sharply over the last one year and gave great results for the last quarter. Trina Solar is also becoming a major player in the downstream solar installation segment. It has relatively low debt and is one of the lowest cost panel producers in the world. The valuations are quite cheap with a P/S of just 0.5x. Trina has also given good returns when compared to its competitors. Though the stock price has pulled back in recent months after a massive rally, the stock remains a good long term buy and hold stock to leverage the growth in the solar industry. Trina Solar remains one of my top picks in the solar sector.
Disclosure: I have no positions in any stocks mentioned, and no plans to initiate any positions within the next 72 hours. I wrote this article myself, and it expresses my own opinions. I am not receiving compensation for it (other than from Seeking Alpha). I have no business relationship with any company whose stock is mentioned in this article.