Originally, Samson Oil & Gas (SSN) was attempting to sell 24,000 net acres of a 40,000 net acre position. Here's the deal as it now stands:
$63.7 mm today, including the previously announced $10mm deposit for 19,451 net acres. This is in the bank and represents a per acre price of $3,275 and 0.77 per SSN share in cash.
1,920 additional acres are expected to be sold for $6.288 mm on September 20th.
With the approval of a drilling permit, which Samson expects to receive by the 20th, the sale of another 1,339 acres for $4.385 mm should occur.
Another 1, 056 acres have certain title defects that may or may not get resolved in time for the second closing, but if resolved would likely result in SSN receiving the upper end of the deal price band from when the deal was first announced ($79.1 mm).
Outside of the Niobrara, I would not be surprised to see SSN disclose sales of gas assets in Wyoming in the next 3 to 12 months and I've gone ahead and added that into my thinking as well, now that we have more recent promise and delivery action from management. There are still other areas, including producing (albeit small) assets in the Gulf Coast and in New Mexico (upcoming Bone Spring test) as well as other Rockies gas assets (Vermillion Basin) for which I am giving them no value as present.
Nutshell: I am pleased to see the transaction apparently closing near the high end of the expected range and definitely above the low end. Still no word on the buyer, probably either EOG or NBL. The shares had previously walked up to the low end of my NAV range of $1.39 to $1.75 and with the successful closing of this deal and the additions to the model mentioned above I am moving my target to $1.90.
See the tables below for the impact on my back of the envelope near term NAV.
I continue to hold an over-weighted position in SSN in the ZLT.
click to enlarge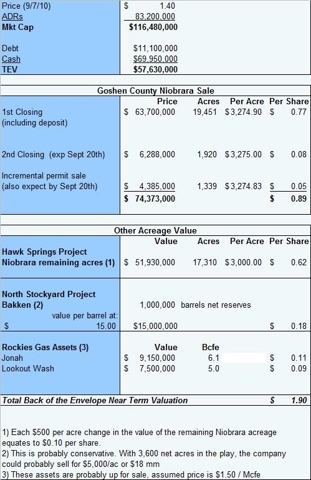 Disclosure: I am long SSN an d EOG