Lately, things have not been a great for shareholders of Twitter (NYSE:TWTR). The social media name saw its shares crash from a high of nearly $75 to under $30 in just a couple of months. Earlier this week, Twitter shares hit a post-IPO low close. The latest leg down came after a major lockup expiration.
However, all hope is not lost. On Wednesday, a key analyst upgrade led to a rally of more than 10% for Twitter shares. Recent news has been positive, and analyst estimates continue to rise. Short interest also came down in a big way during early May. For Twitter, the tide is starting to turn, and today I'll discuss why.
Wednesday's upgrade and deal news:
Twitter shares needed a reason to rise, and on Wednesday, the Nomura upgrade was just what the doctor ordered. Analyst Anthony DiClemente upgraded the stock to Buy with a $43 target. That price represents a 24 multiple times $2.19 in EPS for 2017, discounted back to current times. Here were five reasons for the upgrade:
Markets have priced in the assumption that Twitter is just a niche product.
Velocity of monetization per user growth is fastest in the sector by far.
International is just scratching the surface.
Incremental margins will be higher than the Street is modeling.
He's raising his estimates above those of the Street given the above.
This upgrade follows a recent ad deal that Twitter struck with Omnicom (NYSE:OMC). The deal is reportedly worth $230 million over two years. The deal seems rather large when you consider Twitter is only projected for about $1.3 billion in revenues this year. One analyst, who currently has a hold on Twitter with a $34 price target, believes the deal highlights ongoing business traction. Pivotal Research doesn't see the deal as being that much of a game changer, but notes that it is important as marketers try to use Twitter.
Estimates on the rise:
When Twitter reported Q1 results, revenues and non-GAAP earnings came in well above analyst expectations. Twitter's guidance seemed a bit conservative, especially when looking at the full year forecast. However, I noted that Twitter did raise its 2014 forecast, and the company did come in well above its own Q1 guidance. In the end, I believed estimates would go higher, and they have. The table below shows a brief history of Twitter's estimates, and you can see all current estimates here.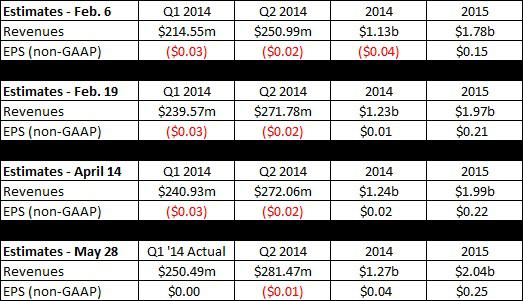 A couple of numbers to point out. Twitter guided to Q2 revenues of $270 million to $280 million, so analysts are currently above the high end of Twitter's guidance, which I think will prove conservative. Twitter for 2014 guided to revenues of $1.20 billion to $1.25 billion, so analysts are above that too. As the company has beat analyst estimates handily two quarters in a row, estimates have really started to rise. In early February, the high estimate on the street for 2015 revenues was $2.30 billion. The high estimate now stands at $2.92 billion. Analysts certainly see growth potential in Twitter.
Trading at a discount?
One of the knocks against Twitter is that the stock is very expensive. When Twitter made that run to $75, the stock was trading at very lofty levels. I have believed at times that Twitter could command a decent premium to certain peers because Twitter offers more growth potential. In the table below, I've compared Twitter to Facebook (NASDAQ:FB), LinkedIn (NYSE:LNKD), and Zillow (NASDAQ:Z). The table shows current growth estimates for 2014 along with valuations associated with those estimates and Wednesday's closing data.

*Based on non-GAAP EPS numbers. Twitter expected to shift from $0.18 per share loss in 2013 to $0.04 profit this year.
Because Twitter is just becoming profitable on a non-GAAP basis, the P/E will look inflated for quite some time. There are a lot of names in this market, even established names like Amazon (NASDAQ:AMZN), where P/E numbers are through the roof. In terms of price to sales, however, Twitter may be a decent investment. In the following table, I've compared these four names on a price to sales basis for this year and next.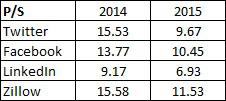 Due to the fall in shares, combined with rising estimates, Twitter actually trades at a discount to Facebook and Zillow when it comes to 2015 price to sales. Twitter is basically at the average of the other three. But if you remember the table above, Twitter is expected to show the most revenue growth of these names this year (and next). So perhaps, shares in the low $30s may actually be worth it.
Short interest retreats:
One item I've tracked extensively in regards to Twitter is short interest. At the first update after the IPO, just over 6 million shares were short. Since then, short interest basically rose at every update. At the end of April, short interest was more than 50 million shares. You can see a chart of Twitter's short interest below.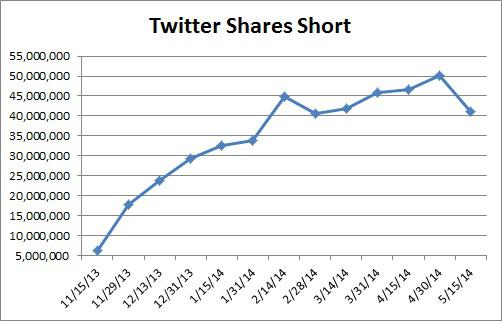 You'll notice a big drop in the most recent update. More than 9 million shares short were covered in the first few weeks of May, a decline of 18%. Obviously, a number of shorts decided to take gains after the lockup expiration. More than 40 million shares were still short at the mid-May update. This means that a little under 10% of the float is short, according to data from Yahoo! Finance. While that's not a tremendously large number, Twitter remains more heavily shorted than peers Facebook and LinkedIn.
Final thoughts:
Though it has been a few ugly months for shares of Twitter, it seems as if the tide has started to turn. An analyst upgrade sent the stock higher on Wednesday, and some are positive about a recent ad deal. Twitter's estimates have been rising, which also has made the valuation look a lot better. Nearly 1 in 5 short sellers covered in early May, so that will be a trend to watch. While the stock may not be ready to soar just yet, the situation appears to be improving.
Disclosure: I have no positions in any stocks mentioned, and no plans to initiate any positions within the next 72 hours. I wrote this article myself, and it expresses my own opinions. I am not receiving compensation for it (other than from Seeking Alpha). I have no business relationship with any company whose stock is mentioned in this article.
Additional disclosure: Investors are always reminded that before making any investment, you should do your own proper due diligence on any name directly or indirectly mentioned in this article. Investors should also consider seeking advice from a broker or financial adviser before making any investment decisions. Any material in this article should be considered general information, and not relied on as a formal investment recommendation.