What is happening with traditional retail stores
Macy's (NYSE:M) is a brick and mortar retailer that has done well during the last 5 years. Some of its competitors like J.C. Penney (NYSE:JCP), Sears (NASDAQ:SHLD) and Loehmanns, have encountered serious operational and financial problems or have closed.
One should investigate whether the retail sector represents an attractive venture before considering an investment in retail. If one decides to participate he should seek retailers who may avoid encountering difficulties experienced by other retailers. I propose Macy's as one of the retailers that offers financial reward to investors.
Traditional retailing has attempted to develop Internet selling by setting up e-commerce sites. These have not been overwhelmingly successful. Internet sales for large retailers have not reached expected amounts, and lower margins required to sell on the Internet found their way to in-store selling, thereby reducing profit.
Other worries have arisen for retailers. A decision that the traditional retailer must make is whether to reduce the amount of branded items from its merchandise lineup, since markup on the Internet for branded items is so low that the traditional retailer may not wish to compete. The removal of branded items from a traditional retailer's inventory reduces traffic to its stores by customers who desire offerings of standard, well-known product. This exclusion causes a further decline in sales.
Retail operational problems are accelerating because of changing consumer buying habits and the difficulty for retailers to apply new technologies to business methods. One may wonder why investors may be interested in adding a traditional retailer's stock to their portfolio after they perceive the difficulties encountered by these retailers.
The answer to why a retail stock may be appealing is that the retail sector, even with the addition of Internet competition, has recently performed well. The Internet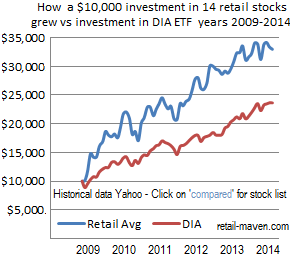 is approaching exponential growth, but despite its success traditional retailing is still with us, and has proven an exceptional investment as shown by my chart, which compares how a $10,000 investment would vary over a 5-year period if invested in the DIA ETF. It is compared to a group of 14 randomly chosen traditional retail equities. The DIA ETF mirrors the Dow Industrial index, and includes dividends.
There are bright spots in the world of traditional retailing although some critics say that brick and mortar stores are terminally troubled. My article, 'Why Macy's Omni-Channel Marketing Approach Is Significant To Investors' suggests otherwise, and includes the advantages that Omni-Channel strategy gives retailers along with new hope for the success of traditional retailing.
If you wish to refresh your understanding of Omni-Channel, visit 'Omni-Channel, Theory and Practice' on my website. The article is a comprehensive study of Omni-Channel. It does not tell much about strategies such as My Macy's and Magic Selling, although they are closely allied to Omni-Channel Marketing.
Macy's calls its new package of retailing strategies M.O.M. (My Macys, Omni-channel, Magic Selling). Macy's claims My Macy's and Magic Selling offer these unique features:
Our M.O.M. strategy is enabled by a unique organizational structure, which is unlikely to be copied by our competitors because of the financial resources and talent required. We have been developing M.O.M. for years, and it is an enduring formula that we believe continues to hold significant promise.
Macy's cites in its 2013-10K that M.O.M. strategy will be difficult to duplicate by other retailers because Macy's has a significant lead in implementing new ways of conducting business. If replication of My Macy's and Magic Selling is as difficult as Macy's claims then they should have great advantage over competition.
My recent article about Macy's omitted much about My Macy's and Magic Selling. I now wish to tell you how these strategies, along with a summary of Macy's financial growth, may assist you in evaluating whether Macy's represents an attractive investment.
My Macy's
My Macy's is a strategy that informs customers about which stores they can see merchandise shown on Macy's Internet site. The customer need only click on a link next to a desired item to immediately learn which Macy's store they may view that item. An advantage of combining the ability to touch and feel to Internet discovery is clearly a great step toward persuading a customer to purchase.
The My Macy's technology enables Macy's stores to display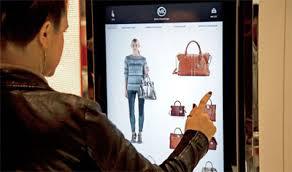 merchandise best suited to its specific locality while encouraging customers who have special needs to visit other Macy's stores whose inventory may better suit their needs. Macy's, unlike many other large retailers, tends to cluster stores in regional, high population areas, rather than evenly distribute them throughout the country.
My Macy's strategy is not yet fully developed, nor is it in operation at all Macy's stores. The complications in using My Macy's is teaching customers how they will benefit from its use, and in convincing them to travel to a nearby, but unfamiliar Macy's stores.
The travel difficulty is often an illusion. I recently tested My Macy's by seeking a store where the Wently patio set could be seen. It was not at the Macy's store that I often patronize, but was shown at a Macy's store nearer my home.
Long-term benefits to consumers that use My Macy's technology will be their ability to satisfy their purchasing needs. Macy's will receive the compensating benefit of creating an additional loyal customer base.
Magic Selling
Macy's Magic Selling is an educational program that goes beyond programs conducted by other retailers. It requires new sales personnel to attend a three and one half hour training session, and includes periodic update courses and on sales-floor training by managers.
Magic Selling is more than a packaged training program. It is a philosophy that engages sales associates' interest in becoming an active part of the Macy's customer development strategy. It is magic since it results in altering customers' views that Macy's is just another retailer, and entices the consumer to become part of the magic aura that Macy's is creating.
This magic converts employees' traditional indifference into intense concern about how well they and their organization perform. It is a way to develop an underlying methodology in how to unite management, sales associates and clerks into a community that places customer and organizational interest before their own.
Macy's feeds back information to all its employees in My Macy's stores as part of its Magic Selling program by issuing each one of them a weekly 'Score card.' This information shows how well employees are doing and how they compare to the leaders of their departments. The reports show how well their store is doing, and indicates to employees that they belong to a growing organization that cares enough to include them in its operational processes.
The Magic Selling report includes tips on selling, latest retail methods and the percentage of store goal achieved. It features sales leaders resulting in motivating employees because of their wish to gain to reach the top.
Amazingly, Magic Selling is implemented without adding new cash incentives to the selling process except for a small bonus given for opening credit card accounts. It includes employees in the Macy's organization as partners.
The Macy's motto about magic selling is, "If everyone leaves our store feeling better we have worked our magic."
The motto translates into, 'If Macy's works its magic all will prosper.'
Recent financial performance at Macy's
Macy's stock has shown exceptional growth during the last 5 years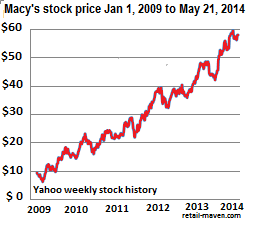 .
Its value increased from below $10 to almost $60. In the past year stock has increased by 22%.
During its recent quarter ending May 3, 2014 revenue suffered a small setback and fell 1.7% falling $180 million below consensus forecast. The cause attributed by most to bad weather seems a temporary problem. Earnings rose a penny above estimates.
Macy's expects same-store sales growth in the current fiscal year, ending in January 2015 to increase by 2.5% to 3%. It also restated earnings guidance of $4.40 to $4.50 per share. The return of revenue to investors is an indication that stock will gain value.
On May 3, 2014 Macy's raised its quarterly dividend by 25%, from 25 cents per share to 31.25 cents, and said it would boost its share repurchases by $1.5 billion to $2.5 billion
Should you invest with Macy's
Something is happening at Macy's that is more significant than the quiet success occurring at well run retail operations such as Nordstrom (NYSE:JWN) indicate. Attention to detail and customer satisfaction is important, but these approaches often lead to continuing the status quo.
The underlying strategy at Macy's offers more hope for growth than aggressive tactics at retail organizations like Kohl's (NYSE:KSS). Promoting and intensifying tested merchandising methods often lead to growth, but do not contribute much to establish long-term customer loyalty.
The past five-year increase in Macy's stock offering has been exemplary, but may not be a convincing reason to invest. Remember that "past performance is not necessarily an indicator of future success."
The reason to invest with Macy's is more subtle. It is its ability to leave traditional methods submerged in the past and to attempt something new. It is difficult for a large organization to develop enduring large growth. With Macy's new strategy it may be able to break away from the traditional model of large business complacency, and surprise everyone with substantial development.
I recommend Macy's for both short- and long-term investment.
Disclosure: I have no positions in any stocks mentioned, and no plans to initiate any positions within the next 72 hours. I wrote this article myself, and it expresses my own opinions. I am not receiving compensation for it (other than from Seeking Alpha). I have no business relationship with any company whose stock is mentioned in this article.