Is Vaping the Future?
One of the biggest "Pot Stocks" stories of the year was Avworks Aviation (Spli) a shell company that went through a reverse merger with Vapor Group inc (OTCQB:VPOR). From January 22nd of this year to March 26th, SPLI ran up 46,344.45%. Yes, if you sold at the peak and bought the moment company had its reverse merger, with just a $100 you would be looking at a $46,344 return. That's what a 46,000% return means.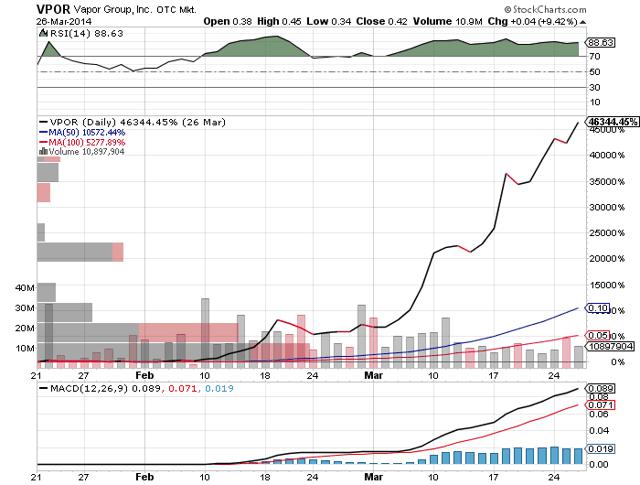 From a "chartist" perspective, this stock was headed for a clear reversal at every turn. Price gaps left behind, the 14 RSI hitting an average of 88.63, and very little price support. Nevertheless, it just kept running upwards without an end in sight.
The picture we are looking at does not represent a company. It does not represent the people involved, the revenues, or the future potential. This is not a company. This is just a picture that reflects what buyers and sellers feel about a company. And for a while, it felt good. Until this happened: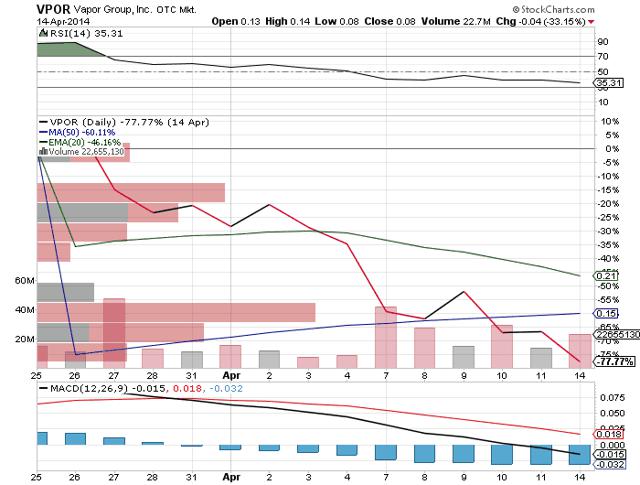 This is not a pretty picture. But from a "charting" perspective, I see a company investors think is going out of business: price gaps being left behind, 14 day RSI getting cut in half, and no volume. This chart looks like an oversold company on the verge of bankruptcy. And if isn't bankrupt, that I see a great contrarian play.
So what happened?
There were a couple events that precipitated the fall:
March 18th shook the pot stock world with Yelled suggesting interest rate hikes. SPLI takes a small hit. Price runs up another 41% but drops -6% the next day. SPLI investors had a delayed response.
March 21st, injunction in Canada allows MMAR licensed users to continue growing for personal use. Another bullish day, stock price is up 12.70%
March 27th was a terrible day for SPLI. Price drops significantly by -22.49%
March 27th, Advanced Cannabis solutions (OTC:CANN) gets halted. Reality sets in and investors begin to question the legitimacy of any of these so called "Pot-Stocks." SPLI could get halted too.
The "Fraud Research Institute" publishes an article on Seeking Alpha claiming that CEO of VPOR, Dror Svorai, has a criminal history of fraud. Author takes a "short" position. The author cited a case from 2013 against Onteco Corporation where Dror Svorai was a defendant to indicate the CEO's fraudulent history. However, the FRI overlooked the fact that the case was thrown out of court on a technicality. The plaintiff, Amir Kammona, was unable to properly serve Dror Svorai with the summons as directed by the district court and within fourteen days after the motion was filed. Therefore, the merits of Amir's case were not shown.
The burden of proof was on the plaintiff, Amir, to prove that the defendant, Dror, was involved in fraud. Amir was unable to do so. Because the case was never tried, even after appeals, the accuracy of the complaints cannot be validated. Rather than simply assuming fraud took place because a complaint was filed, the law states that the defendant is innocent until proven otherwise. Understandably, investors would have probably preferred the case get dismissed, not just on a technicality, but on disproving the plaintiff's case.
While the case was thrown out of court, FRI used it as an opportunity to make the case for a short position on SPLI. FRI also mentions criminal activities that date back twenty years, however, does not substantiate the specifics of the crimes.
SPLI announces the year-end earnings report from 2013. Company claims to have made $1,975,000 in revenues, though this was not sufficient to prevent the sell-off.
March 31, 2014 Yours truly claimed the company was a pumped shell without full disclosures, and therefore, the financials released did not apply to the company that investors were currently buying. The status of the merger was unclear, which meant earnings from 2013 were possibly not applicable to current shareholders. SPLI had a temporary reversal, closing up 3.41%
For the next week, SPLI tries to repair the damage.
April 2, 2014 Company attempts to mitigate the sell-off by providing documentation to prove that the merger has in fact been completed. To make things confusing, the company also files amended 10-Qs, 10-Ks for Avworks Aviation that affirm old financials. Price is up 11.33%
April 3, 2014 The company unveils its decision to increase its 25% interest in American Vaporizer LLC to a majority interest of 51%. Under the terms of the new acquisition, SPLI has invested $440,000 in cash and issued 7,000,000 shares of restricted common stock. The agreement also includes an incentivization clause for management of American Vaporizer. VPOR will increase the investment by $300,000 if they reach $5,000,000 in sales within 6 months, and $700,000 if they reach $10,000,000 in sales by the end of the year. Price closes down -10.34% and drops another -8.42% the following day
April 7th, at 7:56 a.m. the company files an 8-k/a to once and for all end the debate over the whether it is legitimate and whether or not its earnings were valid. To my disbelief, the share price tanks, opening at .25 and closing .16 for a -38% loss. By that point, the company was down -60% in value since its peak on March 25th.
Out of all the catalysts that would tank the company, it ends up being the case that the company's efforts to amend the current confusion over its legitimacy causes investors to jump ship. Why was transparency the major catalyst for the fall? There were days between CANN getting halted and April 7th in which the company had "green" days. What was unique about March 27th and April 7th that caused the stock to fall -22% and -38%?
Hypotheses:
Seeing the earnings results on paper of $1,975,000 for a whole year was less impressive than what was originally hyped/expected.
This has merit. Remember the stock was valued at $150 million when the share price was valued at .45. In that case, the "Fraud Research Institute" and the CANN halt had no bearing on the drop in share price. Just because two negative events occurred concurrently with VPOR's press release, maybe it wasn't the "negative" news that precipitated the fall but the "positive" news that was interpreted negatively. Perhaps investors expected a lot more. By April 7th, the company was valued at $83 million. Seeing the numbers first in a PR and again in the financial reporting could have made investors feel the stock was overvalued.
The April 7th 8-k/a wasn't a catalyst. By then, investors had given up already on the company.
This also has merit. Investors were exhausted by this point and couldn't stand by another day as their portfolio had already lost -35% in value. But it is noteworthy that the most dramatic price drops occurred when the earnings were released
The filing confirmed that the press releases were disingenuous claiming earnings as a public company that were made while it was still private.
This is another possibility. Investors are used to seeing year-end financial reports filed as a 10-k, not as an 8-k/a.
The chart predicted negative momentum. News or no news, the stock was going to tank.
Since trends can be analyzed by looking at a company's stock chart, it is possible chartists saw a negative trend and didn't see any hope of recovery. So a majority of shareholders that use chart theories to predict price movements decided it was time to pull out and take profits. Although this explanation is possible, the magnitude of the drop could not have been predicted. I am interested in answering what was unique about April 7th and even March 27th. Therefore, we cannot exclude the external events that caused the price drops. This explanation is insufficient.
This was the day deep pockets decided to short the stock.
This explanation is less satisfying. While it is possible short sellers can influence a stock negatively, ultimately blaming "shorters" for price manipulation is a way for investors to deflect responsibility for their own lack of confidence in their investment.
Investors on OTC Markets "Buy the rumors, Sell the News."
While this seems to be a trend, it is not a full-proof explanation. A clear rebuttal to this theory is that on April 2nd, the day that the company released proof of the merger agreement, the stock closed up 11.33%. What's more, the report was released at the end of the day at 2:20 p.m.
Other reasons: Tax Season (everyone sells); Bear market (just the trend); other pot-stocks were in a tail spin (bubble-bursts, everything goes down).
Obviously, these reasons do not satisfy at all. Not one of them explains the significance of April 7th or March 27th. While they might be correct, they are more general and do not explain why on these dates the stock was crushed.
The answer probably lies in a mixture of these hypotheses. But these are important questions investors should ask themselves when they trade highly illiquid securities that are subject to price manipulation. If I were to venture a guess, the answer lies in the fact that the company's results did not meet expectations. With a market cap of $150 million and only $2 million in revenues, it is possible that people thought the company was overvalued.
This hypothesis is further supported by the most recent negative reaction to the company's financials. When the 10-Q was released on May 20th, 2014, I was a bit shocked when the price dropped. The results of the 10-Q looked promising, considering it is a brand new company. Although it did not net a profit, the company reported $966,000 in revenues, which is arguably a 50% increase from 2013 Q4. Nevertheless, the company's share price dropped -10.33% on the day of the report and continued to drop in value for the following two days for a total -30% devaluation.
Why? The earnings did not match investors' expectations. But what were they expecting?
Why I am changing my views
First of all, I wouldn't say I'm changing my views. I still would most likely never own "SPLI." I would not buy a shell company where it was unclear what the companies current assets were, financials, or total share count. Up until this most recent quarterly report, I have not felt comfortable owning shares in the company.
Reasons I decided to reevaluate the company and take a long position:
Now that VPOR has filed its quarterly report, we know:
Current issued share count: 334,381,399
Current outstanding share count: 270,020,145
Current treasury share count: 64,361,254
Current assets: $1,361,772 representing a 29% increase from 2013.
Current liabilities: $1,590,342
Current revenues: $966,411
Revenues TTM: $2,957,434
Current Price/Sales TTM: 9.045
We know a little bit about the business of e-liquids:

Company believes that its e-liquids are unsurpassed by any competitor in terms of their purity, high quality, and the steps that it takes to protect its customers.
The e-liquids are formulated and mixed exclusively in the U.S. by an FDA registered laboratory by degreed professionals, in accordance with cGMP guidelines (21 CFR part 111).
The ingredients in its e-liquid are quarantined before use, and pass an independent, third party laboratory test for purity.
The key ingredients are United States Pharmacopeia ("USP") grade and kosher. Its lab carefully tests each batch of its e-liquid by high pressure liquid chromatograph to verify that it has the right levels of ingredients. The company's high quality is a fundamental pillar of its competitive advantage

I am impressed that the company has been able to move product effectively even at such a nascent stage.
The acquisition of American Vaporizer seems like a great opportunity for the company's growth.
The company has a secure base of vendors that are purchasing the products, thereby adding a steady stream of revenues.
There is an 18 month period where the all shares of the Series B Preferred Stock will be restricted from any conversion into shares of common stock.
It is a contrarian play.
This article is not a recommendation to buy or sell shares of VPOR. I do plan on writing an additional article wherein I construct a buy thesis. However, I think it is more important to understand what caused the sell-off in minute detail. This way, when I recommend to investors to buy shares of the company, they can get a better sense of why there was a sell-off and whether they feel comfortable placing their money in a company with so much drama. Emotions are high on this one. Understanding the current baggage can help current and potential investors gauge whether it is right for them.
While the company may not be worth $150 million just yet, there is a strong case for a long thesis. In a subsequent article, I hope to show that a higher valuation is warranted.
Conclusions: Tackling Expectations
I deduce that the volatility in VPOR's share price has been the result of the unrealistic expectations of its shareholders. The important thing moving forward is that investors channel their expectations. This does not only go for investors in VPOR, but investors in any "growth industry." Expectations can run wild and when those expectations are not met immediately, we panic. Markets may move in nanoseconds, but businesses take years to build. And if not years, at least months.
Investors in pot stocks live from PR to PR. And when those PRs are inefficient at maintaining confidence, investors need chatrooms, Twitter, subscriber services, and messaging boards to vent their feelings about their investments. There has been an explosion of minute-by-minute analysis from traders, investors, and stock gurus that I believe can be more harmful than helpful. We have become hypersensitive to the information that becomes public and we swoop in to either affirm or disavow. We aren't patient and don't trust in our investments. As a result, we never give these companies time to grow.
I believe VPOR's 2013 revenues of $1,975,000 are impressive for a brand new company. That the company did half of this during the first quarter of the year I think is even more impressive. It demonstrates growth. And that is what investors should be looking for.
If this were any other sector, an article like this would be unnecessary. But the pot-stock sector is unlike anything I have ever seen. Emotions run very high here. And rather than "trading on sentiment," I think we should understand how that sentiment is shaped and what we can do as investors to shape it more constructively.
Disclosure: The author is long VPOR. The author wrote this article themselves, and it expresses their own opinions. The author is not receiving compensation for it (other than from Seeking Alpha). The author has no business relationship with any company whose stock is mentioned in this article.