Alcatel-Lucent (ALU) reported disappointing first quarter performance, as cash flows provided by operations came in below my expectation. The profitability of the company improved, as management improved the efficiency of administrative, selling and general expenditure. We'll have to see what happens during the rest of the year.
For now, I'm continuing to forecast a substantial IFRS net loss for the full year. More importantly, the full year lack of cash flow to equity is forecasted to be close to $2 billion. And free cash flow to the firm could come in around ($400 million). While I like the markets that Alcatel-Lucent plays in, the numbers aren't there.
In terms of valuation, there is no history of or forecast for profits or cash flows that I can use to value the common equity; consequently, the common equity shares are worthless.
Recent Developments
Chorus, a New Zealand telecommunications infrastructure company, selected IP routing technology from Alcatel-Lucent to build its IP core network.
In fixed-line ultra-broadband access, Alcatel-Lucent has shipped 5 million VDSL2 vectoring lines.
Nuage Networks, the venture focused on software-defined networking, is winning business.
Alcatel-Lucent and Elisa, the mobile and fixed broadband services provider, announced a significant network upgrade that will give Elisa the ultra-broadband capacity to meet the demands of next-generation services and applications.
Analyst's Note
Alcatel-Lucent provides products in IP and cloud networking, as well as ultra-broadband fixed and wireless access. The company has two segments: Core Networking and Access, which have a history of inconsistent profitability.
Starting high-level, the Shift Plan is meant to reduce expenditure, maintain or increase revenue, and improve profitability. Thus far, the plan has shown tangible results. Management is exiting businesses that aren't in the long-term best interest of the company and investors. Also, the management team is terminating and restructuring contracts that are unprofitable. Fundamentally, this still appears to be an exercise in loss minimizing, which isn't quite as good as profit maximizing.
First quarter revenues came in pretty much in line with my expectations for the full year; revenues are forecasted to decline 3%, and first quarter revenues declined 3.3%. The gross profit came in as expected at 32% of revenues with the operating loss significantly smaller than I expected. The operating loss came in at 2% of revenues while I'm expecting an operating loss of 5% of revenues for the full year. Management decided to reduce administrative and selling expenses as a percentage of revenues; in my opinion, this is preferable to reductions of research and development expenditure. Following the second quarter's results, I may increase my estimate for operating profitability for the full year.
Starting high level with the balance sheet, the accounts are tracking in line with my expectations, but the improvement in profitability, if sustained, will increase the year-end equity estimate. The financial leverage ratio is 6 at the end of the first quarter if you include non-controlling interest and 7.4 without non-controlling interest. These leverage ratios would be great if Alcatel-Lucent were a financial institution, such as JPMorgan Chase (NYSE:JPM), but it is a technology firm. After the end of the quarter, management retired $372 million of debt, which is in line with my thinking.
The company used more cash in operating activities than I am expecting for the full year. Working capital requirements were higher than I anticipated; specifically, I thought management would do more to increase cash from working capital. Additionally, the net interest expense is relatively large. I'm continuing to forecast negative free cash flow to the firm for the full year. The lack of free cash flow to equity is estimated at $1.83 billion for the full year (this estimate does have a high degree of uncertainty).
So, weighing the results of operations, profitability was better than expected, but cash flows are significantly worse than expected. As the former New Jersey candidate for U.S. Senate Dr. Murray Sabrin would say, "In finance, cash is king!" (It appears Dr. Sabrin may also be a current N.J. candidate for U.S. Senate.) Thus, Alcatel-Lucent's first quarter results are less than stellar, or subpar. Key takeaway, Alcatel-Lucent still isn't free cash flow to equity positive, and the company remains highly leveraged.
Technicals & Valuation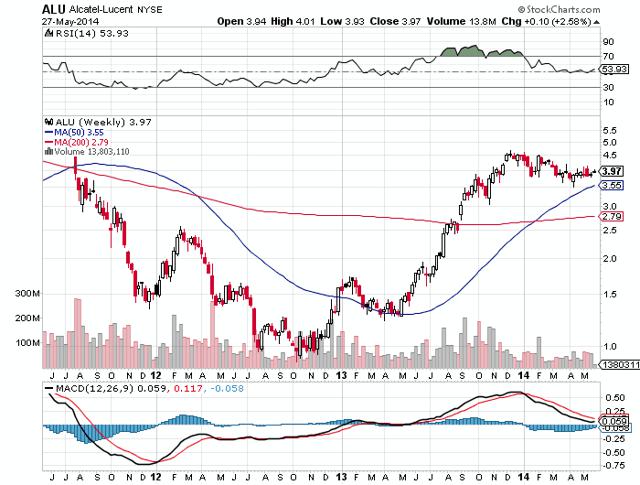 The bear market of intermediate degree continues without an end in sight. This could easily turn into a bear market of primary degree. The $2.50 to $3 per share zone should be a strong support zone.
Based on the fundamentals of the company, the equity is worthless. For bondholders, the company could have value. But as a common equity investor, I don't see a way to derive a positive value for this company. To add additional color, Alcatel-Lucent could have value to an acquirer, but the purpose of this analysis is to assess the merits of a common equity investment, not its value as a takeover candidate.
General Risks
The share price is likely to remain volatile and investors could lose a portion or all of their investment.
Investors should judge the suitability of an investment in ALU in light of their own unique circumstances.
A decline in the global economic growth rate and/or a decline in the pace of economic growth in the United States could adversely impact the results of operations and the share price.
Competition in product development and pricing could adversely impact performance.
Incorrect forecasts of customer demand could adversely impact the results of operations.
Higher interest rates may reduce demand for ALU's offerings and negatively impact the results of operations and the share price.
This section does not discuss all risks related to an investment in ALU.
Disclosure: I have no positions in any stocks mentioned, and no plans to initiate any positions within the next 72 hours. I wrote this article myself, and it expresses my own opinions. I am not receiving compensation for it (other than from Seeking Alpha). I have no business relationship with any company whose stock is mentioned in this article.