For people who have followed this series of articles on First Solar (NASDAQ:FSLR) it shouldn't have been much of a shock that First Solar's earnings beat expectations. As outlined in "Why First Solar is Undervalued", analysis of the backlog indicated that margins were likely not significantly down from 2013. So it wasn't a surprise that 1Q margins of 24.9% came in just under overall margins for 2013 of 26.1% and actually up slightly from 4Q 2014 margin of 24.6%. While the market considered the upside a surprise versus consensus estimates, the stock declined by nearly 6% the following day. Some attributed the decline to the forward guidance for the rest of the year. In the first quarter First Solar earned $1.10. Their overall guidance for the year is now between $2.60 and $2.80 which means there would be about $1.50 to $1.70 of earnings spread over the next 3 quarters. However, investors looking at First Solar's guidance in previous quarters will see that they have always been extremely conservative with their guidance.
Table 1 provides First Solar's guidance throughout 2013 and for 1Q 2014. As can be seen, First Solar provided conservative guidance which was well below where they came in for the full year. Moreover, the high side of their guidance at the beginning of 2013 (22%) was below any standalone quarter (see Table 2). In fact, the high side of their guidance at the beginning of the year was 4 points below their actual margins of 26.1% for the year.
Table 1 - Comparison of Guidance vs. Actuals

Click to enlarge
Table 2 - 2013 Quarterly Margins

Looking forward there is the possibility that new contracts are coming on which will erode First Solar's margins. However, there are a few key considerations when looking at how First Solar does its accounting. Most of their projects use percentage of completion (POC) accounting. This means they book the revenue and profit based on the percentage a project has been completed. So if the project is 10% complete - often calculated based on the cost incurred to date vs. the total expected cost of the project - they would book 10% of the revenue and 10% of the profit. So with POC accounting the profits are based on the estimated revenue and profit at the end of the project. If they believe the project is going to come in at lower profitability then under GAAP accounting rules (Generally Accepted Accounting Principles) they would need to reduce their revenue recognition to recognize the lower profit immediately. The key aspect of this approach is that unless projects have some in-quarter impact to their profit (i.e. something goes wrong with the project costs in the current quarter) there will be no change in the profit and the margins will remain flat from the previous quarter for any particular project.
Table 3 shows the projects currently in process. As can be seen, with the exception of Campo Verde, many of the projects which will generate the largest revenues in 2Q (Topaz, Desert Sunlight and AVSR) are the same projects that generated them in the first quarter. The largest change is that Campo Verde won't generate revenue and profit in 2Q. However, it should be noted that margins between 4Q 2013 and 1Q 2014 only changed by 0.3 points which suggests that Campo Verde had minimal impact on margins either up or down. So it seems likely that these projects are running near the average for 1Q and will likely remain at that level given their getting close to completion.
Table 3 - Projects Sold/Under Contract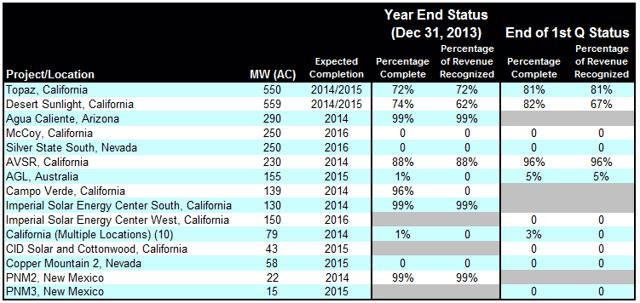 Click to enlarge
Source: 2013 10K report, 2014 10Q report
One other possible scenario that might drive margins lower in a particular quarter would be a change in the proportion of revenue contributed by module-only sales. If module-only sales were significant compared to project revenues this could drag down margins within a quarter (margins on modules are less than 10%). However, for the past three years module-only sales have been only about 10% of total full-year revenue. If that remained true this year, this would erode margins by less than 2% if overall project margins were running at levels similar to first quarter. In other words, although this scenario may impact a standalone quarter, on a full-year basis overall margins would still be significantly higher than First Solar's guidance.
The remaining contributors to in-quarter revenue and profit will come from the recently sold Macho Springs project or the sale of one of the other assets nearing completion such SolarGen2 or Maryland Solar (see Table 4). The PPA for the largest of these, SolarGen2, was originally contracted in July of 2011, before the worst of downturn. Reports indicate that SDG&E may have been putting as much as $600M into the project which would be the equivalent of $4/Watt, which would be well above what many other utility scale projects are going for today. So publicly available information would suggest that this project's margins are not likely a significant risk and if the reports on how much SDG&E paid are correct this may be a fairly profitable project.
Not a lot of information is available on Macho Springs. The information that is available suggests that the power purchase agreement (PPA) is aggressive. So it is possible that this project may have an impact on this quarter's margins. However, there do appear to be additional incentives that help improve the profitability. Moreover, in the broader context of the full year, Macho Springs is a relatively small project and not likely to significantly impact overall margins for the year by itself.
Table 4 - Projects with Executed PPA - Not Sold / Not Contracted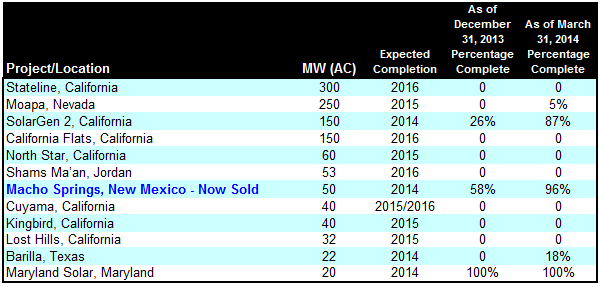 Source: 2013 10K report, 2014 10Q report
Upside Built into Outlook?
The potential upside is further reinforced in First Solar's own profit outlook for 2014 which they reviewed during their analyst day meeting. In the financial guidance section of the review they indicated that profit for 2014 (slide 10) is virtually 100% under contract already. This is an important point as it indicates that any profit from the sales of future power plants (such as SolarGen2 etc.) would be upside to the current outlook, unless sold at a loss. While Macho Springs may be low on profit, as pointed out, SolarGen2 may be relatively strong in profit and is significantly larger than the Macho Springs project. Bottom line, given First Solar's base forecast is virtually all contracted, it appears there is likely further upside to guidance for the year.
Long-Term Outlook Remains Intact
For the long-term investor it is important to look at the bigger picture, especially in the case of a company like First Solar which can see large fluctuations in revenue and profit as a result of the sale of large assets like Campo Verde in a particular quarter. This is why First Solar has focused more on full-year guidance updates rather than quarterly projections. At the same time it is also important that investors dig into the results to be sure that the broader picture remains intact. In the case of First Solar's first-quarter results the analysis here indicates that margins continue to be strong and that guidance on the full year is conservative. The results further support the previous analysis that margins in 2014 remain in line with the levels in 2013. First Solar's first-quarter margins of 24.9% easily beat out many of its key competitors such as Canadian Solar (NASDAQ:CSIQ) at 14.7%, Trina Solar (NYSE:TSL) at 20.6%, SunPower (NASDAQ:SPWR) at 23.5% and Yingli (NYSE:YGE) estimated to be about 16.5%. As outlined in the article, "Why First Solar Remains a Buy", First Solar's valuation using current guidance is in the area of $89 to $128 per share. If First Solar exceeds their full-year guidance this would further increase this valuation estimate. So the story for investors with a long-term view is that First Solar remains a buy and the current dip a good opportunity to take a position in the stock.
Disclosure: I am long FSLR. I wrote this article myself, and it expresses my own opinions. I am not receiving compensation for it. I have no business relationship with any company whose stock is mentioned in this article.