Companies in the integrated oil & gas industry explore, produce, refines, and distributes oil and gas. These companies usually have worldwide operations. This industry has experienced downtime in the recent past due the low gas prices, operational inefficiencies, and higher capital spending and all these factors discouraged industry earnings and cash flows. Nevertheless, most of the companies have altered their growth strategies to adjust with the changing market dynamics.
They are looking to dispose of non-core assets to enhance operational efficiencies and to support their capital spending. Integrated oil & gas companies are also moving towards the production of liquid plays, which offers high margins compared to gas. They are investing in their upstream activities due to the strong oil prices. Moody's also predicts stable long-term growth for these companies. In this article, I picked Exxon Mobil (NYSE:XOM) to see how it is operating in these circumstances. I looked at its growth strategies and financial performance to predict where it is headed. Furthermore, I will compare it with its closest peer to see which one is offering better returns for investors and to see which one should be bought, held, or sold.
Where Does Exxon Mobil Stand?
Exxon Mobil has experienced headwinds over the past two years; its revenues and earnings are following a downward trend. In the past two years, Exxon's earnings have fallen from $9.70 per share to $7.37 per share in 2013. This further impacted its cash flow growth. Nevertheless, the company has altered its business strategy. It has reduced capital spending, lowered cost of production of each unit, looking to move towards liquid plays, and targeting high value assets. In the most recent quarter, its liquid production increased 3.3% and gas production decreased 1.2 billion cubic feet per day.
The company's upstream business has generated strong growth in earnings while earnings from the downstream business decreased due inferior margins all around the globe. On a consolidated basis, the company's earnings fell 4% from the past year quarter. However, the cash flow situation remains strong because the company has generated operating cash flow of $16.2 billion. Capital expenditure reduced by 28%, and free cash flows increased around $2.9 billion compared to the past year quarter. Consequently, Exxon' dividends increased by 10%.
Looking forward, Exxon is on its way to start several new projects, which will bring production and volume growth. At the PNG LNG project, the company's first train is operational and the second is mechanically complete. In Malaysia, Exxon has started production from two out of twelve wells at Damar Gas Field, which are expected to produce 200 million cubic feet of gas per day. The Hibernia Southern expansion in Canada is expected to start production this quarter, which will produce 170 million barrels of oil. The Banyu Urip project in Indonesia that will produce 450 million barrels of oil is now 87% complete. Kearl expansion projected is 80% completed, and the company continues to increase production from 47,000 barrels per day in the fourth quarter of last year to 66,000 barrels per day in the first quarter of this year. In North America, it continues to increase high-margin liquid production in the Permian basin. Exxon is working on numerous other projects, which are expected to raise production in the coming days.
Where Does the other Player Stand?
Chevron Corporation (NYSE:CVX), a closest peer of Exxon is also struggling to generate top-line and bottom-line growth over the past three years. Since 2011, its earnings per share came down from $13.44/share to $11.09/share in 2013. It is expected that its earnings per share will decrease this year. Recently, Chevron reported poor first quarter results, and its earnings per share fell to $2.36/share from the past year quarter of $3.18/share. Its upstream earning came down due to the volatility in crude oil prices while downstream earnings were relatively flat compared to the past year quarter. Its cash flow situation is strong, but not as strong as Exxon's cash flow. Its operating cash flows are not even covering its capital requirements. Thus, its free cash flows remain negative, and this represents that the company has to depend on external sources either to support capital investments or returns for investors. However, the company has recently made an increase of 7% in its quarterly dividends, which I believe will put more pressure on its cash flows.
Going ahead, the company has attractive projects in line; some of them are likely to start production this year and upcoming years. One of the biggest LNG projects, the Gorgon, is predicted to start production in 2015. Wheatstone is its other large project, which is expected to be completed by mid-2016. Chevron's Big Foot and Jack/St. Malo projects in the Gulf of Mexico are on track, and they expect to start production at the end of 2014 to mid-2015, respectively. With these projects, Chevron is looking to generate 20% growth in production in 2017.
In Conclusion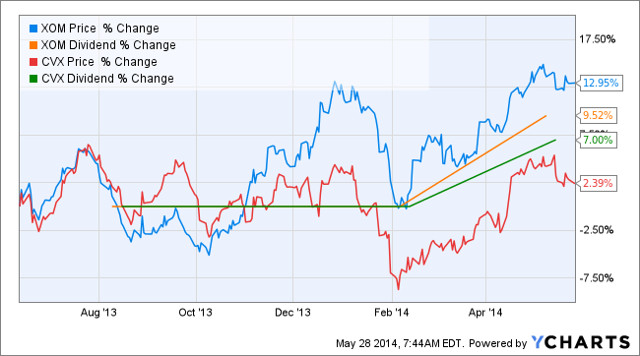 | | | | |
| --- | --- | --- | --- |
| | XOM | CVX | Industry Average |
| Price/Earnings TTM | 13.8 | 12.0 | 13.4 |
| Price/Book | 2.5 | 1.6 | 1.5 |
| Price/Sales TTM | 1.0 | 1.0 | 0.7 |
| ROE TTM | 18.7 | 13.6 | 14.0 |
| Debt/Equity | 0.1 | 0.1 | 0.3 |
Source: Morningstar.com
Both companies are trading at attractive multiples, and both are trading below their fair value estimates. Their debt-to-equity ratios are also similar, but Exxon has high return on equity compared to Chevron. As the above chart demonstrates, after a huge fall in the prices in February, both stocks gained momentum and are now trading nearly 52 weeks high. However, Exxon's stock performed better than Chevron and looks a bit pricey. I believe Exxon's better financial performance, future outlook, and better dividend growth allows its stock to gain momentum.
I believe Exxon will continue to beat Chevron as most of its major projects are nearly completed, which will enhance both its production and earnings. Furthermore, its cash-generating potential is also much stronger than Chevron's as its operating cash flows are covering capital expenditures and free cash flows are much greater than dividend payments. Meanwhile, Chevron's free cash flows are negative as its operating cash flows are not even providing enough to cover its investments. In addition, most of Chevron's projects are likely to start production in 2015 and 2016 to ensure growth in production. Therefore, I recommend Exxon over Chevron.
Disclosure: I have no positions in any stocks mentioned, and no plans to initiate any positions within the next 72 hours. I wrote this article myself, and it expresses my own opinions. I am not receiving compensation for it (other than from Seeking Alpha). I have no business relationship with any company whose stock is mentioned in this article.