When the market is clearly broadcasting a message that economic concerns are running high (and higher), it's probably not a bad idea to have a look at cyclical sectors to see if the markets have over-reacted and, in turn, undervalued solid companies.
One such area I'm examining is the steel sector....more specifically, one of my current holdings, Nucor (NYSE:NUE).
As MarketGrader.com summarizes it:
Nucor together with its subsidiaries are in the manufacture and sale of steel and steel products in North America and internationally. The company operates through three segments: Steel Mills, Steel Products, and Raw Materials....The company's operations also include international trading companies that buy and sell steel and steel products....The company's products are used in highways, bridges, reservoirs, utilities, hospitals, schools, airports, stadiums, and high-rise buildings. Nucor Corporation was founded in 1940 and is based in Charlotte, North Carolina.
For a taste of how the overall Materials Sector and the Steel Industry stocks have been doing, have a look at the MarketGrader.com's 'grades' for price trend. Both the overall sector and the industry have quite negative readings. Furthermore, NUE 'sentiment analysis' grade is quite low, earning it a 'negative' grade. Finally, its fundamental analysis indicators also score poorly and earn it a "sell" from this quantitative perspective.
So, at this point, unless we're about to declare an all-out short on the stock, why do we have it under focus?
Well, for one thing, I have owned NUE for some time on the belief that a growing global economy would benefit its business, even though much of NUE's business is in the US.
For another, their relatively healthy balance sheet and strong operating efficiency made me comfortable that their 3.7% dividend would be safe.
Furthermore, my view has been that any turnaround in the US economy that would ignite increased demand would allow NUE, through its operating leverage, to turn more profit out of every dollar on increased revenue and would help its stock recover from the drubbing (Chartfacts.com's picture tells a thousand words) it took when the economy fell off the floor in '08:
click to enlarge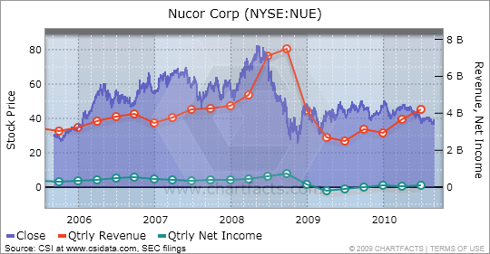 Click to enlarge
Owning (or buying) a steel company stock in the face of the headwinds that the US economy is facing, not least of which is the ongoing escalation in the volume surrounding the warnings of a double-dip recession, is probably not the best idea for the faint of heart. But each investor has to assess that for himself and measure the risk of owning NUE relative to one's overall financial profile, risk tolerance, etc.
I highlight the focus because NUE is a company that, should the economy turn, is expected to do quite well.
Morningstar wrote a note on this in early August, stating:
Nucor's low-cost operating model enabled double-digit operating margins for the past several years, higher than many of its peers. Last year broke the earnings streak, as plummeting demand and steel prices from the economic recession resulted in a net loss for the company. We believe Nucor will return to profitability in 2010, and we forecast an average return on invested capital of 15% for the next five years.
Morningstar also highlighted some key risks:
Nucor's operations are highly concentrated in the U.S.; this limits the firm's ability to participate in the growing demand in emerging markets, as distribution and shipping costs are high.

The company's long products have underperformed flat-rolled because of their dependence on the sluggish construction markets. However, capacity growth in China has significantly exceeded the growth in Chinese demand in recent years, and any overproduction could hamper the performance of Nucor's flat-rolled business, as most of the excess capacity is in flat-rolled products.
So again, this is not a 'buy signal' of any kind. Rather, it's hopefully a thought-provoking piece about a company that has had disappointing stock price action, is very heavily influenced by the fate of the overall economy, stands to do well when/if things start to turn and that pays a good dividend. Is it right for your portfolio? Only you can decide. But hopefully I've given you something "NUE" to consider.
Disclosure: THE ABOVE IS FOR INFORMATIONAL PURPOSES ONLY AND NOT TO BE CONSTRUED AS SPECIFIC TRADING ADVICE. RESPONSIBILITY FOR TRADE DECISIONS IS SOLELY WITH THE READER. Long NUE, and various stocks/ETFs in the S&P 500, DJIA and Emerging Markets.