Take-Two Interactive Software (NASDAQ:TTWO) is headquartered in New York, and sells products designed for console systems, handheld gaming systems and personal computers. These games are delivered through digital download, cloud streaming services and physical retail sales.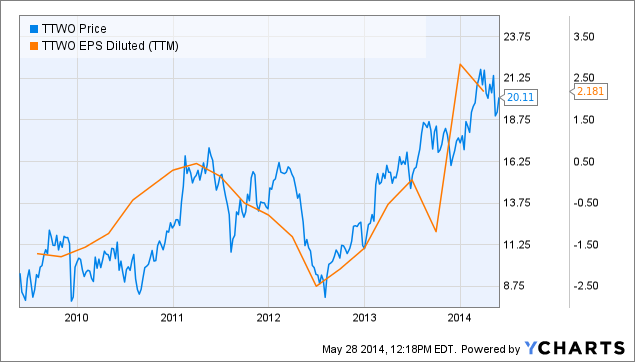 From a value perspective and based on a peer group with a forward P/E of 18x, the company's P/E ratio is lower than 82% of the companies in its cohort, and from an EPS perspective, TTWO has a growth rate that's better than 97% of its peers. The company is trading at $20.11 and has a consensus price target of ~$22.60, though the industry P/E suggests it should be trading at ~$60-$70.
Why Is TTWO undervalued
There are two reasons that this company may be undervalued:
Investors don't think the company will be able to duplicate this success next year.
Investors are not comfortable with the inconsistency of earnings.
Still, even though earnings are fairly volatile, they continue to beat analyst expectations, and this quarter, expectations seemed lower than usual at $.10. Actual numbers came in at $.21 for a 110% earnings surprise over consensus.

Source: Yahoo Finance
For the full-year 2014, non-GAAP revenue grew 97% and non-GAAP EPS increased to $4.26, from $.36 the prior year. Most of the increase is driven by Grand Theft Auto V, BioShock Infinite and NBA 2K14.
Duplicating last year's success
In addition to being its 20th anniversary, 2013 was a breakout year for TTWO, and some investors may be wondering if it can repeat the performance this year, especially as gamers transition from console to Internet. The CEO had this to say about Grand Theft Auto expectations on the May 13 earnings call.
Revenue from Grand Theft Auto online outperformed our expectations in the fourth quarter, and was the single largest contributor to our digitally delivered revenue in the fiscal year. More than 70% of those who played Grand Theft Auto V while connected to the Internet played Grand Theft Auto online.
This speaks to the performance of Grand Theft Auto and the company's ability to transition gamers away from the console and toward the Internet. Indeed, if the company comes out with a PC version of Grand Theft Auto this year, it could have a significant impact on earnings.
On May 19, Reuters published an article announcing the rumored purchase of Twitch for more than $1 billion by Google's (GOOG, GOOGL) YouTube. In September, Twitch raised $20 million in funding from several parties, including Take-Two. What exactly does Twitch do, and why is Take-Two interested? It allows gamers to broadcast live video streams of themselves playing games, and includes a host of social networking options that its 45 million gamers can visit every month.
Innovations like this provide another way for Take-Two's console players to interact with the Internet, which should increase incremental revenue, but what's in the product release pipeline for next year?
Looking ahead we have more than 10 unique next-generation titles in development including unannounced releases planned for fiscal 2015. The successful evolution of Take-Two and its vast potential is reflected in our significant profit outlook for the current fiscal year, as well as our expectation for continued non-GAAP profitability every year for the foreseeable future.
Looking for earnings consistency
Take-Two had a phenomenal earnings year, but does that mean it's a good buy? On one hand, the company has erratic earnings, and FY 2015 earnings will likely be much lower than FY 2014. On the other hand, the company appears to have a track record of underestimating performance, and as one person commented on the last earnings call transcript:

Indeed, the company is expecting a loss next quarter of ($.35) to ($.25), better than ($.54) last year, and full-year EPS is expected to be between $.80 and $1.05, which is much lower than this year.
So, perhaps the price is warranted given the risk of uncertainty, but judging from this company's past, earnings estimates tend to be extremely conservative, as the performance of new releases is uncertain. Here's an excerpt from last year's Q4 earnings call:
Our initial outlook is for net revenue to range from $1.75 billion to $1.85 billion and net income to range from $2.05 to $2.30 per share.
In actuality, net revenue increased 97% for a record $2.4 billion, and non-GAAP net income came in at $4.26 per share, almost twice as much as the company's initial full-year outlook.
Conclusion
The flaw in TTWO's business model, the issue that keeps the CEO up at night, is its lack of consistency, and that flaw equates to risk. The good news is that management is aware of this flaw and they're working on increasing revenue consistency through a host of initiatives, such as next-gen consoles, downloadable add-on content and other incremental revenue opportunities such as the ones Twitch may be able to provide, especially if it's purchased by Google.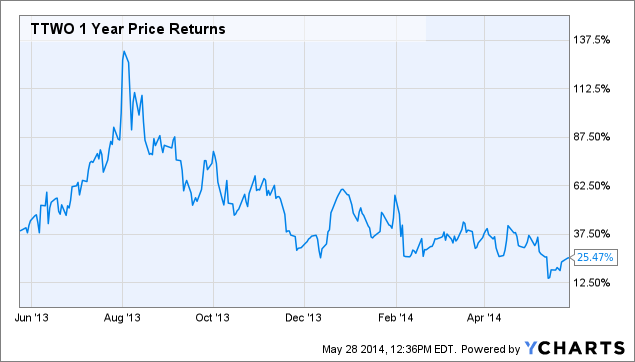 TTWO 1-Year Price Returns data by YCharts
As you can see from the chart above, 1-year price returns are starting to creep back up. Still, the risk is there. If you're willing to take on that risk, this may be a great buying opportunity.
Disclosure: I have no positions in any stocks mentioned, and no plans to initiate any positions within the next 72 hours. I wrote this article myself, and it expresses my own opinions. I am not receiving compensation for it (other than from Seeking Alpha). I have no business relationship with any company whose stock is mentioned in this article.