So far, General Electric's (NYSE:GE) shareholders are not too excited about the $16.9 billion deal to take over Alstom's (OTCPK:AOMFF) Thermal Power, Renewable Power and Grid businesses. The money, of course, is still on the table, and French lawmakers are determined to get the best possible deal for France.
Alstom already endorsed General Electric's acquisition offer which would allow the French conglomerate to concentrate solely on the lucrative transportation business. In an interesting development this week, Jeffrey Immelt, Chief Executive Officer of General Electric, personally appeared before France's National Assembly (The French equivalent to the United States House of Representatives) and made his case for a General Electric takeover. The appearance is remarkable for two reasons: First, General Electric indeed goes to great length in order to secure lawmakers' approval for its Alstom energy deal. Secondly, the appearance of a Chief Executive Officer in parliament is a very rare occurrence and highlights how deeply rooted interventionist government politics in France still are today. In addition, Immelt pledged to create 1,000 new jobs in France should General Electric be successful in acquiring Alstom's energy assets. The stakes have just been raised.
But General Electric is not the only player pouncing the table for its acquisition offer. On May 27, 2014 the Financial Times reported that Siemens (OTCPK:SIEGY) is also making its case in Paris:
Addressing a French parliamentary committee on Tuesday, Christophe de Maistre, head of Siemens' French business, lauded the merits of Siemens' draft proposal to inject its train business into Alstom in return for power generation assets.

Speaking in French, he struck all the right political notes, saying it could create two "European champions of worldwide reach" that would protect jobs for Alstom employees joining Siemens for three years.

"It is our belief that two [bids] would be in the best interest of Alstom and its stakeholders to make an informed choice," he said.

But conscious of its fiduciary duty to Siemens shareholders the executive also said Siemens would consider the matter "calmly" and after thorough due diligence, consultation and the assessment of legal and financial risks.

Siemens' shareholders and analysts still need convincing. Christoph Niesel, senior portfolio manager at Union Investment, a major Siemens shareholder, said: "We view a possible deal with Alstom very critically, in particular because the priorities of Mr Kaeser's recently introduced reorganisation plan lie entirely elsewhere."
Obviously, General Electric is going all-in with its Alstom deal. French lawmakers, however, have already asserted that they preferred a competing bid from Siemens. In my last article covering the progress of the deal situation (here), I argued that Siemens will likely submit a bid after it has evaluated Alstom's books.
Siemens now appears to be getting all serious and said it will submit a formal offer for Alstom's energy business by June 16, 2014. While little details have emerged with regard to deal specifics, analysts largely expect an offer for Alstom's energy assets while at the same time Siemens will seek to appease both company officials and lawmakers by swapping its train business. I can imagine that Siemens will bid about $10-12 billion for Alstom's energy assets and will surrender its train business on top of that.
So let's sum up: While Siemens' proposed deal structure remains unknown for the moment (including the suggested takeover price for Alstom's energy assets and the internal valuation of its train business), the stakes now clearly have been raised on both sides and a potential bidding war could ensue that would include all players at the table: Siemens, General Electric, Alstom and the French government (and likely the German government, too, if, for some reason, jobs in the train business would move cross-border).
For the time being, momentum is building for Siemens. General Electric just extended its $16.9 billion offer for Alstom until June 23, 2014 while Siemens has more time to study Alstom's books and make an informed offer. Personally, I think Siemens should not bid for Alstom (and definitely shouldn't pay a premium price), but instead concentrate on the reorganization of its business structure. An acquisition of Alstom's energy assets would still mean considerable integration work and would steal focus from Siemens' efforts to improve operating margins.
Should a bidding war ensue (after all, both companies have stepped up their game already), I wouldn't be too surprised if General Electric's shares dip back below $26 while Alstom shares certainly should receive a boost. In any case, I still rate General Electric a long-term BUY, with or without an acquisition success.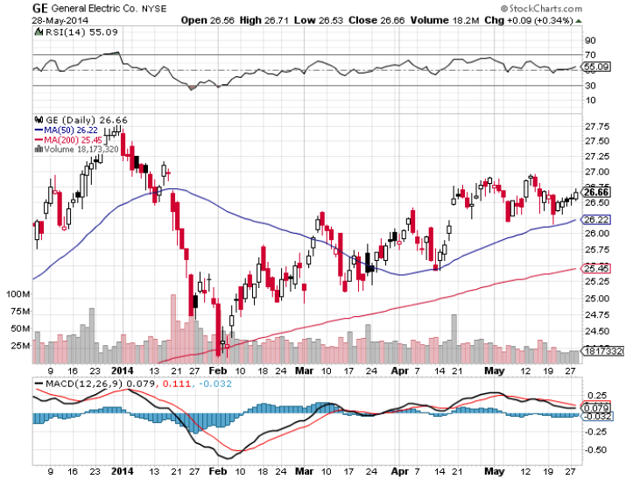 Click to enlarge
(Source: StockCharts.com)
Disclosure: I have no positions in any stocks mentioned, and no plans to initiate any positions within the next 72 hours. I wrote this article myself, and it expresses my own opinions. I am not receiving compensation for it (other than from Seeking Alpha). I have no business relationship with any company whose stock is mentioned in this article.
Editor's Note: This article discusses one or more securities that do not trade on a major U.S. exchange. Please be aware of the risks associated with these stocks.