U.S convenience store chain Casey's General Stores (Nasdaq: CASY) has said it has received a $40 per share rival takeover offer from a third party, trumping Couche-Tard's earlier $38.50 per share bid.
Casey's shares were up nearly 8% in the first hour of trading yesterday, as its board recommended it reject Couche-Tard's bid, as the offer "substantially undervalues Casey's and is not in the best interests of Casey's, its shareholders and other constituencies," the company said in a statement.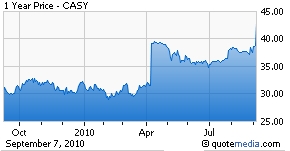 While Casey's still believes its value "substantially exceeds" $40 per share or $1.5 billion, it has entered discussions with the third party to explore a potential transaction, it said.
The company also reported earnings per share of $0.73 for the first quarter of fiscal 2011 versus $0.87 a year earlier, missing analyst estimates by eight cents due to legal and advisory fees pertaining to Couche-Tard's hostile takeover offer.
Excluding the fees, basic earnings per share would have been in line with analyst estimates at $0.81 for the quarter, still down by six cents from the previous year, however.
Profits for the quarter totalled $37.29 million, down from $44.19 million in the prior year quarter.
Revenues for the period ending July 31 2010 were up 14% to $1.36 billion from $1.19 billion during the same period in 2009.
Gross margins, however, fell to 17.2% from 18.5% on higher costs and more competitive pricing.
In the business' gasoline segment, which accounts for approximately two-thirds of the company's revenues, same-store gallons sold in the quarter were up 1.5% with an average margin of 16.4 cents per gallon.
In the grocery division, same-store sales rose 2.0% for the quarter, while sales of prepared foods and fountain drinks were up 2.4%.
Casey's has also said it has signed commitments to acquire an additional 52 stores that it anticipates closing by the end of the calendar year, placing it ahead of schedule in achieving its fiscal 2011 goal of increasing the total number of Casey's stores by 4-6%.
Moreover, the company declared a quarterly dividend of $0.135 per share - representing a 35% increase.
Casey's had cash and cash equivalents of $198.1 million as at July 31, 2010, versus $151.7 million as at April 30, 2010.
Disclosure: No position