Intel (NASDAQ:INTC) has stopped raising dividend since 2012, which disappoints a lot of income investors despite its solid dividend yield at 3.4%. In this article, I provide readers some perspectives on Intel's cash flow and dividend in the coming 3 years.
My analysis (see chart below) started with consensus estimated revenues which predict the top line to increase from $52.7B in 2013 to $56.3B in 2016, representing 2.2% CAGR. It should be noted that Intel's operating cash flow ("OCF") margin increased from 31.8% in 2009 to 39.4% in 2013. To be conservative and account for risk in consensus estimates, I assumed an OCF margin of 36.7% for 2014, which is consistent with its 5-year historical average. Given that consensus estimates expect a rise in EBITDA margin from 40.1% in 2014 to 42.1% in 2016, I have incorporated this trend in my OCF margin projection and assumed it to expand to 37.7% by 2016. For capex, as Intel has not announced any significant capital spending plan for near term, I assumed the figure to grow slightly and reach $11.8B by 2016. Based on these assumptions, free cash flow was projected to grow from $8.5B in 2014 to $9.4B in 2016, by 5.5% CAGR. Given that annual dividend payment came in at only $4.5B in 2013 and future free cash flow is way above that amount, there is room for dividend growth. However, the question is what percentage of the free cash flow will be spent on paying dividend (i.e. what the free cash flow payout ratio is) and its future trend.

Click to enlarge
Assuming that Intel keeps the annual dividend payment flat through 2016, my analysis suggests that free cash flow payout ratio will increase from 44.5% in 2013 to 52.7% in 2014. After 2014, the ratio will gradually decline to 47.4% by 2016 due to growth for my forecasted free cash flow (see chart above).
In this flat dividend payment scenario, Intel would have approximately $4.0B-$5.0B excess free cash flow per annum which can be used for share buyback and acquisitions. I also performed a second analysis to project future dividend per share (see chart below). Assuming 80% of the annual excess free cash flow (the other 20% is to account for minor cash acquisitions and positive impact on share count due to equity issuance) is spent on repurchasing shares at price that increases by 7.5% per annum from the current share price of ~$27, I estimated that total share count will reduce to 4.8B by 2016. Due the lower share count, dividend per share will be flat at $0.90 in 2014 but will increase to $0.94 in 2016 even with unchanged annual dividend payment. Based on consensus EPS estimates from 2014 to 2016, my projections imply that EPS payout ratio will decline from 47.6% in 2014 to 44.7% in 2016.

Click to enlarge
I believe one of the primary reasons for the dividend pause starting in 2012 was due to a spike in both free cash flow and EPS payout ratios in that year. As my projections show that the two ratios will remain well above their historical levels in 2010 and 2011 even without a growth in total dividend payment, management would probably be hesitated to announce a large dividend raise.
On a sustainable basis, I estimated that Intel can grow total dividend payment by 4% per annum while maintain a steady free cash flow payout ratio at 53%-55% (see chart below). In this case, dividend per share was projected to grow by 6.2% CAGR from $0.94 in 2014 to $1.06 in 2016 with a stable EPS payout ratio at 50% (see chart below). This scenario means that as long as Intel can accept higher free cash flow and earnings payout ratios, it can sustain a ~6.2% annual dividend per share growth in the coming 3 years.

Click to enlarge

Click to enlarge
From a dividend valuation perspective, based on Intel's current annualized dividend of $0.90 per share and a 10% cost of equity (supported by a 9% cost of equity calculated by CAPM model based on 3% risk-free rate, 6% equity risk premium, and Intel's 5-year beta of 1.0), the Gordon Growth Dividend Discount Model suggests that the current share price of ~$27 implies a dividend growth rate of approximately 6.5%, which is fairly in line with my sustainable estimate (see chart below).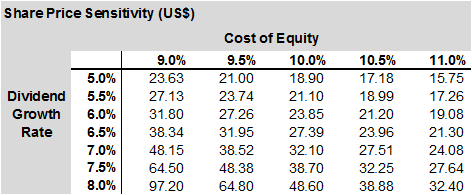 In conclusion, given the current state, Intel is still going to face high free cash flow and earnings payout ratios in the next few years even without a rise in total dividend spending. Hence, a sizable dividend hike is unlikely unless there is meaningful improvement on future cash flow outlook.
All charts are created by the author, and data used in the article and the charts is sourced from S&P Capital IQ, unless otherwise specified.
Disclosure: I am long INTC. I wrote this article myself, and it expresses my own opinions. I am not receiving compensation for it (other than from Seeking Alpha). I have no business relationship with any company whose stock is mentioned in this article.