Investors had to be encouraged by the pre-holiday rally in U.S. equities last week. The Dow had moved into positive territory on the year. The S&P 500 had catapulted 5.6% higher off an intra-week low. And the CBOE Volatility Index (VIX) had dropped below a 50-day moving average.
Taking it one step further, the VIX has hit "lower highs" in every consecutive month since May. This additional bit of data is evidence that fear may be slowly subsiding over time.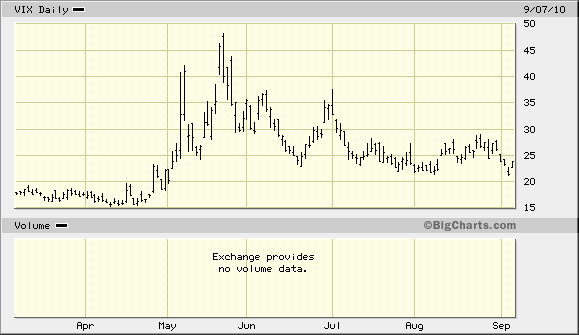 On the flip side, the fear of allocating to U.S. stocks can't be single-handedly addressed by the VIX alone. Here are 3 reasons to think "thrice" about developed market stocks:
1. CurrencyShares Yen Trust (FXY). Investor willingness to sell/short/borrow the low-yielding yen to investing in higher-yielding assets (e..g, high yield bonds, higher-yielding currencies, stocks, etc.) – a practice frequently referred to as the "yen carry trade" — is yet another method for assessing "fear." If the yen is losing ground, investors are probably confident… but if the yen is appreciating in value, investors are probably scared.
On Tuesday, January 7, the yen hit a 15-year high against the dollar during intra-day trading. It follows that as long as the CurrencyShares Yen Trust (FXY) is winning, investors in U.S. stocks may be timid.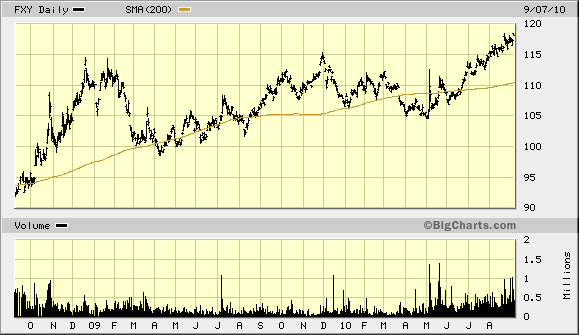 2. iShares 1-3 year Treasury Bond (SHY). Demand for short-term treasury bonds is another dagger in the heart of equities. On September 7th's auction of 3-year treasury notes, the high yield of 0.79% set a record low. The consistent price appreciation for SHY is not easily dismissed by diversification models or increases in total AUM for the ETF industry; rather, it's one more sign that principal conservation is still in season.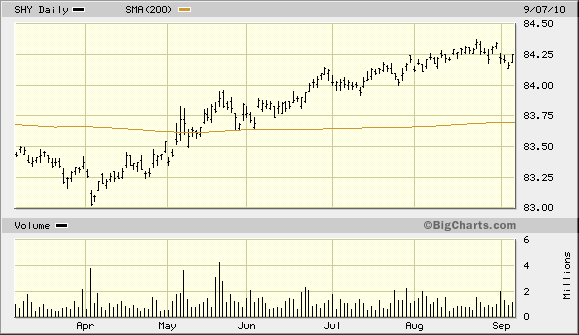 3. SPDR Gold Trust (GLD). Every time the media dismisses the yellow metal, they get it wrong. Writers keep using the word "bubble" to describe a precious metal that does far more than protect against inflation. Gold hedges against sovereign debt default, currency crises, dollar devaluation and fear itself. Not to forget that China and India love the stuff.
I've been advocating "gold" at every significant pullback over the last 12 months, whether stock assets were heading higher or lower. With stocks below 200-day moving averages, however… and with gold settling at yet another all-time high… exchange-traded vehicles like GLD are clear indications of economic uncertainty/fear of ongoing economic distress.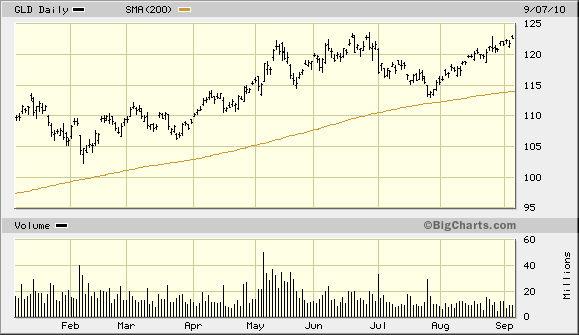 Disclosure: Gary Gordon, MS, CFP is the president of Pacific Park Financial, Inc., a Registered Investment Adviser with the SEC. Gary Gordon, Pacific Park Financial, Inc, and/or its clients may hold positions in the ETFs, mutual funds, and/or any investment asset mentioned above. The commentary does not constitute individualized investment advice. The opinions offered herein are not personalized recommendations to buy, sell or hold securities. At times, issuers of exchange-traded products compensate Pacific Park Financial, Inc. or its subsidiaries for advertising at the ETF Expert web site. ETF Expert content is created independently of any advertising relationships.