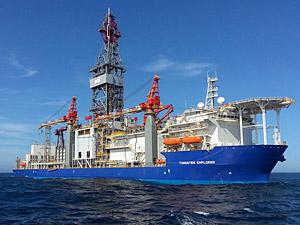 Tungsten Explorer from VTG website.
Vantage Drilling is a mid-tier offshore drilling company which operates in the USA and internationally. The company owns a fleet of 8 drilling units, including four jack-ups and four ultra-deepwater drillships (one still under-construction.) Seven rigs were in service during the first-quarter 2014.
Vantage Drilling was founded in 2007 and is headquartered in Houston, Texas. The company has 781 full-time employees.
Paul A. Bragg, CEO, said at the May 6, 2014, conference call:
I will comment that Q1 was another excellent operational quarter for Vantage. Our jackups once again worked at high revenue efficiency of more than 99%. Our deepwater efficiency was about 95% in Q1.
Complete fleet analysis as of May 6, 2014.
Comments on the Q1 results. Financial snapshot.
Important links:
1 - Revenues for the first-quarter 2014 were $232.5 million as compared to $238.5 million during the fourth-quarter 2013. Revenues were slightly lower due to the timing of mobilization and demobilization fees.
2 - The income from operations was $91 million for the first-quarter 2014. The bright part was the jack-up fleet that had 99% efficiency this quarter compared to 89.4% the previous quarter.
3 - The average contract revenue per day was $161,400 as compared to $162,300 the previous quarter, due to lower mobilization fee for the Topaz driller.
4 - Operating expenses per rig for the first-quarter 2014 were $66k compared to $57.8K the previous quarter.
5 - EBITDA for Q1 2014 was $122.6 million as compared to $129.9 million for Q4 2013.
6 - Net income for Q1 2014 was $24.8 million or $0.07 per diluted share as compared to $30.3 million or $0.09 per diluted share the previous quarter.
7 - Cash on hand was $65.3 million and debt was $2.9 billion.
8 - Capex for Q1 2014 was $7.5 million.
9 - Backlog is $2.8 billion.
Fleet and financial comparison with Pacific Drilling (NYSE:PACD) and Ocean Rig UDW (NASDAQ:ORIG).
My last two articles were devoted to PACD and ORIG, which own a very modern fleet specialized exclusively in Ultra-deepwater drillship rigs. I believe it is important to compare these companies to Vantage Drilling, and decide if it presents the same opportunities and comparable financial health than the other two.
As we can see with the schema below from the PACD website, VTG has one of the most modern fleets among its peers.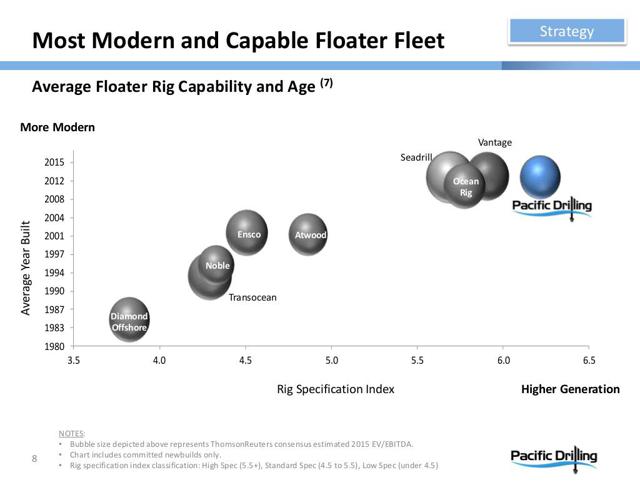 Vantage Drilling, Ocean Rig UDW, Pacific Drilling and Seadrill (NYSE:SDRL) have the most modern fleets in the industry. I will not incorporate Seadrill because the fleet size and financial of the company are too high to be compared.
Here is a fleet and a financial comparison table:
Name
Jackups

Semi

sub

Working UDW Rigs

Future

Rigs

Backlog in $ billion
Debt $ billion
Q1 Revenue $ million
EBITDA $ million
Day rate average $ K
VTG
4
0
4
1
2.8
2.90
232.5
122.6
359
PACD
0
0
6
2
3.3
2.43
225.6
100.9
563
ORIG
0
2
8
3
5
4.41
360.8
172.2
574.6
YTD chart for the three companies.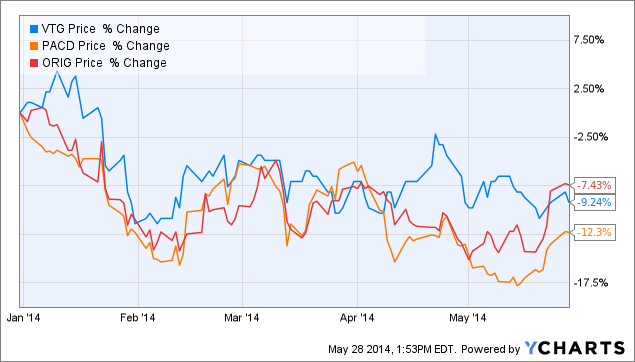 Vantage Drilling is a well-balanced company with a quarterly revenue similar to Pacific Drilling and not far from Ocean Rig. The day rate average indicated above is smaller than the other companies because VTG has its modern fleet split into the jackup rigs, with lower day rates, and drillship rigs with stronger day rates. In fact, the day rate average Vantage Drilling is getting from its three drillship rigs is $622k or 7% higher than PACD or ORIG are getting.
However, the high-level, long-term debt is a well-known concern with $1.5 billion coming to term in 2019. The company is aware of this situation and is trying to reduce the debt, and estimates that the cash flow from operations forecasted will cover all debt service through 2018. The company is targeting a leverage of five-time-EBITDA for 2014. At the CC, Paul A. Bragg said:
In accordance with our guidance, we repaid about $30 million in debt in Q1, and we are still targeting to increase to an average of $50 million in coming quarters. Debt reduction remains our priority for 2014 and 2015. We do have manageable and attractive growth already in the queue for the latter part of 2015 following the delivery of Cobalt Explorer, which is now under construction.
One negative revealed on the conference call is about the Tungsten Explorer's rig new schedule transfer to its next location in West Africa that will impact revenues. The company estimated the impact at approximately one or two months in the revenues of the Q2 2014, and consequently, is reviewing EBITDA guidance between $106 million to $124 million for Q2 2014.
Furthermore, VTG is discussing with potential customers the contracting of the Cobalt Explorer that will be delivered in 2015. Here is what Paul A. Bragg said at the CC:
We are discussing our Q3-Q4 2015 delivery Cobalt Explorer with a number of customers, and we see strong interest in the rig. We expect strong competition for job opportunities in the near term and will probably not contract the rig before late 2014 or even into 2015. But there is certainly the possibility that contracting could occur sooner, as we have outstanding bids in the market today.
One potential positive is about the lawsuit that VTG has pending against Nobu Su's bankruptcy, and its possible outcome forecasted by end of 2014 or early 2015.
Conclusion
It is a difficult task to give an honest rating for Vantage Drilling now. Many conflicting issues are blurring the valuation and the general softness of the market is not helping. The stock price is attractive.
The long-term debt is an issue and the company is aware of this situation, and is trying to reduce the debt load.
Here is the YTD chart: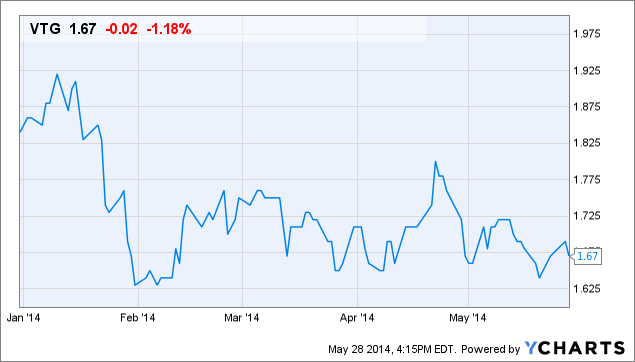 I think the company is a hold until the situation about its new drillship Cobalt Explorer will be cleared and will be firmly contracted for 2015 and beyond. The lack of dividend is another negative in my view as compared to most of the other offshore drillers which offer a dividend between 20% and 2%.
Disclosure: I have no positions in any stocks mentioned, and no plans to initiate any positions within the next 72 hours. I wrote this article myself, and it expresses my own opinions. I am not receiving compensation for it (other than from Seeking Alpha). I have no business relationship with any company whose stock is mentioned in this article.