As the frequency and magnitude of government intervention into financial markets have increased in recent years, central bank meetings have taken on a new level of importance. This week will see plenty of activity on this front; in the next few days, several governments across the globe will announce their decision on how to move interest rates–if at all–and perhaps provide additional insight into their assessment of some major world economies. The U.S.'s neighbor to the north, Canada, kicks off the activity on Wednesday with an interest rate decision that should be watched closely around the world.
The Bank of Canada will release its interest rate decision today, one of eight days annually that the central bank makes such a decision. As the Canadian recovery has gained steam, so too has the central bank's willingness to hike rates and ward off potential inflation; the last two decisions have seen interest rates rise by a quarter of a percent each time, and today is expected to continue that trend. Rates are currently sitting at 0.75% for the Canada, and are forecast to rise to an even 1%. This hike in rates will be closely monitored by investors in currency markets, as it would widen the gap between Canada and the U.S.
A raise in rates could bring along with it both ups and downs for local investors. A hike suggests that the Canadian bank may be concerned about inflation, and may stifle borrowing and business investment. A rate hike would likely boost the value of the Canadian dollar, attract yield-hungry foreign investors.
With this major announcement ahead, the CurrencyShares Canadian Dollar Trust (NYSEARCA:FXC) figures to be active in Wednesday trading; this fund is designed to track the price of the Canadian dollar relative to the U.S. dollar. So far in 2010, this ETF has traded within a narrow band, as the loonie and greenback have stayed relatively close to parity. If the interest rates given a further boost in Canada, this fund could stand to gain, as the Canadian dollar will likely see an appreciation against the U.S. greenback. But if interest rates remain at current levels, investors in FXC could be spooked.
click to enlarge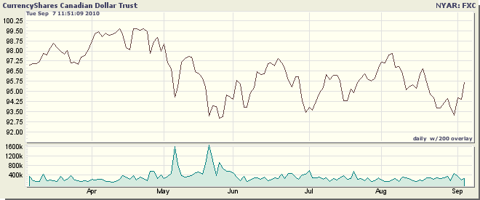 Disclosure: Photo courtesy of Maria Azzurra Mugnai. No positions at time of writing.
Disclaimer: ETF Database is not an investment advisor, and any content published by ETF Database does not constitute individual investment advice. The opinions offered herein are not personalized recommendations to buy, sell or hold securities. From time to time, issuers of exchange-traded products mentioned herein may place paid advertisements with ETF Database. All content on ETF Database is produced independently of any advertising relationships.