McCormick (NYSE:MKC) is a leading global producer of spices, seasonings, condiments, and flavors. The business sells its products to both consumer and industrial clients. McCormick has been in business for 125 years; the company was founded in 1889. McCormick sells its spices under a wide variety of brands.
Hormel (NYSE:HRL) markets, sells, and distributes consumer branded food products. Hormel's brands include Spam, Skippy, and Jennie-O Turkey. The company was founded in 1898 and has paid dividends for 48 consecutive years.
General Mills (NYSE:GIS) is a global producer of branded food products. The company's food portfolio includes cereals, baking products, snacks, frozen foods, meals, and yogurt. The company has a very impressive history of rewarding shareholders. General Mills has paid regular dividends without interruption or reduction for 115 years.
General Mills Current Events
General Mills sales are up 2% for the most recent nine-month period. This is in line with the company's long-term expectations of low single-digit revenue growth. The company's health conscious Small Planet Foods products have grown revenue at a quicker 8% pace for the most recent nine months. Additionally, International sales have increased by about 11% on a constant currency basis due to strength in Latin America and the Asia/Pacific region. General Mill's strong international sales growth is promising.
International sales currently account for about 30% of General Mills' sales. The percentage of international sales will continue to rise as international growth greatly exceeds domestic (US) sales growth. General Mills' acquisition of Yoplait in 2011 is fueling international sale growth. The emergence of middle class consumers in the developing world presents an exciting opportunity for General Mills. Globalization and the convergence of consumer tastes coupled with emerging market consumer growth will drive sales for General Mills in the future. Look for General Mills to continue strengthening its international portfolio with further acquisitions.
General Mills Small Planet Foods Products is also experiencing strong growth. Sales for 2014 should show double digit growth, as they did in 2013. Small Planet Foods brands include Lara Bar and Cascadian Farm Organic. Currently, Small Planet Foods accounts for about 2% of General Mills revenue. The company will likely bolster this division in the future through investment and acquisitions. Healthier food options are a growing trend in the US, especially with millennial consumers. The company also recently acquired Immaculate Baking in 2013. Immaculate Baking sells health-branded breakfast rolls and cookies. The acquisition further strengthens General Mills healthy portfolio.
Hormel Current Events
Hormel has positioned itself to take advantage of the growing Hispanic foods market in North America. The company has expanded its Hispanic product offering greatly over the last 5 years through acquisitions. Hormel acquired Wholly Guacamole in 2011, and Don Miguel in 2010. The company has a 50-50 joint partnership with Herdez Del Fuerte called MegaMex foods.


Source: MegaMex Foods
Hormel is attempting to drive sales internationally through its acquisition of Skippy Peanut Butter in 2013. International sales are up 24% for the most recent quarter; much of this growth is from the acquisition of Skippy. This strategic acquisition will help Hormel better penetrate into the Chinese market.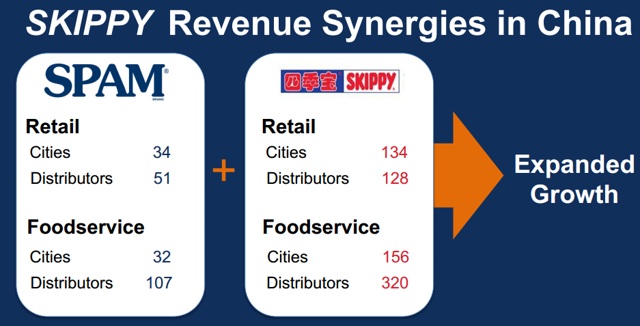 Source: Barclay's Back to School Presentation
McCormick Current Events
McCormick plans to grow through innovation, brand marketing, and acquisitions. The company increased sales 6.3% year-over-year for the first quarter. McCormick's is the largest spice and seasoning provider in the US, Canada, and several European Markets.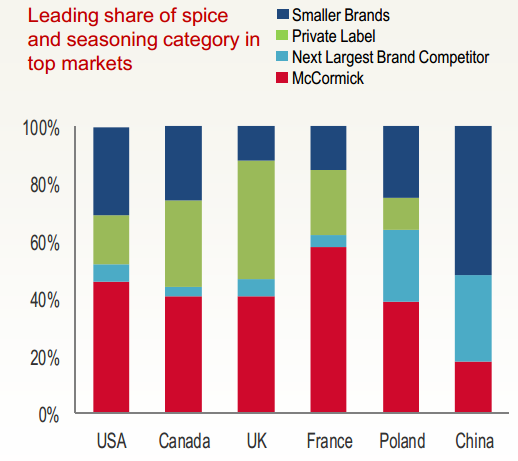 Source: McCormick 1st Quarter Presentation
Consumer Sales in the Americas were down 1.2% due primarily to volume decreasing 2.1%. McCormick's consumer growth is coming primarily from Europe, the Middle East, Africa (hereafter abbreviated as EMEA), and Asia and the Pacific. While international growth is promising, the company's needs to focus on growing domestically to continue to generate large cash flows for international expansion.
McCormick is expanding its market share in China. The spice and seasoning market in China is expected to grow at over 9% a year. McCormick posted consumer sales growth of 20% year-over-year in China for the first quarter of 2014. Much of this growth was driven by acquisitions. Consumer sales in EMEA increased 6.5% due largely to an increase in volume.
Shareholder Return
Shareholders of McCormick can expect a 6% to 9% CAGR going forward from growth (3% to 5%), share repurchases (1% to 2%), and dividends (2%).
Shareholders of General Mills can expect a CAGR of around 7% to 9% going forward from growth (2% to 3%), share repurchases (2% to 3%), and dividends (3%).
Shareholders of Hormel can expect a double digit CAGR of around 10.5% going forward, from organic revenue growth (~6%), share repurchases (~3%), and dividends (~1.5%).
Valuation · General Mills PE Ratio: 19.87 · Hormel PE Ratio: 22.87 · McCormick PE Ratio: 24.23 Of the 3 businesses, General Mills is the cheapest, while McCormick is the most expensive. Only General Mills has a PE ratio under 20. General Mills appears to be fairly valued, while Hormel is either fairly valued or slightly overvalued. McCormick is most likely overvalued at this time.
Dividend History
McCormick has increased its dividend for 28 consecutive years. The business has been around since 1889. Its long operating history is evidence of a competitive advantage in a slow changing industry.
General Mills has paid continuous dividends without interruption for 115 years. This is among the longest streaks of any business. The company is not a 'true' Dividend Aristocrat, as it has not increased its dividend each year in the last 25 years. General Mills long history of rewarding shareholders through rising dividends exemplifies the company's stability and brand strength in the slow-changing consumer foods industry.
Hormel has increased its dividend for 48 consecutive years. Hormel's long-term success shows it operates in a slow changing, growing industry. Global food sales will grow as long as the population increases.
Of the 3, Hormel has the longest streak of consecutive dividend increases while General Mills has the longest streak of dividend payments without a reduction.
Why it matters: The Dividend Aristocrats (stocks with 25-plus years of rising dividends) have outperformed the S&P 500 over the last 10 years by 2.88 percentage points per year. (Source: S&P 500 Dividend Aristocrats Factsheet, February 28 2014, page 2)
Dividend Yield
McCormick Dividend Yield: 2.06%
General Mills Dividend Yield: 3.02%
Hormel Dividend Yield: 1.67%
General Mills has the highest dividend yield of the 3 businesses by far. McCormick's dividend yield is about average compared to the total stock market. Hormel's is somewhat less than the average business. General Mills wins this category by a wide margin.
Why it Matters: Stocks with higher dividend yields have historically outperformed stocks with lower dividend yields. The highest-yielding quintile of stocks outperformed the lowest-yielding quintile by 1.76 percentage points per year from 1928 to 2013. (Source: Dividends: A Review of Historical Returns)
Payout Ratio
McCormick's payout ratio of 46.20% places it at just below average for other companies with 25+ years of dividend increases.
General Mills' payout ratio is 52.30%. The company's payout ratio is somewhat high, but presents no danger of the company canceling its dividend due to extremely stable cash flows.
Hormel's payout ratio is 34.10%. The company's low payout ratio gives it substantial room to increase dividends faster than overall company growth for several years without putting future dividend payments into question.
Of the 3 businesses, Hormel has the lowest payout ratio. None of the 3 are in any danger of reducing dividends due to a high payout ratio. Hormel has room to grow its dividend faster than overall company growth for the next several years.
Why it Matters: High-yield, low-payout ratio stocks outperformed high-yield, high-payout ratio stocks by 8.2 percentage points per year from 1990 to 2006. (Source: High Yield, Low Payout by Barefoot, Patel, & Yao, page 3)
Growth Rate
These 3 companies have grown revenue per share by the following amounts over the last decade:
McCormick: 5.66% per year
General Mills: 6.84% per year
Hormel: 6.71% per year
Hormel and General Mills have both grown revenue per share at close to 7% for over a decade, while McCormick has lagged behind by about 1%. General Mills wins this category, but not by much.
Why it Matters: Growing dividend stocks have outperformed stocks with unchanging dividends by 2.4 percentage points per year from 1972 to 2013. (Source: Rising Dividends Fund, Oppenheimer, page 4)
Volatility
These 3 businesses have all had exceptionally low volatility over the last decade.
McCormick: 19.18%
General Mills: 17.02%
Hormel: 20.13%
General Mills in particular has had extremely low volatility. It is one of the lowest volatility publicly traded stocks. McCormick and Hormel also have very low volatility. All 3 businesses have low price fluctuations because they operate in the slow changing food business, and all 3 have strong brand names. Consumers generally cannot cut food spending, even during recessions. This provides stability to these businesses stock prices.
Why it Matters: The S&P Low Volatility index outperformed the S&P 500 by 2 percentage points per year for the 20-year period ending September 30th, 2011. (Source: Low & Slow Could Win the Race, page 3)
Conclusion
All 3 businesses rank in the top 30 out of 112 businesses based on the 5 Buy Rules from the 8 Rule of Dividend Investing. General Mills ranks the highest, and is the only one of the 3 in the top 10. Hormel ranks 2nd highest, followed by McCormick. All 3 businesses make fantastic long-term holdings.
Disclosure: I have no positions in any stocks mentioned, and no plans to initiate any positions within the next 72 hours. I wrote this article myself, and it expresses my own opinions. I am not receiving compensation for it (other than from Seeking Alpha). I have no business relationship with any company whose stock is mentioned in this article.