Author's Note: This article discusses a microcap stock. Please be advised of the risks associated with microcap stocks. Ur-Energy Inc. had no input into the selection of the title of this article nor into the commentary that precedes the interview section. The text of the interview is an abridged transcription of a conversation between Lazarus Investment Partners LLLP and Ur-Energy. Lazarus is a shareholder of Ur-Energy and received no compensation for this article.
Introduction. As the saying goes, "The more things change, the more they stay the same." You wouldn't know it from the stock price, but much has been happening at Ur-Energy (NYSEMKT:URG) since we wrote about the company late last year. Here is our December article that explains why we like Ur-Energy so much that we are its second largest shareholder, after BlackRock (NYSE:BLK). Rather than repeat our investment thesis, we'd like to focus on the company's progress over the past few months and update our view on the company's potential. In brief, we think the story keeps getting better yet these advances continue to be ignored by the market - for now.
From Development to Production. Almost ten years after its incorporation and just hours before Christmas of 2013, Ur-Energy offered its shareholders a holiday gift in the form of a press release entitled, "Ur-Energy Completes First Uranium Sales." After raising over $166 million and working for a decade, Ur-Energy finally graduated from being a development company to being a production company. Today it is the world's newest producing uranium mine with state-of-the-art facilities and assets that are among the most attractive, anywhere in the world.
Being a shareholder, we are thrilled to see the company off to a strong start as a producer. Over the past two quarters the company captured over 339,000 pounds of uranium and sold 200,000 pounds at an average price of over $61 per pound. Costs per pound are on pace to be among the lowest of any uranium producer on the planet. Considering that current spot price is below $30, Ur-Energy's contracted sales are quite impressive and a testament to the management team's foresight and ability to secure attractive long term sales agreements.
Guidance for a Bright Future. We are also pleased to see that quarter-over-quarter pounds produced have been rising and the costs per pound falling. Further, the company has stated that they hope to continue these trends in the quarters ahead.
Although the weak uranium spot price (currently at an eight year low) gets incredible attention from investors, more uranium actually trades in the long-term market than in the spot market. Ur-Energy has eight long-term contracts in place and will be selling approximately half of the one-million pounds it expects to produce this year at an average price of over $51 per pound. On May 22nd the company gave formal guidance of contracted sales of 518,000 pounds at $51.10 per pound in 2014 (revenues of $26.5 million) and contracted sales of 630,000 pounds at $50.10 per pound in 2015 (revenues of $31 million). The company may also sell additional uranium outside of these contracts. These contracted sales, at nearly an 80% premium to spot, demonstrate why looking only at uranium spot pricing to derive the company's value is an incorrect analysis.
Due to a strong balance sheet, low cost structure, and contracted uranium sales through 2015, management has guided to being cashflow positive through next year with no need to raise additional capital. The company's flagship asset at Lost Creek is up and running so if they stop there, there will never be a need for another capital raise. As development progresses for the company's Pathfinder assets, we do expect to see a raise at some point, although a fairly modest one in the context of adding hundreds of millions of dollars in revenue by bringing another 10 to 15 million pounds of uranium under the company's umbrella.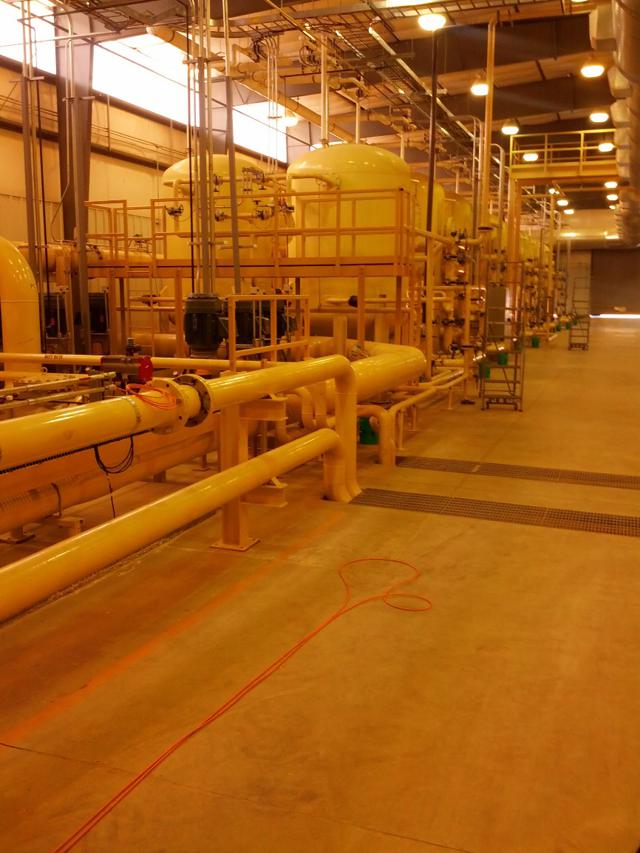 Click to enlarge
Ur-Energy's plant interior - picture from our site visit
So Why is the Stock Flat? The natural question to ask is if the numbers we are seeing from the company's production and the costs of production are blowing out the lights, why has the stock price been just about flat to its price in mid-December? Shouldn't the market be rewarding the de-risking of the company now that it's generating real revenue?
Part of the answer certainly lies in the decline in uranium's spot price from $35 in December to an eight-year low today of $28.25 a pound. But when we think about all the company's progress since mid-December, which besides strong initial production and guidance includes a favorable update to the company's Preliminary Economic Assessment and closing on the Pathfinder acquisition, the change in spot price seems insufficient to explain the stagnation in Ur-Energy's share price. This puzzling stagnation is all the more true when considering that the company is hardly dependent on the spot market, as evidenced by sales this year of about half its production at an 81% premium to spot.
We don't see a reason why the stock should be so cheap and we continue to see an opportunity based on the mismatch between the company's advances and the share price. At this writing, year-to-date Ur-Energy shares are down about 15%, compared to a decline of 3% for the uranium ETF (NYSEARCA:URA), 7% for Cameco (NYSE:CCJ) and 9% for Uranium Energy (NYSEMKT:UEC). It makes no sense to us, and that's why we own the stock.

Click to enlarge
Uranium's Outlook. We do think the outlook for uranium is bright. Japan should start bringing its reactors online over the next few months and that could be the spark that gets the market excited about uranium again. Producers are refusing to sell to utilities at the current spot price, which should drive higher prices. Globally there are about 66 reactors under construction with 160 planned and 319 proposed. Japan is expected to bring over 30 reactors back online over the next three years. Considering that there are only about 434 reactors operating today, these numbers collectively are very material and will shift the demand profile of uranium.
The recent end of an agreement that repurposed Russian nuclear warheads took about 24 million pounds per year out of the market. That's over 40% of total annual US consumption. All over the world uranium mines have been closing or put in the freezer (examples: Rossing, Ranger, Paladin) for political, technical, and economic reasons. Considering that it now takes 10 to 15 years to get a new mine into production, the supply side does not have the flexibility to react to the coming uptick in demand.
Declining supply and growing demand leads to higher prices. Everyone knows it's coming, which is why producers don't want to sell at spot and utilities are forced to enter long-term contracts way above spot. Despite a $28 spot price for uranium today, its long-term price is around $45. Ur-Energy has been announcing sales in the $50-63 range. We are bullish on uranium and think that Ur-Energy is a great way to gain exposure.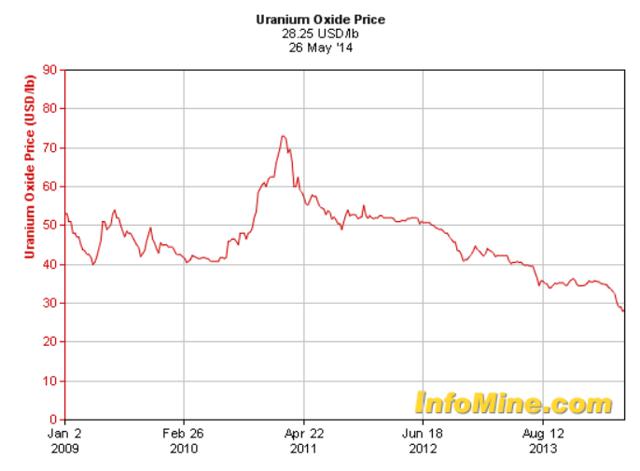 Click to enlarge
We Are In It to Win It. We can make the case that Ur-Energy offers the potential of 50% to 100% upside based on metrics such as the company's discount to the NPV and cashflow in its PEA (which does not include Pathfinder or Lost Soldier), or based on analyst price targets, or based on its valuation relative to comparable companies. For good measure we can add in some value for the hidden assets Ur-Energy has in the form of a massive uranium database that took 40 years to compile and its ownership of one of only four disposal facilities in the nation. While that range of upside justifies an investment, that's not what got us to become a top shareholder or make the company one of the largest positions in our fund.
We think that calculating Ur-Energy's worth in a miserly fashion that counts only the pounds already in the PEA or assumes that today's spot price is permanent misses the point. What gets us humming is what this company can be worth if and when nothing more happens than management proving it has the reserves it says it has and uranium doing what the experts expect it to do. Those two things may require a little bit of imagination, but are hardly great leaps of faith.
The Upside is in the Billions. Here's the back-of-the-envelope math. Assume that Ur-Energy has the uranium that the engineering reports and studies say it has, which is about 13 million pounds at Lost Creek and 15 million pounds at Pathfinder, so 28 million pounds altogether. Assign for now zero value the company's other assets.
Assume further that uranium hits $70 a pound in 2016. That's the price target of David Sadowski, the mining analyst at Raymond James, and in line with most other forecasts, such as Merrill Lynch who is predicting $63.75 next year and $67.85 long term (and $45 this year). $70 would also be below the highs uranium reached in 2011, pre-Fukushima.
Since Ur-Energy's per pound costs are largely fixed, moving from $28 to $70 per pound is incremental profit of $42 per pound. Across the company's 28 million pounds, that's incremental value of nearly $1.2 billion. This is without assigning any value to the company's Lost Soldier property, just 14 miles from Lost Creek with an estimated 14 million pounds of uranium (more than half of which are measured and indicated). Lost Soldier could add nearly another $1 billion in gross uranium value to the company's worth.
Yes, this is an oversimplification, and yes, things have to happen to see billions of dollars of value creation. But even if we see only a fraction of it, that's plenty of upside to go around for a company with a market cap of only $150 million today. Best yet, we need not make any heroic assumptions to get there.
Risks and Conclusion. There's no shortage of things that can go wrong at a uranium mine. Investing in a mine requires tolerance for political, regulatory, and economic risk. Technical problems can take the mine offline and halt revenues. But if you ask us what concerns us most, it's not these risks - it's timing. We've been too early to the space so far. We thought the turn in uranium would have arrived by now. If the turn remains elusive, it will be hard for Ur-Energy to attract the kind of investor attention that can drive its share price materially higher.
Yet we accept those risks because we think the upside here makes it worthwhile. Ur-Energy is an exceedingly rare asset. One that took incredible capital and time to create. It's one of the most important uranium assets in the US, with the ability to produce one-fifth of domestic supply this calendar year. The company has de-risked itself in that it is now fully permitted, cashflow positive, and with no current capital needs. Uranium is one of the most out of favor assets around, yet we can see on the horizon why that could change in the not-too-distant future. We don't know exactly when the sector will turn, but believe that we need to get there before the crowds. As Ur-Energy's chairman likes to say, "There will be no starting gun when it's time to invest in uranium equities." Uranium will have its day again, and when it does, we want to be there in size.
Chairman Interview. We extend our thanks to Jeff Klenda, Chairman of Ur-Energy who once again agreed to sit for an interview to recap for our readers the latest achievements at the company and his thoughts on what's ahead.
Let's start with some of the company's accomplishments since we last spoke in December. One of them is getting out an updated Preliminary Economic Assessment [PEA]. Would you please share the highlights?
Jeff: I'd be happy to. Last year was really a pivotal year for us. We had set very, very high goals for last year. I am happy to report that we accomplished 100% of the goals that we'd laid out for calendar year 2013, the culmination of which was the Preliminary Economic Assessment, which we released on December 30th.
It had been a couple of years since we last updated our PEA. There was a large amount of additional resource discovered in our drilling at Lost Creek and at the properties that we acquired at Lost Creek East. The net result is that we increased in excess of 2 million pounds. We took our aggregate resource at Lost Creek to over 13 million pounds. We have always said that Lost Creek was a very scalable property so by adding those additional pounds we are demonstrating the scalability of that property.
We believe that we'll be able to show many other increases in the resource ahead. The updated PEA had an internal rate of return of 74.5% and cash flow of over $300 million, so it's a rather attractive project that we hope to make even more attractive.
Would you comment on the early production results? What are they showing us about the asset?
Jeff: Not only has our CEO Wayne Heili proven to have a very astute eye in selecting his personnel, but the resource itself, the formation from which we are producing has exceeded our highest expectations.
Understanding the formation is critical. If you are looking at a uranium company, and particularly an in-situ recovery company, generally speaking, if you cannot flow the formation, you cannot produce the formation. Grade, in many ways, almost takes a back seat because of this. The formation that we are producing from Lost Creek is proving to be incredibly prolific.
We were estimating in our PEA that we needed to average approximately 42 parts per million and that would give us the grade that we would require to be on track to produce a million pounds a year. We have stated that we have experienced four- to five-times that since we began producing this formation. So, it has absolutely exceeded our most optimistic projections. The flow rates have been tremendous. And, consequently, our costs have been consistent with what we projected in the PEA -- in fact, when we came out with our first quarter results, we actually came in at a number that was about $2 less than our projected cost per pound.
How much uranium has the company produced to date and where has it sold?
Jeff: In the first quarter of this year we captured over 198,000 pounds and sold 110,000 pounds to utilities at an average price of over $61 per pound. Cash costs per pound sold were about $19 here.
Looking at the fourth quarter of last year, we captured over 141,000 pounds and sold to utilities 90,000 pounds at almost $63 a pound. Cash costs for these pounds were about $22.
So sequentially we've sold more pounds and at lower cash costs per pound. We've sold uranium at over $60 a pound when spot price today is less than half that. I couldn't be more excited about this company, graduating late last year from an exploration company to a production and revenue company bringing in results like this.
Ur-Energy recently updated its commentary on estimated contract sales for 2014 and 2015. Can you summarize?
Jeff: Sure. We wanted to give the marketplace an idea of how successful our marketing plan has been. So we stated in that press release that for calendar year 2014 we have sales commitments for 518,000 pounds at $51.10 a pound, or close to $26.5 million in revenue.
Further, we gave our first guidance for calendar year 2015 and we stated that we have sales commitments for 630,000 pounds at an average price of $50.10, meaning over $31 million in revenue.
Keep in mind that this is only the contracted revenue that we are announcing at this time. We may, in addition, sell pounds into the market -- although with spot price being at eight- to nine-year lows we are not eager to do that. We want our shareholders to understand that we have been very successful in negotiating high-level price structures for our deliveries for years to come and that this will keep our company on solid financial footing.
Would you remind readers what Pathfinder is and update everybody on the progress there?
Jeff: It's one of my favorite topics. We acquired Pathfinder Mines late last December. It was a subsidiary of AREVA (OTCPK:ARVCF), the French giant.
One of the things that the marketplace does not yet appreciate but soon will is that we got a tremendous suite of assets in Pathfinder. We paid $6.65 million for the entire package. We got an historic 15 million pounds so we paid an average of about $0.45 a pound in the ground. And they are very late-stage development pounds, meaning that the great majority of those pounds are already licensed, already permitted.
But, in addition to that, one of the things that's not well-understood is that we got a disposal facility and it's a revenue generator. Actually, Pathfinder operated in the black last year, so we got a cash-flowing asset and we believe that those cash flows will increase in the years to come. If you're going to produce uranium, you've got to have disposal. Now we have that for our own use, but also for our peers in the industry. In general, if they are producing in the State of Wyoming, they have to have a place to dispose and that means that they will likely dispose with us.
Finally, there's real hidden value in the massive database that we acquired. This is a database that AREVA had been compiling over the course of four decades. It is a database that defines uranium projects in 23 US states. We feel that we are going to be able to mine new projects out of that database for many years to come.
What are the milestones and the timing of the milestones to bring the Pathfinder assets into production, especially Shirley Basin?
Jeff: After the acquisition of Pathfinder we put in place what we consider to be a fast-track development program for the Pathfinder assets, and particularly Shirley Basin. We have budgeted $1 million this year to that end.
What we get for our $1 million is this. We are in the process of gathering four quarters of baseline data that are required to submit our application to the NRC and to the state authorities in Wyoming. In addition to that, we are undertaking and we expect to have results out soon for a 14-hole confirmation drilling program. We anticipate that by the end of June we will complete a 43-101 under the Canadian national instrument that will bring those pounds into compliance. Currently, we don't believe we are getting credit for those pounds by the market. These are very well-developed, high-grade pounds that the French formerly produced at Shirley Basin and there is an historic resource there of millions of pounds. We think that the 43-101 will verify those pounds and it will be great to formally add them to our list of owned assets.
So, what we are getting for our $1 million is base line data gathering, confirmation drilling, 43-101 compliance on the pounds, and then, finally, at the end of 2014, beginning of 2015, we will submit our application to the regulators to convert that license.
By the end of this quarter we can have significant information in the marketplace about the quality of the asset but won't it take a very long time to get a response on the license application?
Well, keep in mind, these are already licensed and permitted pounds for conventional mining. We will submit an application to amend the license at the beginning of 2015 to allow for in-situ recovery. It may not always be the case, but if you have a license that you are amending, there is typically a shorter timeline to completion of that licensing activity with both the federal and the state regulators as compared to putting a new permit or license in place.
What other milestones should investors look for from the company this year?
Jeff: We had a number of milestones that we accomplished in 2013 and those were along the lines of completing the build-out of our processing plant which, by the way, is the absolute state-of-the-art facility anywhere in the world. The completion of that plant was a major milestone. Getting the final green light and go-ahead from the NRC; another milestone. The Pathfinder acquisition; a milestone. The PEA completed before the end of the year; very much a milestone.
Our plan is to continue that momentum. Our primary goal with Lost Creek is to come to a point of "steady-state" production. We think that it's important to demonstrate that we can not only increase the number of pounds that are being produced incrementally quarter over quarter, but that also quarter over quarter, we're incrementally demonstrating a reduction in those costs to the point where we get to a mid- to high-teens cost of steady-state production.
For Pathfinder, our goal for 2014 is to complete all of those things we just discussed with that $1 million budget and to demonstrate to the marketplace that we've been successful in fast-tracking that asset towards production.
Help me decipher this comment in the May 22nd press release. You announced, "there is currently no need to raise additional working capital during 2014." That does not imply that there is a need in 2015, does it?
Jeff: No. We wanted to address immediate questions on whether we needed to raise money so we stated that as a function of calendar year 2014. But the reader should not infer from that we will have a requirement to raise money in 2015.
We are a very lean, clean company. We are conscious of every dollar that's being spent so we are being very careful with all of our expenses. Our major capex for getting Lost Creek up and running is behind us. We have been modeling our cashflows and believe we will operate in the black throughout 2014 and 2015.
Nobody is more protective of the capital structure of the company than I am. I am one of the largest shareholders in this company. Every time we issue shares, it's something that impacts me directly so I am acutely sensitive to any dilution.
A lot of progress for the company over the past few months, but I've got to ask this question. When we spoke in December the stock was $1.10 or so. Although there has been some volatility since, the share price today is almost unchanged, even though we've now had two reported quarters of growing revenues, super low operating costs, and solid guidance for 2014 and 2015. What gives?
Jeff: I don't know, frankly, what the answer to this is. Uranium pricing explains part of it, but not all of it. Trading factors also may have an impact. I can't control or fully explain the stock price. What I'm more focused on is execution-continuing to demonstrate our production capacity, our ability to secure sale contracts with utilities at favorable prices, and moving the Pathfinder assets and Shirley Basin forward. If we continue to do those things I think the stock price will sort itself out and reflect the value we've created at this company.
Staying on the topic of uranium pricing, tell me your thoughts here. We are at nearly decade lows, with spot at $28, $29 a pound. What's your view?
Jeff: I think we are still dealing with the aftermath of the Fukushima tragedy in March of 2011. That's about 13% of demand that was taken out of the market. We did a great job of protecting ourselves with high-priced, long-term contracts that are serving the company very well right now.
When the Japanese begin to restart their reactors, that will be a huge psychological lift for the industry and make a real difference in working through the excess inventory that is weighing down uranium pricing. The restart has been slower in coming than most market analysts would have believed but we think it's getting closer,
Can you give additional detail on what we know about Japan's restart? What might they put online and when?
Jeff: It's hard to answer with certainty. It is projected for some time during this summer. Until then I think we may have challenging pricing but the company is well-prepared for it.
I think that the projections right now are that we will see somewhere in between four and eight restarts before the end of this year. Many market analysts thought that we would have seen the first of these reactors approved for restarting by this time, but it's proven to be a longer process than we thought. The Japanese are being very meticulous and very deliberate in their actions. But I do believe that we will see the first of those in the months ahead.
The 54 reactors in Japan all are currently offline. The most common projections that I have seen are that we will see somewhere in the neighborhood of 34 to 36 of those reactors come back online over the course of the next three years.
Outside of Japan, what other factors stand to influence the uranium market?
Jeff: Primarily, the factors have to do with supply and demand. With respect to demand there are currently 70 reactors under construction worldwide, 30 of those in China. The growth is undeniable. It will continue and there's every indication that it will accelerate throughout the remainder of this decade.
From a supply standpoint, you could argue that there's been an even greater impact and that has taken the form of a number of project deferrals. Of the ten largest projects that were slated to come into production four years ago, seven of those have either been cancelled or shelved indefinitely because of low uranium pricing. Most of them require higher pricing to be able to come into production and they'll all take a long time to resume development activities.
So, I think the demand will continue to grow, supply is being taken offline, and it's clear to me what that implies for uranium pricing.
Could you comment further on the timing of these supply-demand dynamics?
Jeff: By necessity, our industry is a very forward-looking industry. From the time that we deliver a drum of yellowcake to the converter to the time that it becomes a fuel rod that's capable of being used as fuel in a nuclear reactor, it's approximately four to four-and-a-half years.
One of the mistakes some people are making is that they look at the current inventories and say, "Oh my gosh, we have much more than we need today." That's wrong. Utilities are already trying to fill their delivery requirements for calendar years 2016 through 2020 and beyond. Whether they have success in doing so could be the greatest driver of price. Many producers are simply not willing to offer supply at the current price so I suspect that will result in forcing prices higher.
So assume uranium starts to climb. What does that mean for Ur-Energy's stock price?
Jeff: The thing that I constantly tell investors is there will be no starting gun when it's time to invest in uranium equities. The contrarian school of thought says you don't buy something when it's flying high; you buy it when it's down and out. At $28 a pound, we are out of favor. I don't know exactly when that turnaround is going to come, but it will come, and we think we are getting near.
Since we started this company ten years ago, we have seen three major run-ups in uranium equities and we've seen three major declines in uranium price and in the price of the underlying equities. When uranium is in play once again, it's spectacular to behold. We believe that we're bouncing along the bottom right now. These challenges in pricing and Fukushima -- these things will not be with us forever.
The other thing to point out is that this industry has been reduced in size tremendously. In 2007, one of our consultants did a survey for one of the majors in the industry and he came up with 585 uranium names. I think that, right now, there aren't 20 companies worldwide that anybody ought to be paying any attention to. We regard ourselves as the preeminent junior player in this space. When money comes back into uranium equities it will be concentrated in very few names. I think that, as a result of that, the performance of those equities is going to be impressive.
Here's one example: If you take a look at the last two major movements in our stock, going back to August of 2010 through to Fukushima, our stock had a four-fold increase simply because spot price was rising and uranium was in favor. Remember my view that there's no starting gun. You've got to be out in front of that and take your positions.
I hope you'll allow me to end with a personal question. You've spent more than ten years of your life pursuing this project. How come?
Jeff: Now you're getting into my head! Candidly, it wasn't my original intention to guide this company for this number of years. But as the project developed I was taken by the quality of this resource and the opportunity here, as well as what bringing it online means for our country. It's been a tremendous challenge. I have never done anything more difficult in my life. But I've also never done anything more rewarding. It has become quite personal for me.
We have built a great company with great people and assets. We feel that we are rapidly emerging as the preeminent player in this space. I've committed ten years of my life and I'll commit the next ten years if needed. I will not step down from this company until I can look back on it as an absolute success.
Can you expand on the idea of Ur-Energy's significance to our country?
The United States used to be the largest producer of uranium in the world back in the late 1970's, early 1980's. We no longer are. In terms of worldwide production the US is a small producer. But we are still, far and away, the largest consumer of uranium on the planet. With a fleet of 99 reactors, we have a requirement of approximately 54 million to 58 million pounds a year, depending on the number of core reloads. In 2014, the United States will produce approximately 5 million pounds. We think that Ur-Energy has the capability to be about 20% of US production this year. That makes us a significant player in the marketplace.
We used to like to say that we were going to be in the lowest quartile in terms of production costs but, at a sub-$20 production costs including sustaining development costs, we are probably one of the four or five lowest-cost producers in the world. That makes us a very enviable company and one that is, by the way, very critical to this country. I believe that the decline of uranium production in the United States over the last couple of decades is something that will morph into a national security issue. It's been ten years of my life but now we are one of the premier producers of uranium in the United States making a contribution to our country's economy and addressing our energy needs. That's something I'm very proud of and that our shareholders can be very proud of as well.
Thank you, Jeff.
Disclosure: The author is long URG. The author wrote this article themselves, and it expresses their own opinions. The author is not receiving compensation for it. The author has no business relationship with any company whose stock is mentioned in this article.
Additional disclosure: This article and the interview herein may contain historical information and forward-looking statements within the meaning of applicable securities laws with respect to the business, financial conditions, and operational results of the interviewed company (the "Company"). Such statements reflect the current beliefs, views, assumptions, and expectations of the Company with respect to future events and are subject to uncertainties and risks. Many factors could cause the actual results, performance, or achievements of the Company to be materially different from those expressed or implied by such forward-looking statements. Some of these factors may include changes in the markets in which the Company operates and in the general business environment and economic conditions, the loss or gain of customers, unpredictable sales cycles, competitive pressures, market acceptance of new products, inability to meet efficiency and cost reduction objectives, changes in business strategy, and various other factors, both referenced and not referenced in this article. In addition, various risks and uncertainties, including but not limited to those described in reports filed by the Company with the Securities and Exchange Commission or other regulatory organizations, as applicable, may affect the Company's operational results. No obligation is assumed to update any forward-looking statements.