Hewlett-Packard (NYSE:HPQ), is one of the top names in computer equipment. With name brand recognition and a record of reliability, investors would expect the company to produce good results. However, over past years, HP has struggled with re-structuring its operations in face of growing competition from other brands.
In May of 2014, the company announced its intention to cut up to 16,000 jobs worldwide in an effort to make their operation both more competitive and more profitable.
HP: A Smartphone Victim
Unfortunately, HP became the victim of rapidly changing technology when smartphones began to dominate the market.
After taking a dive from its highs in 2010, HP stock went into a steep decline. Laptop sales took a plunge over those years, as people relied more on their cell phones for Internet connection and apps. Sales of the company's peripherals slumped significantly.
The company began an effort to tighten up their workforce to respond to the dwindling sales, and this effort has been taking place over a number of years. HP's most recent announcement will bring the company's layoffs up to 50,000.
Leadership Struggles
In many ways, it's been puzzling to watch a company like HP struggle to manage its operations and revenues when it is still one of the premier names in technology. The company may have expanded too rapidly and too wide during the 2000s, making the pulldown a painful process.
Former eBay CEO Meg Whitman took over the top position at HP in 2011. By May of 2012, she had a restructuring plan in place that has brought the number of employees with the company from 350,000 to 317,000. Whitman feels that revenues have stabilized, leaving an opportunity to cut costs that will allow the company to save $1 billion annually.
Outlook for HP Investors
Investors can't help but note that HP has been struggling with their re-structuring efforts for a number of years. In the fast-changing world of mobile computing, HP has not been one of the leaders.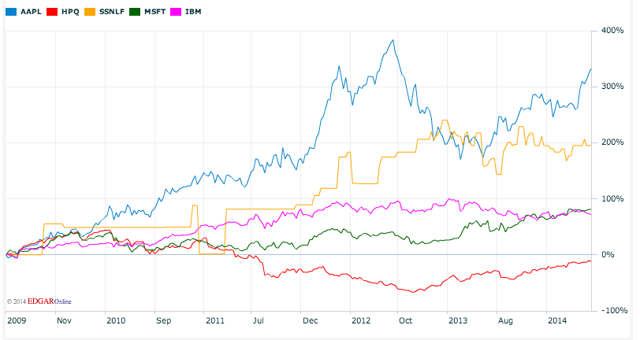 Click to enlarge
(Nasdaq.com)
The company was able to generate $3 billion in cash flow in the 2nd quarter, but this figure was still down 16 percent from the previous year.
HPQ's five-year annual revenue growth rate is a disappointing -1.05%.
Although CEO Whitman seems to be positioning the company well for the general recovery in the economy, HP will still have to meet the challenge of continuing changes in mobile technology to stay competitive in the coming years.
We recommend investors take some profits in HPQ in the case the company lags further behind in 2014.
We invite readers wishing to join the discussion on HPQ to click the +FOLLOW button above the title of this article and follow @DRDInvestments on twitter.
Disclosure: I have no positions in any stocks mentioned, and no plans to initiate any positions within the next 72 hours. I wrote this article myself, and it expresses my own opinions. I am not receiving compensation for it (other than from Seeking Alpha). I have no business relationship with any company whose stock is mentioned in this article.