"Lenovo is the best company in the world at balancing innovation and efficiency," stated Yang Yuanging, chairman of the computer manufacturer in China. The declaration may be on the mark, as the company has produced notable performances in keeping costs in check while capturing market share from its competitors.
Recently, Lenovo (OTCPK:LNVGF) outperformed Hewlett-Packard (NYSE:HPQ) to become the largest producer of desktop computers internationally. Moreover, Lenovo has seen strong growth in the global smartphone segment from an insignificant share only a few years ago.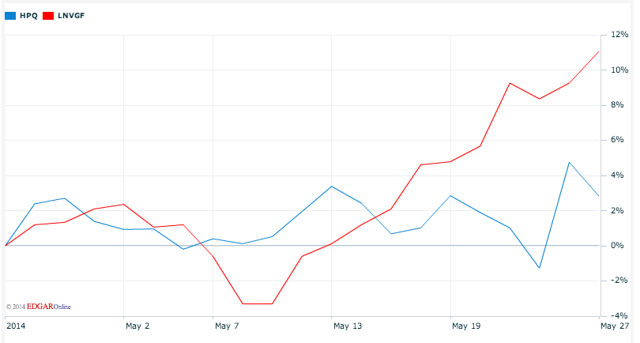 (Nasdaq.com)
Strong Results
The company has accomplished this expansion while maintaining its efficiency and financial health. On May 21, Lenovo reported its annual fiscal results in Hong Kong, where its stock has traded since 1994. Lenovo stated revenues were 14 percent higher than the prior year at $38.7 billion. In addition, pretax profits exceeded $1 billion, up 27 percent over the prior year, a first for Lenovo. At the end of March, the company had $3.5 billion cash on hand, and it raised an additional $1.5 billion in April from its first bond offering.
Investors will welcome this news after concerns about the manufacturer's strategies. For several years, institutional investors outside of China have preferred its shares due to its strong corporate governance, an unusual feature in Chinese organizations.
Additionally, Mr. Yang communicated a clear-cut growth strategy and the company consistently produced predictable earnings. However, Lenovo surprised investors and analysts in January by announcing two unforeseen acquisitions in a short period.
Surprise Acquisitions
The first acquisition valued at $2.3 billion has Lenovo purchasing a division of IBM (NYSE:IBM) that makes basic computer servers. This business should strengthen Lenovo's efforts to attract corporate clients. The other acquisition has elicited more controversy. Worth $2.9 billion, this deal involves purchasing Motorola Mobility, an innovator in mobile phones that has experienced difficulty recently, from Google (NASDAQ:GOOG) (NASDAQ:GOOGL). Analysts expect the U.S. federal regulators will scrutinize the IBM acquisition carefully, as the federal government purchases those servers from IBM.
The surprise and size of the purchases and questions about their viability have caused concern. When asked to defend his buying streak, Mr. Yang stated that no more large acquisitions were planned. However, he defended Lenovo's ability to succeed with the recent procurements. "We have a good track record turning money-losing businesses into treasure," he said.
Solid Performances From Prior Acquisitions
Lenovo's prior performances with acquisitions may prove him right. In 2005, the company bought an unprofitable PC business from IBM. Many Wall Street watchers doubted the company would succeed, yet Lenovo turned it around. Thus, Lenovo represents one of the relatively few Chinese companies to demonstrate highly successful international marketing techniques. IBM's former PC business has been a cash cow for Lenovo.
Risks To Growth
The firm has demonstrated impressive financial performance recently as well. However, two questions linger over the future of Lenovo. Can it continue to make money from a shrinking PC market? Secondly, can it legitimately compete with Apple (NASDAQ:AAPL) and Samsung (OTC:SSNLF) in smartphones? Mr. Yang's answer is yes, with innovation.
Many industry experts believe the mobile revolution will mean the extinction of laptops and desktops. However, Mr. Yang disagrees. "This is still a very big industry, and with innovation there will be further growth." He points to a long list of innovations Lenovo is working on: increased battery life, "always on" modes, better touchscreens, lighter thinner designs, and more. He boasts of the success of Yoga, Lenovo's touch screen PC, whose screen alternates back to a tablet computer.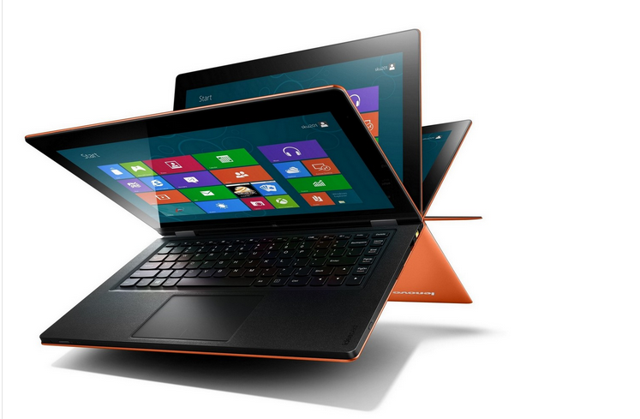 (Source)
Distinct Innovation
The pragmatic strategy points to the real way Lenovo innovates. Last month, Mr. Yang won a prestigious award for innovation on behalf of Lenovo. However, some experts argue that the Chinese manufacturer does not really produce imaginative innovation such as Apple, whose revolutionary concepts have transformed entire markets. Rather, the company has the ability to turn around firms skillfully and execute strategies that suggest its real strength lies in "frugal innovation," a concept that has received much accolade but few companies achieve. Lenovo appears to have mastered the concept.
Positive Conclusion For Investors
Current and potential Lenovo investors should be very positive on the company's strong results to-date, in comparison with AAPL, GOOGL, SSNLF, and HPQ--some of the strongest competitors in almost any market.
Lenovo has proven its geographic location is not a hindrance but an edge on innovation and global growth.
We recommend LNVGY as a buy in 2014.
Readers wishing to follow the discussion on Lenovo should click the +FOLLOW button above the title of this article and follow @DRDInvestments on twitter.
Disclosure: I have no positions in any stocks mentioned, and no plans to initiate any positions within the next 72 hours. I wrote this article myself, and it expresses my own opinions. I am not receiving compensation for it (other than from Seeking Alpha). I have no business relationship with any company whose stock is mentioned in this article.
Editor's Note: This article discusses one or more securities that do not trade on a major U.S. exchange. Please be aware of the risks associated with these stocks.