By Lee Lowell
Forget the dotcom sector. Forget the real estate market. If you want to see bubbles and busts on a regular basis, just head to the commodities world.
Need I remind you about oil prices, which topped out at an all-time high of $150 per barrel in July 2008, only to plummet back to near $35 a barrel just a few months later? Or how about natural gas hitting a record high of $14 per mmbtu in 2008 before excess supplies saw the price tumble to $2.50 per mmbtu about a year later? And not to be left out, wheat prices also hit an all-time high of $13 per bushel in 2008, only to slide by 65% to $4.50 per bushel just a few months ago before the recent Russian wildfires drove the price of wheat back up.
Both the oil and natural gas moves resulted in a staggering change in equity of $115,000 per single contract. Imagine having 100 contracts on the table! An investor on the right side of those trades could have pocketed a cool $11.5 million. And while wheat players could have bagged a much smaller $42,500, that's still a solid gain for anyone playing that market.
Fortunes like that can (and do) happen in the commodities markets. And although we've seen some of the most extreme moves in history over the past few years – ones that only occur every 10-15 years or so – there are many smaller moves that happen almost every year in various other markets.
And here's another market experiencing such "froth" right now…
The Best Time to Score Commodity Profits
One thing you need to know about agricultural commodities during the summertime is that crops are totally dependent on Mother Nature to make or break their final outcome. Since the growing season for the majority of them is early spring to late fall, that's when the biggest volatility and price swings occur.
For example, if there's the prospect of a drought or too much rain, speculators will come out of the woodwork and send these markets to dizzying heights in anticipation of a weather crisis affecting the crop yield. In most cases, after these markets reach bubble status of unsustainable heights, cooler heads will prevail and the commodities return to "normal" prices. And it's during this pullback phase when many of the big profits can be made.
Make no mistake, though: it might feel like you're running into a burning building while everyone else is piling out. But if you believe that the true fundamentals will prevail, you can be a big winner playing the pullback. You can do that in the cotton market right now…
The Cotton Supply Outlook Is Pointing Down
Current US cotton production estimates for the 2010-2011 season total 18.5 million bales – a full 52% higher than last year. While that certainly alleviates any supply concerns, the global picture suggests that cotton supplies will be tightened this year.
In Pakistan, for example, the recent devastating floods have wiped out some of its supplies. And that's bad news for the market, as the country is the world's fourth-largest cotton grower.
With this, the US Department of Agriculture has pegged future global supplies to hit a 14-year low. The question is: How do you weigh domestic supply versus global supply?
Having been in the commodity business for almost 20 years now, I can tell you that whatever supply number looks worse, the speculators will concentrate on that and take the market to "frothy" levels. Eventually, the market gets to a point where it can move no higher, as traders realize there's ample crop supply and prices end up falling hard.
So is cotton at that bubble level yet? It could be getting close. Let's take a look:
History Repeating? It Could Be 2008 All Over Again for the Cotton Market
As you can see, cotton is currently matching its highs from the 2008 surge when the market experienced similar supply numbers as today.
But look at what happened next. The market crashed from $.9200 per pound (92.00 cents per pound) all the way to $.3800 per pound. In cotton terms, that represents a move of $27,000 in equity.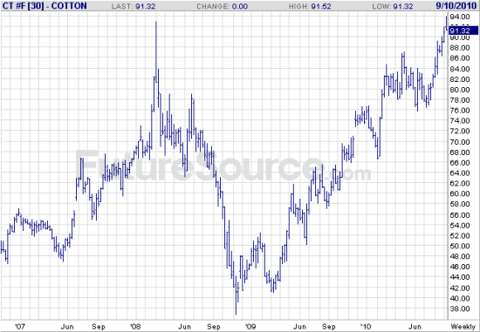 Click to enlarge
(Click to enlarge)
Will the slide happen again? It's very possible. But if speculators want to keep buying, we could see more upside ahead in the near future. However, the US growing season will start winding down over the next few months, which will put a lot of pressure on cotton prices. And once the price starts falling, the move will accelerate, as everyone tries to bail out at the same time.
So what's the best way to play this scenario?
Safest Way to Invest in the Cotton Market

The safest and purest way to play the cotton market is by using cotton option contracts that trade on the floor of the ICE (Intercontinental Exchange) in New York. At the moment, the December 2010 and March 2011 cotton futures contracts offer the best options contract. This gives you either two months or five months for the supply situation to work itself out.
To err on the side of caution, stick with the longer-dated March 2011 cotton futures contracts (these options actually expire in February 2011, as commodity options always expire in the previous month to the one quoted.) They're currently trading at $.8985 per pound (89.85 cents per pound). In this case, since you'll be looking for prices to decline, sticking with limited-risk/limited-reward put option debit spreads could be your best bet.
For example, you could buy the March 2011 $.9000/$.8500 put option debit spread, which will cost roughly 245 points, or $1,225 for each spread purchased. This is where you'd buy the $.9000 put option and sell the $.8500 put option as a single spread trade.
The 245 points ($1,225) would be your maximum risk in the trade, while your maximum potential gain would be 255 points, or $1,275 per spread. So you'd be risking $1,225 to possibly make $1,275 – a little over a potential 100% gain on the trade. This will occur if the March 2011 futures move below $.8500 per pound at option expiration in February 2011.
If you think there could be more upside ahead, you can always wait before jumping in on the short side. Just adjust the put option spread strike prices up to where the futures are trading at that time. For instance, if March 2011 futures move up to $.9500 per pound, then you can look to establish a $.9500/$.9000 put option debit spread.
Disclosure: Investment U expressly forbids its writers from having a financial interest in any security they recommend to our subscribers. All employees and agents of Investment U (and affiliated companies) must wait 24 hours after an initial trade recommendation is published on online - or 72 hours after a direct mail publication is sent - before acting on that recommendation.
Disclaimer: The Oxford Club LLC/Investment U and Stansberry & Associates Investment Research are separate companies, and entirely distinct. Their only common thread is a shared parent company, Agora Inc. Agora Inc. was named in the suit by the SEC and was exonerated by the court, and thus dropped from the case. Stansberry & Associates was found civilly liable for a matter that dealt with one writer's report on a company. The action was not a criminal matter.