On October 26, 1999, both Microsoft (NASDAQ:MSFT) and Intel (NASDAQ:INTC) were added to the Dow Jones Industrial Average as component stocks. In retrospect, however, the event may have marked the apex of the personal computer revolution. Microsoft stock then traded for a split-adjusted $33.52 per share - at the October 26, 1999 date. On May 23, 2014, Microsoft shares closed out the trading session at $40.12. In effect, Microsoft real returns have been all but nil over the course of the past fifteen years. Throughout this time, Microsoft has simply returned larger amounts of capital back to shareholders in the form of stock buybacks and dividends.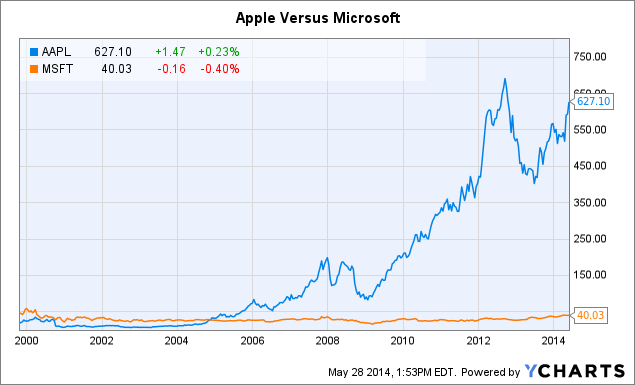 AAPL data by YCharts
Ironically, Moore's Law has stymied the Microsoft business model. In a 1965 paper, Intel founder, Gordon Moore theorized that the number of transistors that fit upon one integrated circuit would double every other year. Moore's Law, of course, has been largely behind the secular shift out of the desktop and towards mobile computing. Apple (NASDAQ:AAPL), by all measures of profitability, has remained at the forefront of this latest technological revolution. Going forward, prospective investors should ride the winning horse. Microsoft is a sell. Apple is a buy.
I am a Mac. I am a PC.
The iconic "Get a Mac" campaign still frames the fierce Microsoft versus Apple rivalry. Apple personified itself as a chic, yet helpful hipster in these "Get a Mac" series of advertisements, which aired between 2006 and 2009. Alternatively, Microsoft was a company man wearing a sack suit - who demanded help to avoid stumbling over his own two feet. At the time, the "Get a Mac" campaign implicated that Apple drove private consumer demand, while Microsoft was set to gradually lose what was once an ironclad grip upon the business market. Interestingly, Microsoft has historically classified its operating segments according to business and consumer units. For its latest Q3 2014, Commercial sales accounted for $12.2 billion out of $20.4 billion in total revenue at Microsoft.
Apple, of course, was to pioneer the idea of the consumer electronics ecosystem for computing, telecommunications, and entertainment. The Apple Way has promoted the closed and horizontal integration of hardware and software. In 2008, the Mac ($14.3 billion in 2008 revenue) and iPod ($9.2 billion in 2008 revenue) accounted for a respective 44.0% and 28.1% of the $32.5 billion in total net sales at Apple. By Apple's Q2 2014, which ended March 29, 2014, the revolutionary iPhone ($26.1 billion in Q2 2014 sales) had expanded to account for 57.1% of the company's $45.6 billion in Q2 2014 total net sales. Meanwhile, the iPod platform had deteriorated sharply to generate a mere $461 million in Q2 2014 sales. Be further advised that Apple iTunes, Software, and Services segment revenue has remained at roughly 10% of sales for several years. In effect, Apple has successfully cannibalized its own products, while loyalists, or fan boys, have refused to exit the ecosystem.
Apple will be inevitably juxtaposed against Google (GOOG, GOOGL) in what largely amounts to an iOS-Android mobile duopoly. On May 2, 2014, research firm comScore (NASDAQ:SCOR) published its March 2014 U.S. Smartphone Subscriber Market Share report. The title of this report, however, was somewhat misleading, as the information presented averages of data taken through the first calendar quarter of 2014. In any event, Google Android (52.2% market share) and Apple iOS (41.4% market share) systems combined to operate 93.6% of this U.S. smartphone market segment through Q1 2014. A recent report out of International Data Corporation may also confirm that Microsoft has been literally shut out of the tablet market. Last quarter, Microsoft was unable to get the better of Amazon, which itself had sold only one million tablets. At best, Windows will further solidify its third wheel status behind Android and iOS in mobile later this year.
Windows 8 and New Products
On October 26, 2012, Microsoft launched Windows 8 as the company's answer to the mobile revolution. Windows 8 brought the Metro concept to the fore, where conventional smartphone, tablet, and desktop interfaces were largely melded together beneath one operating system. The Surface tablet, also released on the same October 26 date, was somewhat of an adjunct to the Windows 8 theme. The Surface machine was engineered to bridge the technical gaps between tablets and laptop computers.
One year after Windows 8, on October 17, 2013, Microsoft was to release Windows 8.1, in what Brad Chacos and PC World headlined as "the great compromise" between Metro backers and PC traditionalists. In any event, Windows 8, 8.1, RT, and even the Nokia (NYSE:NOK) Lumia may have only confused the marketplace further and driven more business towards Apple. Mark Hachman, also of PC World, has already ripped the looming Microsoft-Nokia combination and Windows 8 as "fail plus fail equals more fail." Most likely, Microsoft will ultimately scrap the Nokia Lumia 2520 so as not to compete against its own self. Pocket Lint recently cited the Nokia Lumia 1520 as the best Windows 8 device on the market. Still, this one handset will do little to move the bottom line needle at gargantuan Microsoft.
The Microsoft Surface Pro 3 has been recently made available for pre-order. Surface Pro 3 machines will ship by August 31, 2014, at the latest. For its efforts, Microsoft has billed the Surface Pro 3 as "the tablet that can replace your laptop." Surface Pro 3 machines now retail for between $799.00 and $1,949.00. Surface Pro 3 covers, which double as working keyboards, are sold separately for $129.99. At these price levels, the Surface Pro 3 competes directly against popular MacBook Pro laptops. Earlier this year, Microsoft finally made its Office software suite available to Apple iPad owners. At the low end, HP (NYSE:HPQ)-Google Chromebook laptops begin at $199.00. Microsoft appears to be fighting a losing war upon all fronts.
The Bottom Line
Perhaps most importantly to this debate is the fact that Apple's May 29 balance sheet listed out $150.6 billion in cash and securities above a mere $85.8 billion in total liabilities. Apple's $85.8 billion in total liabilities did include $8.3 billion in deferred revenue, which will ultimately transition over to the income statement. Last year, Apple sold $17 billion in bonds in order to avoid paying taxes upon the repatriation of overseas debt. On April 29, 2014, Apple tapped the bond market for another $12 billion, at rates only 77 basis points above comparable Treasuries. These bond sales will help to finance Apple's ambitious capital return program. Apple has already pledged to return more than $130 billion to shareholders through buybacks and dividends by the end of 2015.
For now, basic arithmetic may confirm the idea that Apple is cheap. In theory, Apple would be left with roughly $75 billion in liquidity after paying off its financial liabilities. On a per share basis, this liquidity position would break down to approximately $85.00. Apple stock did trade hands for $614.13 at the May 23 closing bell. In effect, Wall Street traders have priced out the Apple business model for slightly above 12 times earnings. At this point, only a completely disastrous iPhone 6 launch would derail the fortunes of long-term Apple shareholders.
Apple and Microsoft, of course, are far from mutually exclusive. Apple's growth will come largely at Microsoft's expense. Microsoft has been unable to gain real traction in mobile, while the PC market struggles with secular decline. For now, Microsoft shareholders must accept the idea that the Devices and Consumer division may degenerate further into an albatross at Redmond. These investors may consider selling out of Microsoft and purchasing a stake in Apple. Certainly, intelligent investors who completed this trade back in 1999 have been more than pleased with the results.
Disclosure: I am long AAPL. I wrote this article myself, and it expresses my own opinions. I am not receiving compensation for it (other than from Seeking Alpha). I have no business relationship with any company whose stock is mentioned in this article.