By Chris McKhann
Perrigo (NASDAQ:PRGO) shares are higher today after the Food and Drug Administration approved one of its generic drugs, but it is the puts that catch our attention.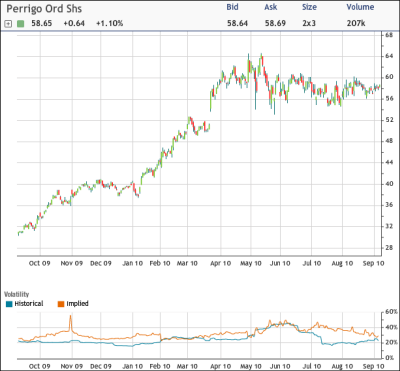 The approval of the company's Imiquimod Cream doesn't seem to be giving too much lift. The company, which is the largest manufacturer of store-brand over-the-counter pharmaceutical products, is up 1.1 percent at $58.65 in morning trading. The stock has been trading in an increasingly tight range for the last nine months, with $55 as support and $60 resistance since May.
The average daily option volume in PRGO is just 400 contracts, but today we already see 5 times that amount trading in the September 55 puts. The largest block of 1,827 were bought for $0.30, apparently paying $0.05 above the ask to get the order done as the trade drove the price of the options higher. The previous open interest at that strike was 456 contracts, so this was a new opening position.
Given the positive news and the general trend of the stock, it would seem that a trader is buying protection against long shares. The protection would kick in if shares fall below that $55 support level. That would also better explain the cost of the options, as many institutions are willing to pay up for the insurance that puts afford.

Disclosure: No position