The benefits of using a combined value and momentum approach in a portfolio management setting have been widely-accepted, and we believe we are the first to identify the abnormal-return benefits of investing in a cohort of individual stocks that have both good value and good momentum qualities (Valuentum stocks). The inherent link between the diverse backing of combined value and momentum strategies in financial literature and our stock-selection methodology, the Valuentum Buying Index, can be found here. In this article, let's address the earnings of 4 intriguing investment ideas that fit the criteria to be included in Valuentum's Best Ideas portfolio.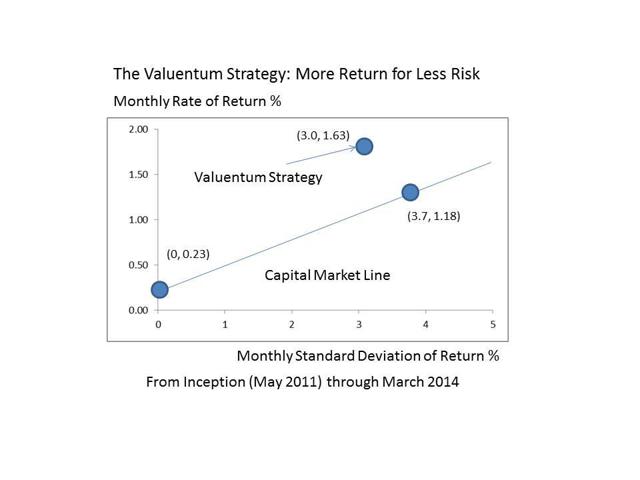 Click to enlarge
Buffalo Wild Wings (NASDAQ:BWLD) - *Best Ideas Portfolio Holding*
Buffalo Wild Wings is our favorite idea in the restaurant space for good reason, and its first-quarter results showed why. During the period, total revenue advanced more than 20% on same-store sales growth of 6.6% at company-owned restaurants and 5% at franchised restaurants. Net earnings soared an impressive 70%+ to more than $28 million in the period, as earnings per diluted share increased at a similar pace. Earnings growth benefited from a 440-basis point improvement in cost of sales thanks to lower wing prices.
We believe the company is only in the "fifth inning" of its restaurant expansion efforts. With 1,010 locations, the company sees the opportunity to grow its restaurant count to 1,700 units over the long run. For 2014, the firm expects to achieve 25% net earnings growth (was 20%), and we think there may be upside if wing costs stay mild. At the high end of the fair value range, we think shares are worth nearly $200 each. Shares are trading at roughly $145 each at present.
Ford (NYSE:F) - *Best Ideas Portfolio Holding*
Ford has come a long way since the doldrums of the Financial Crisis that saw the global automotive industry shaken to its core. The first quarter of 2014 represented the automaker's 19th consecutive quarter of profitability. Ford retains the significant operating leverage of yesteryear, but its financial leverage is now much more manageable. The firm ended the quarter with automotive gross cash of $25 billion, exceeding debt by $9.5 billion. Ford's liquidity position is now a healthy $36.6 billion. 2014 will see the launch of 23 new global vehicles (the most in a single year in history), and full-year pre-tax profits in the range of $7-$8 billion (even after reflecting that heavy investment). Although Ford will see CEO Alan Mulally leave at the end of this year, we think COO Mark Fields is highly capable of running the automaker as the next chief executive. The middle of the decade is looking quite bright for Ford Motor. We think shares are worth north of $20 each. Shares are trading at $16 each at present.
Union Pacific (NYSE:UNP) - *Best Ideas Portfolio Holding*
Union Pacific reported record first-quarter results that showed diluted earnings per share increasing 17% and its operating ratio advancing 2 percentage points to 67.1%. We expect the firm's operating ratio to be among the best in the railroad group by the end of this decade, and we like its exposure to growth in Mexico as well as future export expansion on the West Coast. The firm is levered to coal, though we note its mix is more of the PRB (Powder River Basin) variety, which should continue to take share from CAPP (Central Appalachian) coal in the domestic market. Shares are worth nearly $190, in our view, slightly below where they are trading.
It's very important to note that our 'consider selling' discipline is not only valuation-based. We'd also have to see confirmation in the technical/momentum indicators (pricing information) as well. Said differently, we'd be waiting for Union Pacific's technicals to turn lower for us to consider trimming the position in the Best Ideas portfolio. This patience allows our winners to run higher (without taking on undue capital risk) and the portfolio to capture the "momentum" aspect of the Valuentum process (a key lever of outperformance). In any case, Union Pacific remains our favorite railroad idea.
Visa (NYSE:V) - *Best Ideas Portfolio Holding*
Visa benefits from two fantastic competitive advantages: a network effect and costly initial investment. The network effect is incredibly strong for Visa. As of its last update, the firm has more than 2 billion cards outstanding accepted by retailers across the world. The number is roughly double the number of MasterCard's (NYSE:MA) and over 20 times the amount of American Express (NYSE:AXP) cards outstanding. This network effect took years, as well as billions of dollars to create-something that won't easily be replicated by any new entrant.
Adjusted earnings per share in Visa's first quarter advanced 15% thanks to a 9% constant-currency increase in net operating revenue, which itself was driven by solid growth in service revenues, data processing revenues, and international transaction revenues. Though the firm said revenue growth would slow as a result of sanctions imposed on Russia (NYSEARCA:RSX) and a stronger dollar, we think this is merely transient and immaterial to the long-term trajectory of Visa's franchise. We especially like that Visa does not take on credit risk, and while that may disqualify it as financials exposure, we're considering its position in the Best Ideas as exposure to the sector. Our fair value estimate is $235 share. At present, shares are trading at roughly $214 each.
Wrapping It Up
The Valuentum Buying Index, like all methodologies, informs the investment decision process, but in constructing a portfolio, a qualitative overlay is not only necessary, but has been shown to optimize performance in the white paper study. These are 4 ideas that continue to contribute to the outperformance of the Best Ideas portfolio. We hope you enjoyed reading!
Disclosure: F, V, BWLD, and UNP are included in the Best Ideas portfolio. I have no positions in any other stocks mentioned, and no plans to initiate any positions within the next 72 hours. I wrote this article myself, and it expresses my own opinions. I am not receiving compensation for it (other than from Seeking Alpha). I have no business relationship with any company whose stock is mentioned in this article.