One of the underlying themes of the market is how easily blue chip tech names like Microsoft (NASDAQ:MSFT) and Apple (NASDAQ:AAPL) have outperformed the overall market in 2014. The primary driver of this outperformance has been the migration of funds coming out of the momentum stocks & sectors that drove the market higher in 2013 into much cheaper stalwarts in the tech sector. This is especially true over the past three months (See Chart).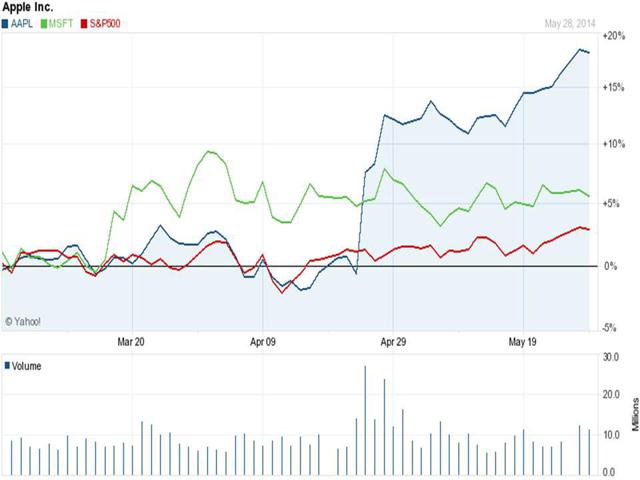 I believe this sector rotation could continue for quite a while as there many stocks and sectors that seem stretched from a valuation perspective. One tech blue chip that has not participated in that shift yet is EMC Corp. (EMC) which is roughly flat for 2014. I believe that is going to change in a positive way in the near future as it is getting too cheap to ignore.
About 60% of EMC's market capitalization is made up of the ~80% stake in has in fast growing server virtualization software developer VMware (NYSE:VMW) and the roughly $3B in net cash it has on its balance sheet.
EMC is a great back door way to play VMware as well. These shares are on the move today as Piper Jaffray's Mark Murphy, a five star analyst according to TipRanks, upgraded the shares to "Overweight". Among reasons cited for the upgrade were "reseller surveys that point to 'adoption rates moving to their highest level ever,' and VMware has a better chance than investors realize to 'mow down' PC virtualization leader Citrix (CTXS +0.1%), given product parity and talent defections."
In EMC's core data solutions business it continues to take market share from a restructuring IBM Corp. (IBM) and is the market leader as well as has new offerings targeting the "cloud". From a valuation perspective, the shares are more than a reasonable value.
The overall S&P 500 is going for roughly 16x forward earnings and is predicted to show year-over-year revenue growth in 2014 of 3% to 4%. EMC is going for 14x forward earnings and should deliver 5% to 6% sales growth this year. Add in a 1.7% dividend yield after the company recently announced dividend hike of 15%; EMC looks like a relative bargain in market I consider fairly or slightly overvalued. ACCUMULATE
Disclosure: I am long EMC. I wrote this article myself, and it expresses my own opinions. I am not receiving compensation for it (other than from Seeking Alpha). I have no business relationship with any company whose stock is mentioned in this article.