Shares in The Walt Disney Company (NYSE:DIS) have gone up by 4.78% over the past month, easily beating the S&P 500 which has gone up by 1.34%. In fact, Disney has been outperforming its benchmark for quite some time.
| | | |
| --- | --- | --- |
| Timeframe | S&P 500 Change | Disney Change |
| 1 month | 1.34% | 4.78% |
| 3 months | 3.50% | 3.98% |
| 6 months | 5.30% | 18.69% |
| 12 months | 13.98% | 25.14% |
| 3 years | 42.54% | 100.76% |
| 5 years | 114.26% | 251.56% |
| Year to date | 2.81% | 9.06% |
Even a great company can be a poor investment if bought at too high a price, and at $83.60, Disney is trading very close to its 52-week high of $83.90. Can Disney's growth justify this price or is the stock currently in overvalued territory? To answer this question, I will be looking at Disney's growth relative to its valuation. Being a dividend growth investor, I would also like to see strong dividend growth and share repurchases. Furthermore, a healthy looking balance sheet is one of the things I need before I buy stocks in any company.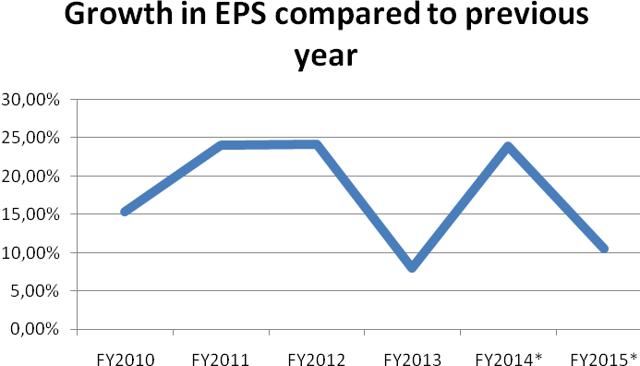 Let's start by looking at Disney's growth in earnings per share. For the current fiscal year, analysts expect EPS to reach $4.19, according to Yahoo Finance. The average estimate for next year's EPS stands at $4.63. Disney's EPS has been steadily growing over the past few years, as can be seen from the graph below. However, its price has also gone up, and at $83.60, investors will be paying almost 20 times next year's expected EPS. The forward P/E ratio for FY2015 stands at 18.0.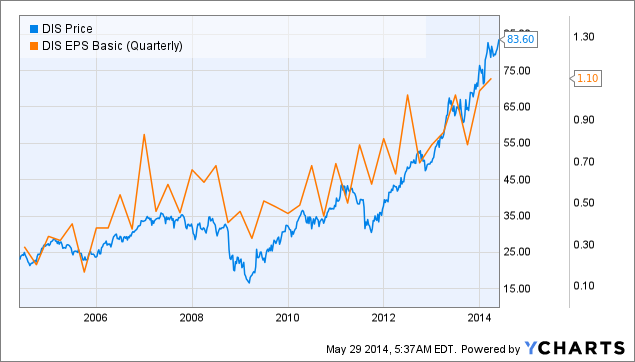 Disney's five-year average P/E ratio stands at 17.2 (source: Morningstar) which is a lot lower than the forward P/E of 20 for the current fiscal year. The price to sales ratio shows a similar pattern - the five-year average stands at 2.1 while the forward P/S ratio for the current fiscal year is 2.99.
Disney's dividend appears to be very safe. The most recent dividend was $0.86, which at current prices would yield 1.03%. The company has a long history of increasing dividends, but I'm not very impressed with the current yield. However, paying out only a small percentage of earnings in the form of dividends means DIS has the ability to buy back quite a large amount of shares. In 2005, the company had 2.09 billion shares outstanding. This has been reduced to only 1.73 billion. Share buybacks are good for investors as they increase EPS.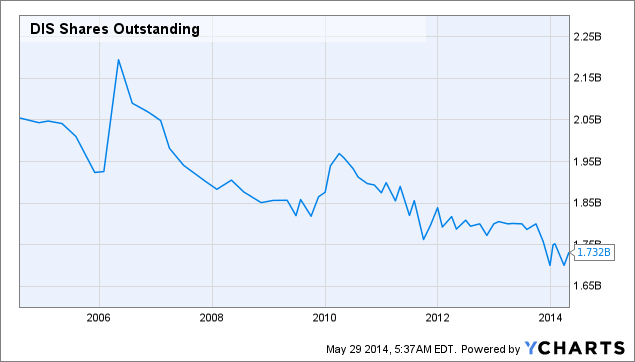 DIS Shares Outstanding data by YCharts
Disney's balance sheet looks very good with a current ratio of 0.99 and a quick ratio (current ratio minus inventories) of 0.90. The company has $4.078 billion in cash ($2.36 per share), meaning a bad year doesn't automatically have to lead to a dividend cut.
I strongly believe Disney will continue to grow its revenues and dividends for years and years to come. It has outperformed the S&P 500 in every timeframe I've looked at. Still, I will not be buying Disney at its current valuation. Both the P/E and P/S ratio are very far above their historical averages. Using the five-year average P/E ratio of 17.2, EPS would have to grow to $4.86 to justify the current price.
Disclaimer: I am not a registered investment advisor and do not provide specific investment advice. The information contained herein is for informational purposes only. Nothing in this article should be taken as a solicitation to purchase or sell securities. Before buying or selling any stock you should do your own research and reach your own conclusion. It is up to investors to make the correct decision after necessary research. Investing includes risks, including loss of principal.
Disclosure: I have no positions in any stocks mentioned, and no plans to initiate any positions within the next 72 hours. I wrote this article myself, and it expresses my own opinions. I am not receiving compensation for it (other than from Seeking Alpha). I have no business relationship with any company whose stock is mentioned in this article.