June 1 will mark the conclusion of the 25 day SEC-enforced quiet period on underwriter research that began with Dorian LPG Ltd. (NYSE:LPG)'s May 7 IPO, allowing the IPO underwriters to release research reports on the owner and operator of Very Large Gas Carriers (VLGCs).
The publishing of the reports will likely lead to at least a temporary increase in the price of LPG shares.
LPG Market Performance Thus-Far
LPG's IPO priced at the midpoint of the expected range at $19 per share and has seen little movement since, losing approximately 2% in its first day and slowly gaining ground ever since. LPG closed at $19.71 per share on May 28.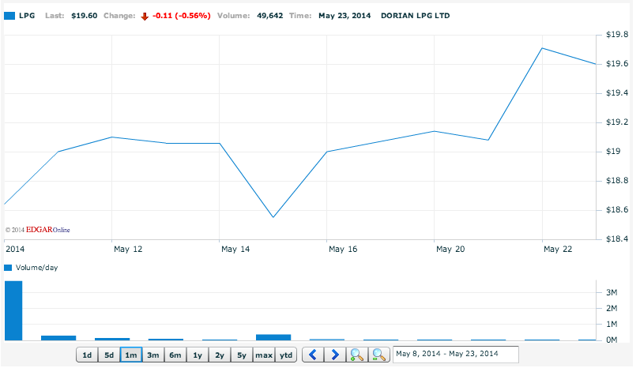 (Nasdaq.com)
IPO Underwriters Will Likely Attempt To Lift Share Price
The IPO underwriters, including J.P. Morgan Securities LLC; UBS Investment Bank; ABN AMRO Securities (USA) LLC; Arctic Securities ASA; Clarkson Capital Markets LLC; DNB Markets, Inc; DVB Capital Markets LLC; Fearnley Securities AS; Tudor, Pickering, Holt & Co. Securities, Inc; and Wells Fargo Securities, LLC, will attempt to invigorate the stock through positive reports beginning on the first. The underwriters elected to partially exercise an option to purchase additional shares after the IPO, buying a total of 245,521 extra shares at the IPO price.
Data from our past two years of research as well as the results of recent academic studies have empirically evidenced a correlation between the reputation and quantity of IPO underwriters and a rise in the price of shares at the expiration of the quiet period. Share prices usually begin to increase several days before the quiet period has ended as experienced investors purchase shares in anticipation of the underwriters' forthcoming positive reports. These early buys create the perception of rising demand, leading to an increase in share prices before the quiet period has actually expired.
Overview of LPG Business
LPG is an international shipping firm, engaged in the ownership and operation of Very Large Gas Carriers (VLGCs), which are liquefied petroleum gas carriers with cargo-carrying capacities exceeding 80,000 cbm. The firm currently owns a trio of VLGCs, in addition to a single pressurized 5,000 cbm ship, and has secured newbuilding contracts for 19 new 84,000 cbm VLGCs with Hyundai Heavy Industries and Daewoo Shipping.

The new VLGCs are scheduled for delivery between July 2014 and January 2016. LPG intends to secure various types and durations of charters for its ships in order to establish steady, diversified cash flows and high utilization rates.
LPG hopes to take advantage of rising demand for high volume, long distance transportation of liquefied petroleum gas resulting from the United States' growing production of shale oil and gas and demand for the same in Asia. VLGCs, especially the fuel-efficient models that the firm has ordered from Hyundai and Daewoo, are the most efficient method of transporting large quantities of liquefied petroleum gas. LPG serves both energy companies like Shell and Statoil and commodity traders like Petredec, along with industrial users.
Large Pool of Competitors
LPG is hardly the only firm seeking to capitalize on favorable conditions for VLGCs, and many of its competitors have significantly larger fleets. BW Group operates a total of 33 VLGCs and has actively sought to acquire more, buying out Maersk Tankers' VLGC segment of five vessels in May 2013 and exercising options to receive a total of six newbuild VLGCs between 2014 and 2016. Avance Gas, owner of six currently operational VLGCs, has likewise sought to expand its fleet, with eight VLGCs scheduled for delivery from Shanghai's Jiangnang Shipyard in 2014 and 2015.
Management With Strong Industry Experience
President, CEO and Chairman John C. Hadjipateras has served in his current positions and as President of Dorian LPG LLC since the firm's July 2013 inception. Mr. Hadjipateras served the Managing Director of Peninsular Maritime Ltd. for two decades beginning in 1972, and also worked as President of Eagle Ocean. He has served on the boards of the Greek Shipping Cooperation Committee and the Council of Intertanko.
Conclusion For Investors: Time To Buy
LPG figures to be a major player in the rising market for VLGCs, with a fleet that will rival the largest VLGC fleet in the world-that of BW Group-upon completion of its newbuild orders.
Importantly, the 19 ships scheduled for delivery over the next two years will be modern, fuel-efficient vessels that should both prove attractive to charterers and economical for LPG to operate.
Many of those 19 newbuilds were contributed to LPG by Scorpio Tankers Inc (NYSE:STNG), in exchange for shares in LPG upon completion of LPG's IPO. Scorpio's contribution is an important vote of confidence in LPG and a tangible recognition of the consolidation of the VLGC sector.
Though LPG has been quiet on the market thus far, the firm is already profitable, and should have every opportunity to continue building its revenues as its newbuilds are delivered.
The upcoming quiet period expiration represents an excellent opportunity for investors to buy into this promising firm.
Readers wishing to join the discussion on IPO quiet period expirations should click the +FOLLOW button above the title of this article.
Disclosure: I am long LPG. I wrote this article myself, and it expresses my own opinions. I am not receiving compensation for it (other than from Seeking Alpha). I have no business relationship with any company whose stock is mentioned in this article.