Although real estate made investors happy during 2013, investors must be cautious. The high-end has definitely benefited from the increase in prices, that has rolled over into lower income neighborhoods as investors look for bargains, and if you ask any real estate agent in my neck of the woods, they will tell you that it is a seller's market for sure.
However, when we peel back the layers, some interesting macroeconomic influences have also played a role. In this article, I will discuss material concerns for the housing industry and highlight results from PulteGroup, Inc. (NYSE:PHM) to help explain my position.
The relevant items:
1. GDP related Housing Data
2. Janet Yellen's Public concern
3. FOMC Tapering and liquidity
4. Net Real Stimulus [NRS]
To begin, GDP data for the past two quarters has shown that investment demand in the housing sector has declined by 13%. You would not know it if you were looking to buy a home in San Francisco or La Jolla, but it is a hard fact. The GDP data does not lie, and recently there has been reduced investment demand. That is a major concern for Yellen.
Janet Yellen seemed to suggest that she was concerned about the slowdown in the housing recovery recently, and that there was nothing she could do about it, but in actuality, she is the reason the slowdown is happening. Arguably, the FOMC is also the reason that the housing market is where it is today, so this is a double-edged sword.
The open spigot that existed until late last year created excess liquidity in the financial system that absolutely boosted asset classes that depend on new money to grow. One of those is the stock market, another one, more pertinent to this article, is housing. These asset classes were direct beneficiaries, but as the tap is turned off, the impact on housing is not unlike tightening monetary policy.
In fact, according to our macroeconomic analysis, Net Real Stimulus [NRS] is already negative.
That absolutely can affect investor interest in the homebuilders. There are many dynamics at play in this industry, but the macroeconomic landscape is a huge component of that.
Our analysis of EPS for Pulte, after excluding extraordinary items, suggests that EPS, although positive now, is questionable. Even with three consecutive quarters of higher EPS numbers last year, the stock basically has done nothing except to move sideways. The spread was definitely good for traders, but investors do have reason to be concerned.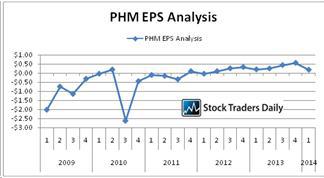 Investors should be concerned about the macroeconomic landscape, and they should listen to the concerns of Janet Yellen, the GDP, and the measures of NRS we have defined, because all of these can impact the housing industry.
However, traders can continue to benefit from the large spreads in PHM that we expect as well. According to our real-time trading report for PHM, the stock tested longer term support early this month, and by rule, we should expect stocks to increase from longer-term support towards longer-term resistance if support levels hold, so there is a slightly positive trading bias for PHM at this time. The stock will need to move over an intra-channel resistance line, but if it does that, we expect longer-term resistance again before the stock falls back to support.
Disclosure: I have no positions in any stocks mentioned, and no plans to initiate any positions within the next 72 hours.
Business relationship disclosure: By Thomas H. Kee Jr. for Stock Traders Daily and does not receive compensation from the publicly-traded companies listed herein for writing this article.