ETF Spotlight on Claymore/AlphaShares China Small-Cap (NYSEARCA:HAO), part of a weekly series.
Assets: $343.7 million
Objective: Tracks the AlphaShares China Small-Cap Index, which holds companies with a market cap between $200 million up to a maximum of $1.5 billion.
Holdings: 156 securities are held in the fund; top names include Air China (OTCPK:AICAF) (2.1%), China Everbright (OTCPK:CEVIF) (1.6%), and Tsingtao Brewery (OTCPK:TSGTY) (1.4%).
What You Should Know
HAO primarily holds small-caps, which have 96.6% of the total weighting, but mid-caps get a small nod, too, with 3.4% of the weighting.
Industrials are the largest weighting, with 28.9%; consumer discretionary, 14.2%; materials, 13.8%; information technology, 12.3%.
HAO is one of the top-performing unleveraged China ETFs in the last three months, up 15.7%.
In terms of the 0.70% expense ratio, HAO is right in the middle on cost (the most expensive China ETF costs 0.90%; the least expensive is 0.60%).
The Latest News
In the near-term, China's small-cap companies are expected to outperform large-caps, reports Bloomberg. Liquidity and economic fundamentals may continue to dog bigger companies, while smaller ones are more flexible and have more room for growth.
On the other hand, Chinese restrictions on the sale of equities are about to expire, sparking concerns that there's about to be a supply glut and send share prices down.
Small-cap stocks have outperformed in the last year in China, thanks to the government's push for clean energy and satellite navigation systems. The focus has lured money to start-ups, says Bloomberg. (Click to enlarge)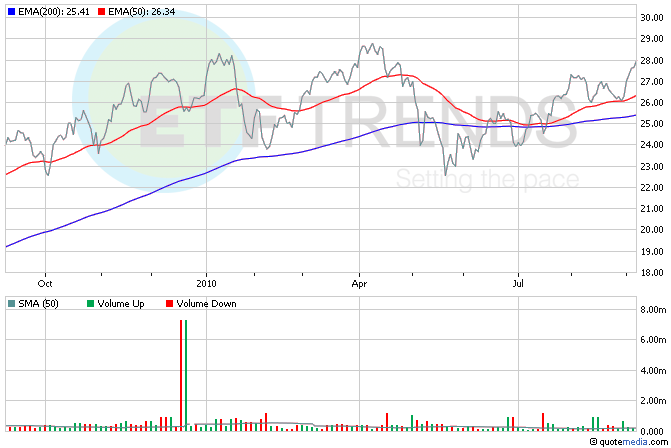 Disclosure: None