The 25-day quiet period on underwriter research that began with the May 15 IPO of TrueCar, Inc. (NASDAQ:TRUE) will expire on June 10, permitting the IPO underwriters to release research reports on the online automotive research and guaranteed pricing platform. The underwriters' reports will likely lead to a brief rise in the price of TRUE shares.
TRUE's disappointing IPO priced at $9 per share, falling well short of the expected range of $12-$14 per share. Though TRUE saw a first-day return of nearly 12%, it has since moved sideways, closing at $10.44 per share on May 28.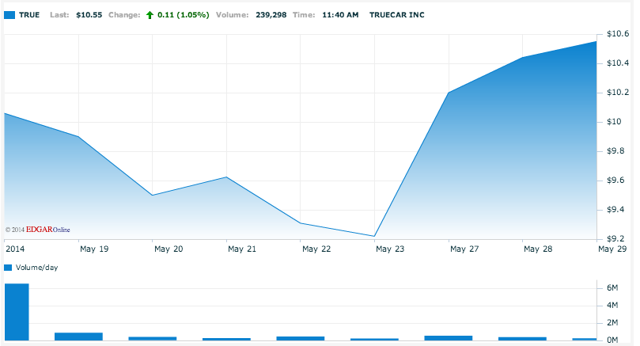 (Nasdaq.com)
TRUE's IPO underwriters, including Goldman, Sachs & Co.; RBC Capital Markets, LLC; J.P. Morgan Securities LLC; Cowen and Company, LLC; and JMP Securities LLC, will try to reverse the struggling stock's fortunes by publishing positive research reports on TRUE beginning on the 9th.
TRUE's Strong Underwriters Will Likely Attempt To Revive Share Price
The correlation between the visibility and quantity of IPO underwriters and an increase in the price of shares at the conclusion of the quiet period has been empirically established, both by the results of academic studies and by the data generated through our past three years of research.
The Journal of Finance (Vol. LVIII, No. 1; 2003) describes how an increase in share price typically emerges several days ahead of the quiet period expiration as experienced investors anticipate positive reports and begin to buy up shares, realizing that the underwriters will scarcely publish negative information about a recently underwritten firm. The early purchases generate the perception of rising demand, and cause share prices to rise before the expiration of the quiet period.
Lead author of the above report, Dan Bradley, PhD, CFA, affiliated with the University of South Florida, and colleagues note that analyst coverage is immediately initiated for 76% of firms at the quiet period expiration, nearly always with positive analysis. Abnormal (positive) returns increase significantly when initiated by more than one analyst.
TRUE's lengthy and strong list of underwriters could have a greater chance of positively influencing the stock.
'Truly' Helping Car Buyers
TRUE provides an online platform that assists auto buyers in finding pricing data on new and used vehicles, and in connecting with the TrueCar Certified Dealers network. TRUE users have access to data about what others in the same area have recently paid for particular makes and models, as well as estimated prices on the same makes and models from the firm's certified dealers.
Consumers can then take advantage of this pricing information - which generally includes discounts off of MSRP - by taking Guaranteed Savings Certificates to certified dealers and applying them to their purchases. TRUE argues that its platform benefits both consumers by providing savings on new cars and dealers by attracting more buyers. In 2013, the firm's certificates averaged approximately $3,000 off of MSRP.
TRUE's platform is accessible on the company's website in its branded form, as well as in customized forms for TRUE's marketing partners, such as Boeing (NYSE:BA), USAA, Verizon (NYSE:VZ), financial institutions, and others.
TrueCar users have purchased over 1.2 million cars since the firm's 2005 inception.
See our preview of TRUE's IPO for additional information.
Veritably Strong Competitors
TRUE competes with other online automotive information resources, many of which have access to greater financial resources than TRUE. These competitors include Google Inc. (GOOG, GOOGL), Cars.com, AutoTrader.com, Autobytel Inc. (NASDAQ:ABTL), and Edmunds.com. Few of these competitors offer services as limited as those of TRUE. For instance, Cars.com is operated by Avis Budget Group Inc. (NASDAQ:CAR), which is best known for its discount car rental services; AutoTrader.com is owned by AutoTrader Group, which also owns Kelley Blue Book and several software firms focused on providing auto dealers and manufacturers with tools for marketing and inventory management.
TRUE also must contend with websites operated by auto manufacturers and dealers, as well as offline media and classified ads.
Entrepreneurial Management
Co-founder, Chairman and CEO Scott Painter has served in his current positions since February 2005. Mr. Painter also served as TRUE's president until August 2010.
Mr. Painter has also co-founded PriceLock Inc. and BrightHouse, Inc., and has strong experience in creating and raising new firms as an entrepreneur. He previously co-founded and served as chairman of Direct Ventures, Inc.; founded and served as chairman of Build-To-Order, Inc.; founded and served as CEO of CarsDirect.com, Inc.; founded and served as chairman of Advertise.com, Inc.; and founded many other firms.
Mr. Painter studied Economics at UC Berkeley; he left before graduating to sell his first auto-related start-up business, AUTOAccess.
Conclusion - Buying Opportunity, Despite Poor Performance
TRUE's poor IPO pricing and cold performance on the market thus far are certainly concerning signs for the firm, which has scrambled to publicly defend the weak offering.
Timothy J. Keating, CEO of early TRUE backer Keating Capital, blamed "choppy" market conditions for the pricing. Scott Painter went as far as to purchase $1.5 million in TRUE stock on the 21st in a show of confidence that did not appear to have much immediate effect on the stock's value.
All of that said, we believe that the stock still has every opportunity to succeed, especially if TRUE is better able to communicate its strengths to the market.
The conclusion of the quiet period will provide TRUE and its many underwriters with the opportunity to proliferate positive detailed information on the positive outlook for the company.
We invite readers wishing to join the discussion on IPO quiet period expirations to click the +FOLLOW button above the title of this article.
Disclosure: I am long TRUE. I wrote this article myself, and it expresses my own opinions. I am not receiving compensation for it (other than from Seeking Alpha). I have no business relationship with any company whose stock is mentioned in this article.