By Jeff Bailey
With DirecTV (DTV) looking likely to be acquired by AT&T (NYSE:T), the poster boy for mega-stock buybacks would cease to exist, after a decade in which it bought in more than 60% of its shares outstanding.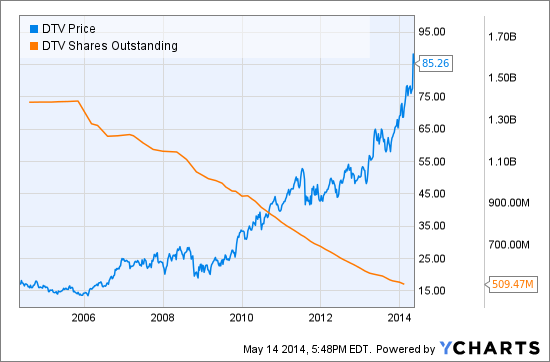 DTV data by YCharts
Among the runners-up – AutoZone (NYSE:AZO), AutoNation (NYSE:AN), Gap Stores (NYSE:GPS), AmerisourceBergen (NYSE:ABC) and Dun & Bradstreet (NYSE:DNB) – considered here, after setting the YCharts Stock Screener to find greatest 10-year reductions in shares outstanding (the data set isn't perfect; Priceline (NASDAQ:PCLN) and Nike (NYSE:NKE) popped up for anomalous reasons, for instance) among S&P 500 stocks – AutoZone in its single-minded devotion to buybacks demands an examination.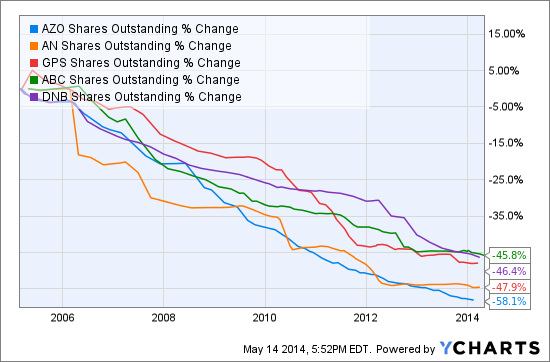 AZO Shares Outstanding data by YCharts
AutoZone operates about 5,200 auto parts stores. Its market is the do-it-your-selfer who owns a car that's at least seven years old. These consumers replace crucial parts (batteries, fuel pumps, radiators) that fail, perform somewhat less maintenance (fluids, brake components, wiper blades) and go light in buying discretionary items (car stereos, wax, floor mats).
Having blanketed the U.S. in stores, growth is slow – sales for the second fiscal quarter ended February 15 rose 7.3% on a same store sales increase of 4.3% -- but there is great operating and financial leverage in the business. Net income for that most recent quarter rose 9.4%. And EPS was up 17.8%, as share count was, as always, falling swiftly.
Here's how that looks over time: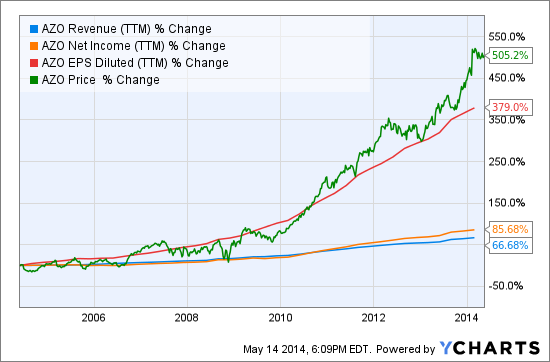 AZO Revenue (TTM) data by YCharts
In case you're wondering, AutoZone includes in essentially every financial disclosure a running tally on its stock buyback program launched in fiscal 1998: as of February 15, the company had bought on 135.7 million shares for $13.4 million, leaving 33.4 million shares outstanding at the end of the quarter. There seems to be no let-up in the repurchasing: in the first half of the fiscal year, AutoZone bought in 1.1 million shares for $492 million, and the buyback program had $727 million remaining to be spent. What's the goal? Zero shares outstanding?
Bill Rhodes, CEO, in a typical case of understatement, relates in the latest earnings release: "We remain committed to our disciplined approach to growing operating earnings and utilizing our capital effectively." (Italics added.)
He might have said "our suppliers' capital," because AutoZone increasingly funds its operations on generous credit from suppliers. Its accounts payable, which is what is owes mostly suppliers, as a percentage of inventory was 112.6% at February 15, and the figure has been rising steadily in recent periods. The average AutoZone store thus carried $589,000 of inventory, but AutoZone hadn't yet paid for that merchandise – or another $74,000 per store (what it calls net inventory) of stuff it already sold. It's a fabulous cash flow model, one also used aggressively by Amazon (NASDAQ:AMZN) and some other retailers.
It's more noteworthy at AutoZone, however, because the company disdains holding actual cash. It separately has total debt of $4.3 billion and a deficit of shareholders' equity of $1.7 billion. Buybacks, buybacks, buybacks.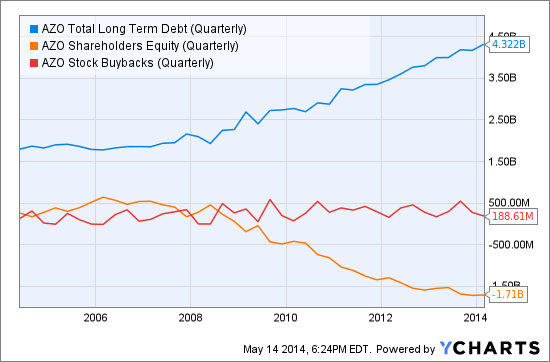 AZO Total Long-Term Debt (Quarterly) data by YCharts
Most of the debt is fixed-rate. The weighted average borrowing rate in fiscal 2013 was 4.5%. Absent some big trouble, then, there won't be big trouble. But it's a financial structure that carries some additional risk.
Each store has between 10 and 16 employees. And the same store sales growth the last five fiscal years – 0.0%, 3.9%, 6.4%, 5.4%, 4.4% -- show rising productivity. Rising sales per square foot also suggest AutoZone isn't cannibalizing existing stores when it opens new ones.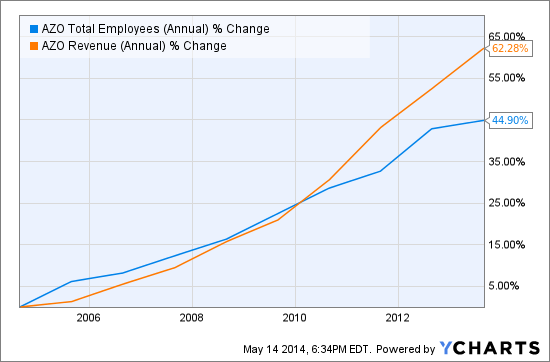 AZO Total Employees (Annual) data by YCharts
There are limits, however, to the amount of credit that can be wrung out of suppliers, and also to the amount of debt AutoZone can take on to buy back stock while also maintaining debt ratings that please its suppliers. And some level of capital spending is required to open a few new stores and keep existing ones and the distribution network in decent shape.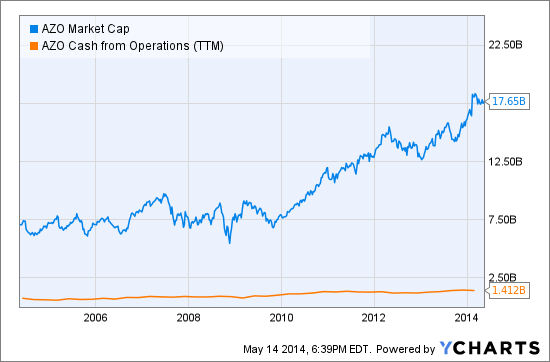 AZO Market Cap data by YCharts
Comparing cash from operations to the market cap, the buybacks could go on for many years. AutoZone doesn't pay a dividend. It's trading at a forward P/E ratio of about 17.
Disclosure: None