Teradata Corporation (NYSE:TDC) is an Ohio-based company, spun off from NCR Corp. in 2007, that has global operations focused on data warehousing and enterprise analytics. Teradata is the largest of the "pure play" big data vendors, coming only after IBM (NYSE:IBM) and HP (NYSE:HPQ) and ahead of Oracle (NASDAQ:ORCL) and SAP (NYSE:SAP). Its solutions include software, hardware and related consulting and services.
Investment Thesis
The growth of "big data" -- especially transactional data -- would give the company a secular tailwind. Increasingly, a company's data warehouse represents a key strategic asset as it provides critical insight into its operations and its customers. Teradata's business has a "moat" as it is not easy for a customer using its solutions to switch to a competitor's offering, and 95% of its revenue comes from its relationships with existing customers. Additionally, as data grows in a company's data warehouse, the relationship tends to become stickier.
TDC currently appears to be undervalued due to slower growth in the last two years. However, I expect the company to break out of the growth funk in the coming quarters as the economy recovers and businesses seek additional insight to drive growth. In fact, revenue growth of 7% in the latest quarter seems to support this. However, going forward I expect the company is likely to grow revenues in the high single digits, and not double digits as in the past.
Valuation
Its balance sheet is strong with low debt-to-capital ratio of less than 12%. The company in its recent quarter had $922 million in cash and a total debt of $270 million.
The company trades at a P/E multiple of 18 (forward P/E is 12.5) and a P/S multiple of 2.5. Both these multiples are significantly below the median P/E and P/S multiples as shown in the chart below. The red and blue lines below represent median P/S and P/E justified price. TDC is currently trading below the median multiples of the past six years. The current PEG ratio of TDC is 1.1, which is quite decent for a company in this industry.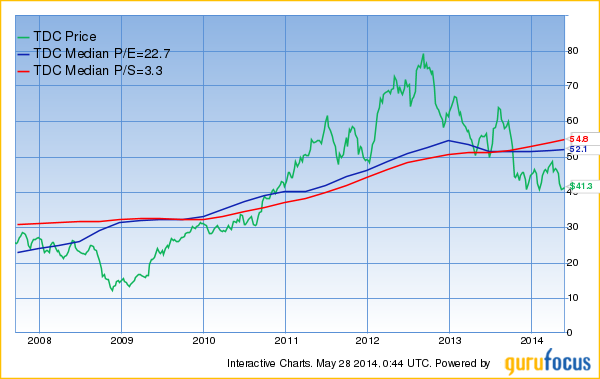 The company is generating significant free cash flow, which is currently at $2.86 per share (TTM). One of my favorite valuation metric is the "cash return." We can calculate cash return by adding free cash flow (cash from operations minus capital expenditures) to net interest expense (interest expense minus interest income), and then dividing the sum by enterprise value (market cap plus long-term debt, minus cash). We add back interest expense to free cash flow so that capital structure doesn't impact cash return. Therefore, cash return = (free cash flow + net interest expense) / (enterprise value). Teradata's cash return in 2013 is an excellent 8%.
While TDC does not pay a dividend, the company has been using some of the excess cash flow to reduce outstanding shares. The share count has dropped by almost 16 million shares since 2007, thus returning money to shareholders. The company continues to aggressively buy its own stock using its prodigious cash flow.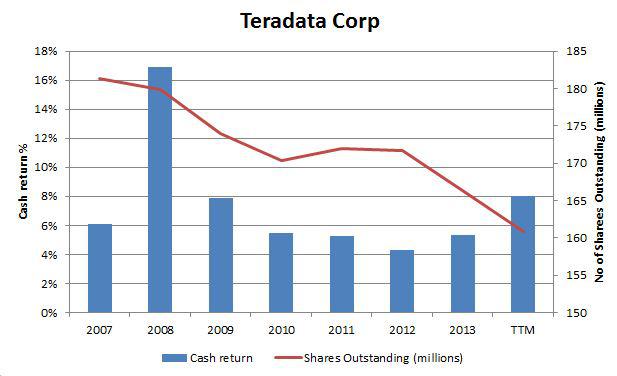 Value Investor Interest
Jean-Marie Eveillard portfolio manager of the First Eagle Funds and a leading value investor has a large position of approximately 10 million shares in TDC and continues to add to his position. Eveillard's approach to asset management is defined by the conviction that absolute long-term performance is the best way to preserve capital, rather than attempting to compete against the short-term movements of the major indices, and rigorous application of bottom-up fundamental analysis intended to reduce risk. His strategy incorporates on-site research by actively visiting companies and talking to managers to gain rounded, first-hand knowledge of investment prospects. Eveillard buys securities whose intrinsic value and long-term potential outweighs market risk (sources: Gurufocus.com, Morningstar.com).
Insider Activity
Insider activity is favorable with several directors buying shares recently. Teradata's CEO Michael Koehler, purchased 10,000 shares at $41.30 in February (close to the price level as now). This would indicate that insiders consider the shares to be good value at this level. One of the greatest investors of all time, Peter Lynch, was noted as saying that "insiders might sell their shares for any number of reasons, but they buy them for only one: they think the price will rise." Insiders are prevented from buying and selling their company stock within a six-month period; therefore, insiders buy stock when they feel the company will perform well over the long term. When a CEO puts up a significant amount of his own money into his company's stock, this is usually a strong indication that the stock is undervalued.
Conclusion
Teradata is transitioning from a high growth stock to a growth at a reasonable priced (GARP) stock, which has led to a sell off as momentum players abandon it. I believe after the churn in shareholder ownership subsides, the stock should trade in the $50s representing a 25% upside from here. Both S&P and Morningstar rate it as a four-star stock.
The company has high free cash return and is aggressively returning cash to shareholders via stock buybacks. It also sports a return on equity of over 20%. I believe you can do a lot worse than compounding your invested capital at 20% per annum.
Disclosure: I have no positions in any stocks mentioned, but may initiate a long position in TDC over the next 72 hours. I wrote this article myself, and it expresses my own opinions. I am not receiving compensation for it. I have no business relationship with any company whose stock is mentioned in this article.