Walgreen (WAG) has a long history of rewarding its shareholders with ever-increasing dividends. It's these dividend increases that have earned the company a place among the Dividend Aristocrats, a list of companies with over 25 years of growing dividends.
Walgreen has consistently outperformed the S&P 500, as can be seen in the table below.
| | | |
| --- | --- | --- |
| Time frame | S&P 500 returns | WAG returns |
| Year to date | 3.31% | 21.53% |
| 3 months | 2.71% | 2.74% |
| 6 months | 5.67% | 17.89% |
| 1 year | 15.76% | 37.50% |
| 2 years | 44.92% | 122.60% |
| 5 years | 115.31% | 136.15% |
This is great news for anyone who has bought shares in the past and held on to them, but for investors looking to get in now, it might not be as positive. The price per share has gone up a lot faster than the dividend, causing the yield to drop to only 1.80%. The next graph displays Walgreen's dividend yield and share price. We can clearly see the yield moving opposite to the price per share.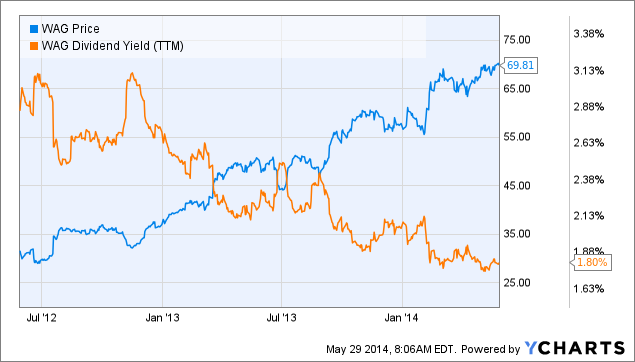 Walgreen has been increasing its dividend at a higher rate than the growth in EPS, which has led the payout ratio to go from only 14.7% in 2005 to well over 40% in the past 12 months. These massive dividend increases have attracted many dividend investors over the years, which has caused the price per share to skyrocket.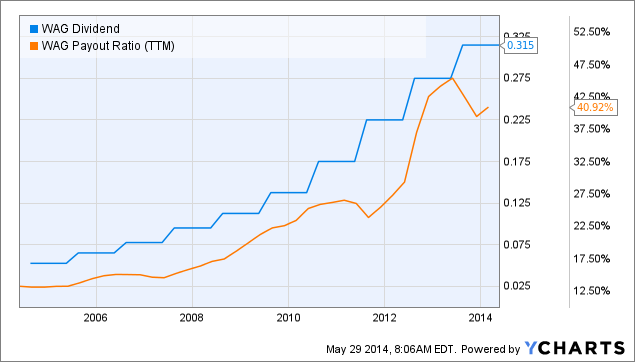 WAG Dividend data by YCharts
At the current price of $69.81 per share, Walgreen is trading very close to its 52-week high of $71.02. Analysts are expecting earnings per share to reach $3.44 this year, which puts Walgreen's forward price-to-earnings ratio at 20.3. This is very expensive when considering the fact Walgreen's 5-year average p/e is only 16.6. (Source: Morningstar)
The price-to-sales ratio shows a similar pattern. With revenues expected to reach $75.83 billion in the current fiscal year, Walgreen has a forward price-to-sales ratio of 0.88, much higher than the 5-year average of 0.6.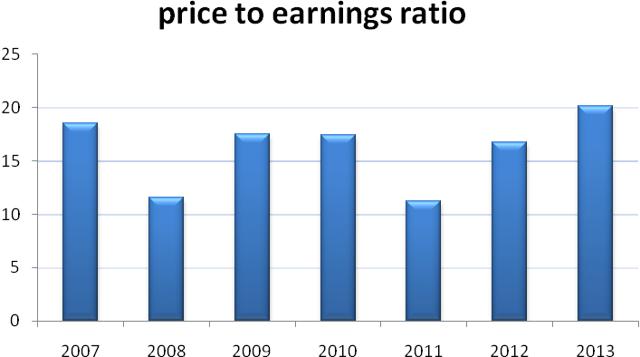 Click to enlarge
Walgreen's balance sheet looks exactly like one would expect from a healthy, growing company. The $1.78 billion in cash ($1.86 per share) offers quite a bit of protection from dividend cuts. Furthermore, the current ratio is a very healthy 1.42, while the quick ratio stands at 0.57.
I have written about Walgreen before, in December last year, when I rated it as a Buy. At the current price however, I would recommend steering clear of this stock, as I feel it has become overvalued. The increasing share price has dropped the dividend yield to the point where I'm no longer interested. I may consider buying shares if the forward p/e drops back to around its 5-year average. Assuming analyst expectations of $3.44 in earnings per share for the current fiscal year are correct, this represents a price target of $57.10, which is much lower than the current price of $69.81.
Disclaimer: I am not a registered investment advisor and do not provide specific investment advice. The information contained herein is for informational purposes only. Nothing in this article should be taken as a solicitation to purchase or sell securities. Before buying or selling any stock, you should do your own research and reach your own conclusion. It is up to investors to make the correct decision after necessary research. Investing includes risks, including loss of principal.
Disclosure: I have no positions in any stocks mentioned, and no plans to initiate any positions within the next 72 hours. I wrote this article myself, and it expresses my own opinions. I am not receiving compensation for it (other than from Seeking Alpha). I have no business relationship with any company whose stock is mentioned in this article.