Warren Buffett has proclaimed over the years that See's Candy is one of the best businesses in Berkshire Hathaway's (NYSE:BRK.B) portfolio. Over time, See's has been able to raise the prices on its chocolate every year while continually growing consumer demand. In the same light, the $10.5 billion market-cap confectionary giant, The Hershey Company (NYSE:HSY), offers the same inflation protection.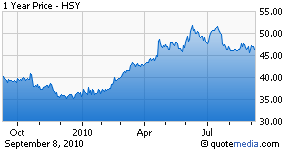 Hershey's principal operations and markets are located in the United States. The total percentage of consolidated net sales outside the United States was 14.3%, 14.4% for 2009 and 2008, respectively. Some of the company's most popular owned brands include Hershey's, Reese's, Kisses, Ice Breakers, Breath Savers, and Twizzlers. In addition, Hershey also licenses and sells the following popular brands: KitKat, Jolly Rancher, York, Milk Duds, and Almond Joy.
Recently, Hershey's bottom line has been both declining and highly sporadic, which is fully reflected in their 5-year compound growth rate of negative 5.14% in Net Income. In February 2007, Hershey announced a three-year supply chain transformation program in addition to other realignment charges. Total pre-tax charges amounted to $629.1 million, and the program was essentially complete as of December 31, 2009. Total pre-tax costs per year were approximately $99.1 million, $130 million, and $400 million, for 2009, 2008, and 2007, respectively. In addition to subpar operating results, these one-time charges coupled with the economic recession, amounted to a rough patch for Hershey. However, now earnings per share are increasing year-over-year for the past three years and returning to pre-recession levels.
An interesting fact: In 2009, sales to the McLane Company, a subsidiary of Berkshire Hathaway and one of the largest wholesale distributors in the United States, amounted to approximately 27% of Hershey's total net sales. McLane Company is the primary distributer of the company's products to Wal-Mart Stores (NYSE:
WMT
). By deduction, Wal-Mart is an essential customer of Hershey, and Hershey's economic success is highly correlated to that of Wal-Mart's and thus to the consumer.
Moreover, the short-term appreciation outlook for their stock price is limited as their now higher P/E already includes a slight premium reflected in the price. However, the longer-term investor may benefit from Hershey's increased earnings over time and may justify the purchase of the stock at a slight premium. When the American consumer rebounds, so should Hershey. Coupled effective growth restructuring and Hershey's price increases, the stock could see substantially new highs. The company also maintains a Standard and Poor's long-term debt rating grade of A, which illuminates the company's strong earning power and financial structure. The company's pension fund is a little underfunded with $942 million in assets and $957 million in obligations; however, that appears to be a liability Hershey's Board has made a priority to change. Consequently, with a P/E of 22, long-term buyers may see respectable potential in Hershey's stock in the coming decade.
Disclosure: The author has no positions in HSY or WMT but is long BRK.B.