By Carla Fried
Google (NASDAQ:GOOG) (NASDAQ:GOOGL) and Berkshire Hathaway (NYSE:BRK.A) (NYSE:BRK.B) stand out as two S&P 500 index outliers. While more than 8 of 10 index constituents pay a dividend, these two big boys don't. Over the long-term they certainly owe no apologies for refusing to go that route, as both beat the S&P 500's price and total return performance.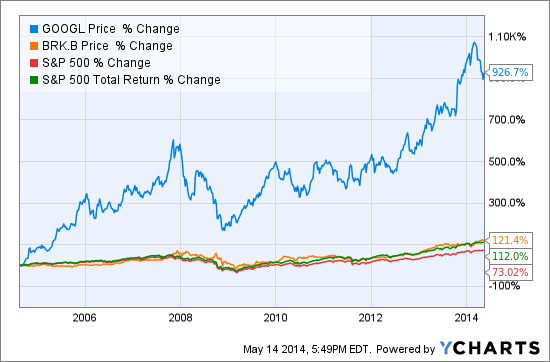 GOOGL data by YCharts
But one stock is arguably the biggest public game changer to come on the scene (Google only went public in 2004) and a guy who has clearly been up to the capital allocation challenge runs the other.
For the rest of the slower growth mere mortals in the S&P 500, dividends are an important tailwind for investors. In a recent blog post, Howard Silverblatt, senior index analyst at S&P Dow Jones Indices -- and less officially, the king of dividend data -- notes that dividend payouts among S&P 500 stocks boosted the index's annualized price gains by another 32.6% since 1990. That is, the S&P 500's 7.1% annualized price gain morphs to a 9.41% total return after adding in dividend payouts.
From Silverblatt: "…many investors are long-term and not home-run hitter, and they measure their numbers over years and decades…. For that time period dividends count significantly, since they pay every year – in good markets and bad (cash-flow is up there in importance), and when compounded can change the return (and therefore the risk-reward trade-off) significantly."
Among the index's 10 sectors, telecom rides the strongest dividend tailwind. An unimpressive 1.94% annualized price gain over the past 24 years becomes a more respectable 5.8% annualized total return when dividends are reinvested. That's a 200% boost in return courtesy of the dividend payout. Sure, the absolute return is low, but given that two-thirds of the gain comes from a sticky dividend, you're looking at a pretty nice risk-reward situation, assuming of course, your entry point is at a decent valuation.
The price looks to be compelling for AT&T (NYSE:T). YCharts currently has an attractive AT&T Rating. The current PE ratio has come back down to where a plodding telecom should be, given a sharp rebound in earnings per share: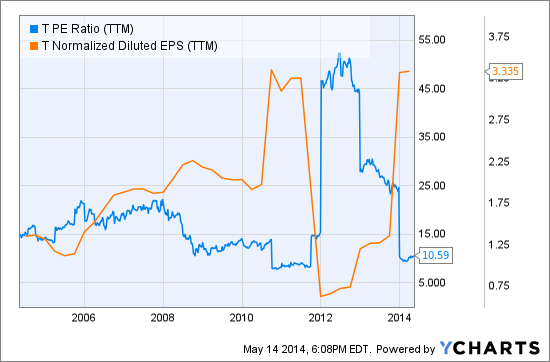 T PE Ratio (TTM) data by YCharts
That's helped AT&T whittle down its payout ratio to a level where growth, however conservative, can be supported.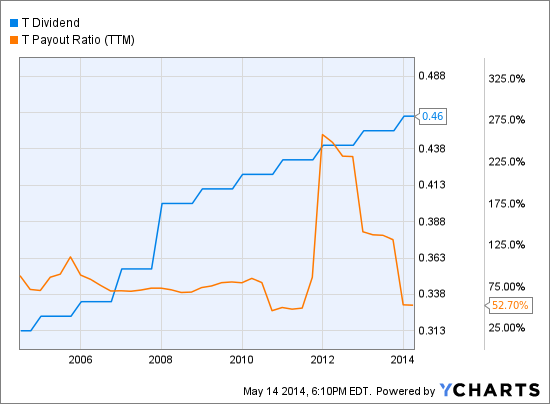 T Dividend data by YCharts
Moreover, if the rumored takeover of Directv (DTV) comes to fruition, it's plausible that Directv's use of copious free cash flow to aggressively buy back stock may be shifted toward AT&T's preference to use dividends as the main driver of shareholder returns. (For the record: Directv does not pay a dividend.) Directv's free cash flow for the trailing 12 months is nearly 30% of AT&T's outlay for dividends last year, and would boost AT&T's free cash flow by about 20%.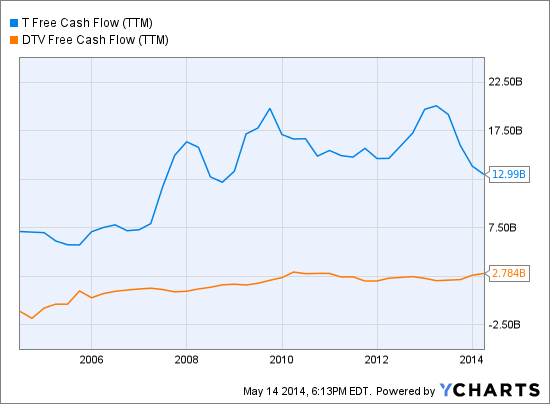 T Free Cash Flow (TTM) data by YCharts
In terms of absolute total return, health care was the top sector with an annualized gain of 11.7% over the nearly 25 year period. According to Silverblatt, dividends boosted the price gain by 22%. A decent tailwind, but clearly price appreciation is doing most of the heavy lifting.
Energy presents a potential Goldilocks scenario: more price appreciation potential than telecom, with a stronger dividend tailwind than health care. Energy's 11.6% annualized gain is just a small tick below health care. But for a long-term investors interested in a potentially smoother ride, dividends added 35% to the price return of the sector, meaning dividends did more of the work in energy than in health care.
Interestingly, if you're a bit of an index hugger, you're not owning much energy these days. Silverblatt notes that the sector represents less than 11% of the index in terms of market cap, ranking 6th out of the 10 sectors.
The five largest energy firms in the S&P 500 are Exxon Mobil (NYSE:XOM), Chevron (NYSE:CVX), Schlumberger (NYSE:SLB) , ConocoPhillips (NYSE:COP) and Occidental Petroleum (NYSE:OXY). All are consistent dividend payers—and hikers: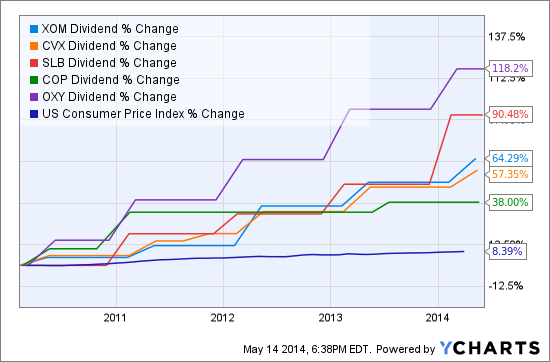 XOM Dividend data by YCharts
Conoco Phillips current trailing 12 month dividend yield of 3.5% is slightly ahead of the 3.4% for Chevron but as the chart above shows, in terms of dividend growth, Chevron has the more robust story.
As previously covered at YCharts, Chevron is a hard stock to avoid if you're interested in both value and current yield these days. And though Exxon-Mobil's 2.7% dividend yield lags Chevron's payout, that 2.7% is still ahead of the current 10-year Treasury rate.