BlackBerry (NASDAQ:BBRY) CEO John Chen has been vocal about the company's prospects in the near term. He has taken the opportunity to make various announcements recently at some conferences. These announcements and commentary by Mr. Chen have provided some additional insight into the direction BlackBerry is being steered and a window for shareholders to make some investment decisions.
At the re/code conference May 27-29 in Ranchos Verdes, California, Mr. Chen spoke about a number of topics concerning BlackBerry's future. Many shareholders will be pleased that he stated there will be "no more job cuts and BlackBerry is in the tail end of the restructuring process." The restructuring process will enable BlackBerry to be cash flow positive by the last fiscal quarter of this year. Essentially, BlackBerry will be turning a profit by February 2015, which is in nine months' time. As we get closer to this target date, the share price should slowly increase upon expectations that BlackBerry will be successful. Our estimates for the share price are in the low teens, which creates significant upside from where the stock price is currently. As a cautionary note, while the stock price will likely break $10 per share in the near term, the long-term success of BlackBerry is still in question.
Mr. Chen did emphasize the direction BlackBerry is taking for long-term success. The focus is clearly on the enterprise and infrastructure side of the house, in the business to business space. Currently, there is a strong demand for enterprise and infrastructure solutions in the mobile device management arena. This is an area where BlackBerry would like to increase market share. The Gartner Magic quadrant below illustrates the many headwinds that BlackBerry is facing in the crowded enterprise space. The leveraging of BlackBerry's existing infrastructure could allow for rapid increase in market share. BlackBerry has recognized this by offering enterprise customers a free upgrade to BB 12 when it's officially released in November.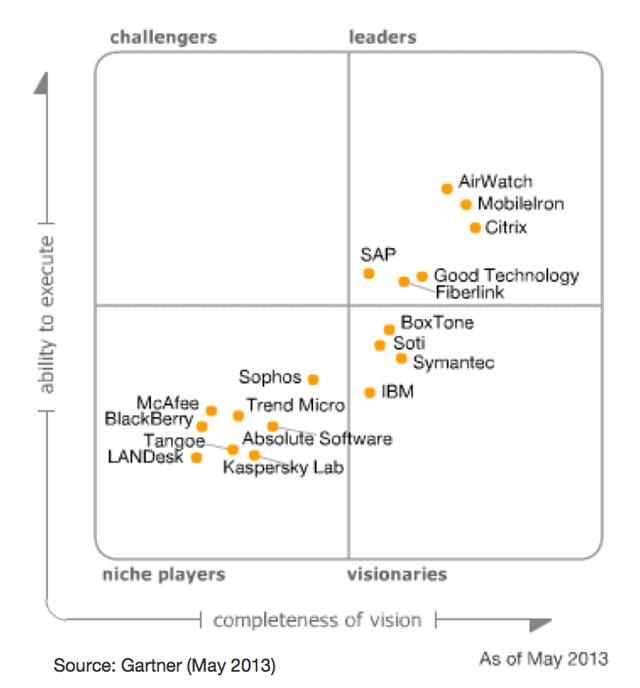 Project Ion is a new initiative that allows the QNX real-time operating system to be a major player in the Internet of Things ecosystem. This project was announced last week at the O'Reilly solid conference. Many industrial and technology companies have invested heavily in this new market. In the coming years, many industrial devices such as motors, cranes, trucks and other heavy machinery will be equipped with electronics that allow all these devices to communicate with each other. The importance and size of this opportunity is best illustrated by a recent quote in a press release from Chen:
"As connectivity costs continue to fall and connected technologies become pervasive, a new market is emerging - the Internet of Things," said John Chen, Executive Chairman and CEO, BlackBerry. "Billions of connections, generating trillions of transactions and exabytes of data daily, will require platforms that can operate securely on a global scale. No other company is in a better position than BlackBerry to provide the technological building blocks, applications and services needed to enhance productivity, improve real-time decision making and deliver on the vision of the Internet of Things."
BlackBerry wants to be a part of this new revolution, just as GE (NYSE:GE) and Cisco Systems (NASDAQ:CSCO) have stated previously.
It is interesting to note that John Chen has turned the focus away from handheld devices to the corporate products and services that BlackBerry offers. The new low-cost Z3 was released in Indonesia approximately 10 days ago. The New York Times reported the Z3 received a lukewarm reception. When John Chen was specifically asked about this report at the recode conference yesterday, he stated that the reception was good. The manner that he answered this question and without any empirical data leads me to believe that the reception was not great, and is a result of sliding market share in a previously strong country. But this is acceptable, as the focus is not on handheld devices anymore. John Chen went as far as to say that the "Z3 is one small part" of the solution.
The consumer handheld device market is a very difficult sector to compete in. Many companies are having a hard time in this hardware space. This highlights that BlackBerry's recent smartphone device failures may not be its fault, but inherent in the market itself. HTC (OTC:HTCKF) has begun to outsource some of its smartphones due to its inability to turn a profit in the space. The only two companies that truly succeeded in this sector are Google (NASDAQ:GOOG) (NASDAQ:GOOGL) and Apple (NASDAQ:AAPL). But that just further highlights the problems with profitability in the hardware area. Neither company makes its own phones. Google licenses its operating system to other vendors, while Apple outsources the production of its smartphone to Foxconn.
BlackBerry looks like an overweight start up as it moves into new opportunities. The advantage of being overweight is that it has more muscle to throw around and to move the market. The problem is it needs to get this right this time around, as investors are running out of time and patience.
Disclosure: I am long BBRY. I wrote this article myself, and it expresses my own opinions. I am not receiving compensation for it (other than from Seeking Alpha). I have no business relationship with any company whose stock is mentioned in this article.