Of the large number of leveraged and inverse ETFs out there, below we highlight the ones that are up and down the most so far in 2010.
On the upside, the double long real estate ETF (NYSEARCA:URE) is up the most with a year-to-date gain of 31.99%. Two double long gold ETFs (DGP and UGL) are up the 2nd and 3rd most, followed by double silver (NYSEARCA:AGQ) and double inverse euro (DRR, EUO). Other leveraged ETFs that track US equities on the positive list include midcap value (NYSEARCA:UVU), midcap growth (NYSEARCA:UKW), consumer services (NYSEARCA:UCC), consumer goods (NYSEARCA:UGE), and telecom (NYSEARCA:LTL). (Click to enlarge)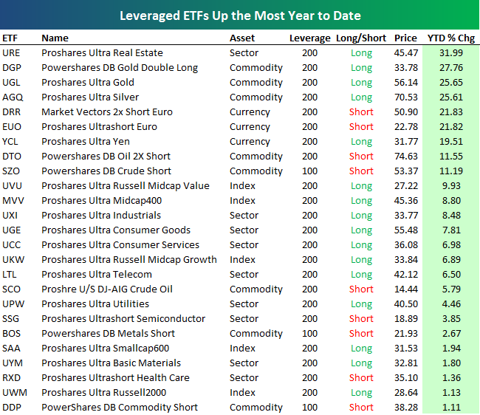 Click to enlarge
With the double long real estate ETF at the top of the positive list, it's no surprise to see the double short real estate ETF (NYSEARCA:SRS) at the top of the negative list (just behind 2x short silver). The 3x short small cap ETF (NYSEARCA:TZA) is down the third most year to date at -36.61%. The actual S&P 600 Smallcap index is up about 2% year to date. The double short 20+Yr Treasury ETF (NYSEARCA:TBT) is also down significantly at -34.6%.
As shown, nearly all of the ETFs on the negative list are inverse in nature. The only long ETFs on the list of worst performers year to date are double semiconductors (NYSEARCA:USD), double oil (NYSEARCA:UCO), triple energy stocks (NYSEARCA:ERX), and double euro (NYSEARCA:ULE).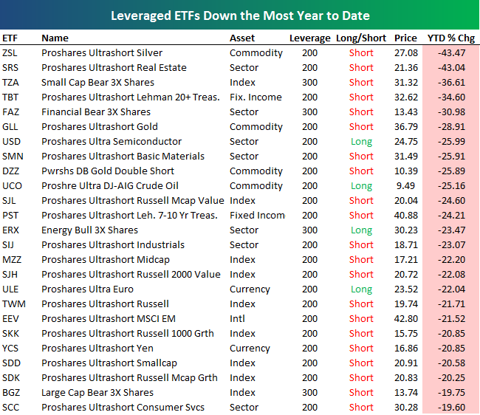 Click to enlarge
Disclosure: None