By Chris McKhann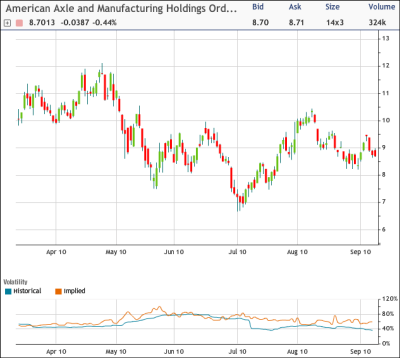 Volatility remains high for American Axle and Manufacturing (NYSE:AXL), and at least one trader is trying to take advantage of inflated option premiums.
The average implied volatility for AXL, which manufactures auto drivetrain systems, is 61%. That has fallen off from a 52-week high of over 100% that was set in May, but it is still quite high and above the 30-day historical volatility of 57%. The stock has settled down some, as shares are down 0.44% this morning to $8.70 and right in the middle of their recent range.
American Axle is not a typical options target, with 1,000 options trading on an average day, but the January 6 puts have seen 3 times that volume already today. All of it appears to be selling, moving in the course of 2 minutes for $0.35. The volume was 20 times the previous open interest, so these were new opening positions.
Those puts have an implied volatility of 77%, as it is typical for out-of-the-money puts to have implied volatility that is higher than the average. Shares of AXL were only briefly below $6 at its 52-week lows in October 2009.
(Chart courtesy of tradeMONSTER)