A significant unmet medical need exists for the treatment of acute liver failure (ALF), given the lack of available effective interventions. A few artificial liver support systems have been developed to supplement liver function while the patients are in acute liver failure, in an attempt to bridge ALF patients to recovery or to transplant. The ultimate goal of these liver support systems is to improve survival in ALF patients. In this article, we decided to talk a bit about Vital Therapies (NASDAQ:VTL), a small-cap biotherapeutic company which is developing the first bioartificial liver support system employing human cells for the treatment of patients with ALF.
Company Overview
Vital Therapies was incorporated in 2003, and is based in San Diego, CA. The company is focusing on developing its ELAD system for the treatment of acute liver disease and failure caused by alcohol-induced liver decompensation (AILD), acute alcoholic hepatitis (AAH), surgery-induced liver failure (SILF), fulminant hepatic failure (FHF), and acute flare viral hepatitis. The company has previously produced positive Phase IIb data in a subset of AILD patients suggesting a trend towards improved overall survival, increasing the chance of success in Phase III. The company has optimized Phase III enrollment criteria in order to eliminate cirrhotic patients and those who may die very quickly regardless of treatment, which should improve odds of success.
ELAD System Holds Promise in Treating ALF
The ELAD system is the first human cell-based bioartificial liver therapy to be evaluated in Phase III clinical development for the treatment of ALF. ELAD is an allogeneic cellular therapy system in which human liver-derived cells, known as C3A cells, in a single-use disposable set of four hollow fiber cartridges, are incorporated into a reusable, customized heart-lung machine - a device typically used in open-heart surgery to support the body during the surgical procedure. The heart-lung machine provides extracorporeal circulation of the patient's blood plasma to the cartridges containing the C3A cells for a two-way exchange of toxins, metabolites, and nutrients, and then returns the plasma to the patient. The ELAD system is specifically designed to simulate liver function while the patient's liver is given an opportunity to recover its regenerative properties.
Vital is not the first company to attempt to produce a liver-assist product based on human hepatocytes, although it has the potential to be the first to succeed. Previous attempts have failed because hepatocyte function rapidly diminished and/or the hepatocyte-based cells could not be produced in scalable quantities. Using allogeneic cellular therapy and its patented C3A cell process, Vital can produce an almost unlimited quantity of C3A cells that can be stored in centralized locations and shipped to patients on demand.
Key Advantages:
Between the two cellular approaches that reached late-stage development, ELAD has a number of key advantages over HepatAssist by Circe Biomedical, which uses porcine cells to mimic liver function outside of the body:
The use of human hepatocytes (liver cells) versus porcine hepatocytes - Human C3A cells are the closest in properties to functioning hepatocytes. There is much less concern on safety with human cells than with animal cells.
Humans have naturally occurring antibodies against porcine antigens, and the antibodies would attack the porcine hepatocytes, causing them to lose function and die. Further, repeated treatment with porcine cells could augment immunological responses, and thereby heighten risks.
HepatAssist contains approximately 40 grams of pig hepatocytes, while ELAD contains about one pound of human hepatocytes, which represents one-third of the average human liver mass. ELAD provides a much more substantial artificial liver mass, potentially better supplementing liver function.
ELAD can be connected to ALF patients 24/7, and the four cartridges can continue to function for up to 17 days without the need for replacement. One HepatAssist cartridge can only be used for six to eight hours per day, and a fresh cartridge is needed every day, likely not enough treatment time for the liver to regenerate.
The Clinical Trials And Development Process
Vital has produced positive Phase IIb data for ELAD in the AAH subgroup of AILD patients showing a trend towards overall survival, increasing the chance for success in Phase III. Vital conducted a Phase IIb study in n=37 subjects with AILD at n=26 sites. In AAH patients, ELAD showed a survival trend at 90 days versus control (69% vs. 44%), but did not reach statistical significance (p=0.27). The median survival on a per-protocol basis was >100 days for ELAD and ~65 days for control. Importantly, no ELAD patient died after 12 days. Interestingly, five patients in the overall ELAD group received treatment for less than 72 hours versus only one in the control group, suggesting that the ELAD group involved sicker patients. In addition, ELAD lowered serum T-bilirubin for all patients in the Phase IIb study versus control, an important indicator of activity. Increased liver enzymes such as bilirubin are common when the liver is damaged. The fact that ELAD was able to lower the bilirubin levels suggests strong evidence of activity.
The key to the success of the Phase III program is to enroll patients with an expected mortality rate of around 50% and also with regenerable livers, so that ELAD can make the strongest difference in improving survival. Therefore, the Phase III study will seek to exclude patients who: (1) have a high mortality rate (e.g., extremely sick patients), (2) have non-regenerable livers (ELAD does not promote survival if there is not enough viable liver), and (3) are not expected to die imminently (within 3-5 days of enrollment) due to multi-organ failure (e.g., caught too late).
The first Phase III study, VTI-208, is a randomized, open-label, multicenter, controlled study investigating the effects of ELAD in combination with standard therapy of the study site versus standard therapy alone in patients with AILD. The primary endpoint is overall survival at 90 days. As of the end of April, 100 of the 200 expected patients have been enrolled in VTI-208, and top line data from the study is expected by mid-2015.
The second Phase III study, VTI-210, is a randomized, open-label, multicenter, controlled study investigating the effects of ELAD in AAH patients, a subset of AILD, who failed steroids. Initiated in April 2013, the study will enroll 120 AAH patients who have failed at least seven days but no more than nine days of steroid therapy. The primary endpoint is overall survival at 90 days. Complete enrollment in the study is anticipated by mid-2015, and top line data by late 2015 or early 2016.
The company also plans to initiate the Phase II single-arm portion of the VTI-212 study by year-end 2014, targeting to enroll 40 patients with FHF or SILF. The planned primary endpoint of the Phase II component of the study is 28-day survival, which will be compared with historical or matched controls. Top line data from the Phase II portion of the study is anticipated by late 2015 or early 2016.
The Market Potential
Acute liver failure (ALF) is a rare but potentially fatal condition that often triggers the initiation of a liver transplant protocol. ALF is an ultra-orphan indication with a U.S. prevalence of approximately 2,000 cases per year (Lee et al 2011, AASLD Position Publication).
The commercial opportunity for Vital is very attractive, since ELAD has orphan designation in AILD and FHF, allowing for a high ~$100,000 treatment price. Importantly, liver transplant is the only currently available treatment that can extend life, but the cost of procurement alone is $71,000, with total cost approaching $577,000, and supply is extremely limited. Moreover, the small market size for AILD and FHF would require a very small sales force, creating extremely high operating margins. Finally, given the lack of effective treatments for AILD, the uptake for ELAD would be very rapid, assuming a survival benefit.
In addition, the commercial opportunity can be viewed as similar to certain other orphan disease markets, such as the cystic fibrosis market, given 1) the similar addressable patient population, 2) the unmet medical need for the disease, and 3) the ability to command high pricing - Vertex's (NASDAQ:VRTX) Kalydeco for a subset of cystic fibrosis mutations is priced at over $300,000 annually per patient. As ELAD has the potential to demonstrate a mortality benefit, allowing patients the opportunity to live for decades once saved, in addition to providing savings for the healthcare system, it could command premium pricing given the strong pharmacoeconomic argument.
Strong Intellectual Property
The company holds a method-of-use patent for treating patients' blood with C3A cells in the U.S., which expires in April 2027. A second granted patent in the U.S. covers the extracorporeal device configuration, or bedside unit, independent of any cells employed in the circuit; this patent is set to expire in May 2025. Foreign counterparts of these and other patents have been issued in Canada, Australia, Japan, Mexico, New Zealand, Indonesia, Israel, Singapore, South Africa, South Korea, and Taiwan, while patents are still under review in Europe, Brazil, China, India, and the Philippines. On the regulatory side, ELAD has received orphan designation from the FDA and the EMA, which provides 7 years of market exclusivity in the U.S. and 10 years in the EU. In addition, under the Patient Protection and Affordable Care Act, ELAD will also receive 12 years of exclusive use in the U.S. once it's approved, keeping potential biosimilars off the market during this period.
Summary: Reasons to Buy the Stock
Three randomized, controlled Phase II studies had demonstrated survival trend in favor of ELAD, and one of the three studies reached statistical significance. The studies informed powering and design for the Phase III studies, and also informed patient selection criteria for the Phase III program.
In previous Phase II studies, ELAD-treated subjects demonstrated a significant reduction in serum bilirubin levels over the five days of therapy as compared with the standard of care, indicating that the ELAD system was able to carry out the functions of a liver, and suggesting an improvement in liver function in ELAD-treated subjects.
Given the dire need for intervention for ALF patients, the ELAD system could eventually become the standard of care for AILD patients, as well as patients with FHF and SILF, if the Phase III program is successful.
The company has a tremendous amount of stock-moving catalysts along the way. The company expects preliminary data from its Phase III VTI-208 study in AILD patients in the first half of 2015. Data from its VTI-210 study in AAH patients and the VTI-212 study in FHF and SILF patients are expected in late 2015/early 2016. If ELAD were to show a 20% statistically significant mortality benefit in the AILD trials, this should de-risk the perceived likelihood of regulatory approval and result in a valuation upside.
William Blair analysts have recently initiated coverage on Vital Therapies, with an "Outperform" rating and a price target of $28 a share, representing a potential upside of 123% from where the stock is currently trading.
Valuation
Development-stage companies are particularly difficult to value, due to lack of revenue and clinical uncertainty. However, several early-stage orphan drug status companies with similar addressable patient population have found high valuations, as positive results for clinical studies can result in promising gains for investors. The companies in the comparisons below currently have a valuation of $453M or more, while Vital is valued at $254M.

Although holding through clinical results can be risky, if ELAD produces positive data for its indications, then Vital could see a 100% gain. That said, the company expects top line data from its Phase III VTI-208 study in early 2015, and as we approach that time period, the company's value should increase substantially.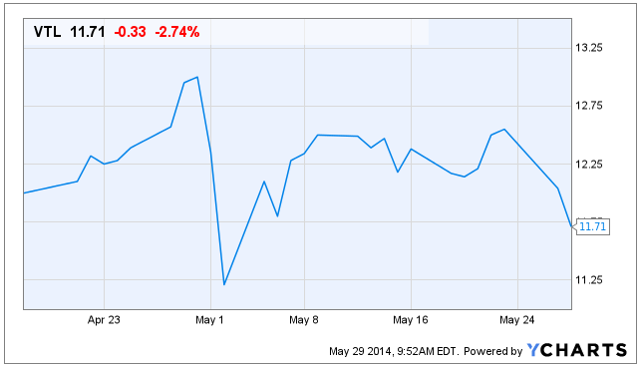 Risks To Consider:
Early clinical data with ELAD has been encouraging, but with only ~145 patients treated thus far (not including ongoing clinical trials) and no statistical significance in Phase II studies, there is a risk that ELAD does not attain its targeted ~20% survival benefit at 90 days in Phase III trials. Failure to do so could necessitate another trial or significantly reduce the likelihood of ELAD approval, which would result in meaningful downside.
While strict inclusion/exclusion criteria will help the company to ensure the correct patients are entering its pivotal U.S. Phase III trial, this could also delay enrollment, and hence, ultimate approval and launch timing.
On October 14th, the 180-day lockup period following the April 16 IPO of Vital will come to an end. There are 16.7M shares that will be eligible for sale after this expiration date.
Financial Outlook
Vital Therapies had ~$38M cash on hand as of December 31, 2013, not including cash raised through the IPO on April 17, 2014, ~$50M. As a development-stage biotechnology company, Vital is currently cash flow-negative. The company is expected to raise capital in 2015, which will probably be sufficient to fund the company's remaining trial and commercial activities until it turns cash flow-positive.
Bottom Line
Vital shares are expected to gap higher, based on potential positive Phase III data in H1/15 for AILD. Previous positive Phase IIb data in a subset of AILD patients, combined with tighter enrollment criteria in Phase III and high statistical powering should give higher confidence of success. No treatment exists today that extends life for liver failure patients other than a transplant, creating an attractive opportunity for Vital.
Disclosure: I have no positions in any stocks mentioned, and no plans to initiate any positions within the next 72 hours. I wrote this article myself, and it expresses my own opinions. I am not receiving compensation for it (other than from Seeking Alpha). I have no business relationship with any company whose stock is mentioned in this article.
Additional disclosure: Biomed Group is a group of independent investors and writers, which covers the biotechnology sector. This article was written by Amit Cohen.