The bond bubble question remains alive. We've had a bit of banking worry stemming from Europe, again, but the employment picture in the U.S. is starting to show signs of daylight ahead. Data trends are never smooth so the next economic number could once again cause the double-dip advocates to resume their chest-pounding ways. But as this is written, it's the believers in sustained expansion who are in control of trading. That would not be bullish for fixed income.
That's not an ideal state of affairs for the the ETF Pullback model I introduced on Seeking Alpha a month and a half ago. This is the second week of a primarily fixed-income posture.
Here's the current list.
This is last week's list.
Obviously, if bad economic news returns in the next few days, the portfolio will probably go back to trouncing the market, as it has for much of the time since I started trading it. But every strategy has its cold periods and if the market continues to reject the double-dip scenario, I figure to be heading into a second week of underperformance.
This raises the obvious question of why I don't just set the strategy aside for now. The reason is that I and the market have been wrong a lot regarding economic expectations so my confidence in the case for cyclical upturn (or any other scenario for that matter) is weak. I recognize that the model can be wrong just as easily as I and other traders can be. But when something has performed as well as this strategy has so far, I'm willing to cut it some slack. Nobody can outperform all the time so I'm willing to stick with a sensible strategy even during the course of cold spells. (See Appendix below for model details and performance information.)
Speaking of sensibility, the idea of buying heretofore strong stocks or ETFs on pullbacks is not something I invented. It's based on two well-known, well-accepted ideas.
First is the trend. In theory, things can change dramatically overnight and such back-and-forth shifts can occur all the time. That would be the trend-follower's nightmare. But in practice, change is more often than not evolutionary rather than revolutionary, affording investors and traders plenty of opportunity to detect a weakening of a trend and get out. Doing that is easier said than done and proficiency in this regard is what often determines investment or trading success, or lack thereof.
Second is the notion that no matter how strong a trend, it will never follow a straight line pattern. There are always zigs and zags. In uptrends, these come from pauses in buying as demand gets temporarily satiated, profit taking, etc.
The pullback model will falter if a trend truly experiences a sudden break, in which case the pullback would not be just another zag but the start of something long and ugly. The performance record of the model comes from the fact that trends have, over time, shown themselves statistically more likely to continue rather than abruptly reverse. And by the way, this isn't the first time I've tested and worked with pullback. I've been seeing the phenomenon in one form or another for a long time.
This is a one-week rebalancing strategy. If the bond trend is truly broken, I expect the model to turn away from that asset class sooner rather than later.

APPENDIX
To create this model, I started with a very broad-based ETF screen I created in StockScreen123.com.
Eliminate ETFs for which volume averaged less than 10,000 shares over the past five trading days

Eliminate HOLDRs (I don't want to be bothered with the need to trade in multiples of 100 shares)

Eliminate leveraged and short ETFs (I think of these as hedging tools rather than standard ETF investments of even trading vehicles)
Then I sorted the results and select the top 5 ETFs based on the StockScreen123 ETF Rotation - Basic ranking system, which is based on the following factors:
120-day share price percent change - higher is better (15%)

1-Year Sharpe Ratio - higher is better (15%)

5-day share price percent change - lower is better (70%)
The idea of using weakness as a bullish indicator is certainly not new. But often, it's an add-on to other factors that, on the whole, emphasize strength. Here, the weakness factor is dominant, with a 70 percent weighting.
This model is designed to be re-run every week with the list being refreshed accordingly. I trade through FolioInvesting.com, where I pay a flat annual fee rather than a per-trade commission, so I don't care about the fact that turnover form week to week is often 80%-100%. If you want to follow an approach like this but do have to worry about commissions, the strategy tests reasonably well with three ETFs, or even with one. (Cutting the number of ETFs is far preferable to extending the holding period.)
Figure 1 shows the result of a StockScreen123 backtest of the strategy from 3/31/01 through 7/22/10.
Figure 1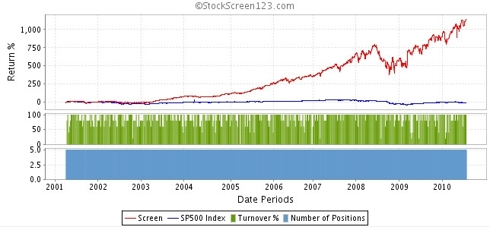 Figure 3 covers the past five years, a very challenging market environment that witnessed the fizzling of many strategies that had succeeded for a long time.
Figure 2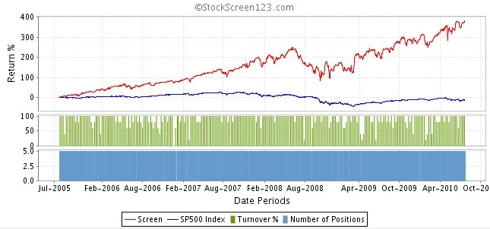 Disclosure: Long VGLT, BLV, LQD, BIV, TLO