Canada-based Cynapsus Therapeutics (TSX:CTH.V) (OTC:CYNAF) remains one of our best ideas for investment in the small-cap biotechnology sector. The company currently trades with a market capitalization of only $65 million on a fully diluted share count, yet sits on a potential $700 million drug for the treatment of Parkinson's disease. The company's leading drug is APL-130277, a sublingual formulation of apomorphine, designed as a rescue medication for patients experiencing "off" time in-between their daily levodopa dosing. Apomorphine is a highly effective drug, already approved in the U.S. and around the rest of the world in various injectable formulations.
Our research into apomorphine leaves little doubt that the drug works. Sales, however, are greatly limited because Parkinson's patients experiencing "off" time struggle immensely with delivering a subcutaneous injection. A rapidly dissolving sublingual formulation of this highly effective drug will dominate the market. Cynapsus' market research shows significant interest from neurologists and movement disorder doctors, as well as the patients they treat. We like Cynapsus because the costs and risks to develop APL-130277 are low, and the exit strategy is clear - develop APL-130277 to the point where a new drug application (NDA) can be filed, and then sell the company to a larger pharmaceutical looking to commercialize. Based on the data and market research that we conducted, Cynapsus shares offer a potential ten-fold increase in returns.
Outlining Our Thesis
Our work leads us to believe the global market opportunity for APL-130277 at around $750 million. We bullet-point some of the key findings from our research:
Treatment of Parkinson's disease represents a large and substantially unserved market. There are an estimated 1 million U.S. PD patients, 25-50% with significant "off" issues (PDF.org).
The current standard-of-care for PD is levodopa/carbidopa. Levodopa has a short half-life (60-90 minutes) even in the presence of carbidopa, and its effect begins to wane after 1.5 to 2.0 hours post dose (Brooks, D, 2008).
Dosing dynamics for Levodopa are challenging (Schapira et al, 2009). Too much drug (or too frequent dosing) leads to dyskinesia and too little drug leads to increase "off" time (bradykinesia / akinesia).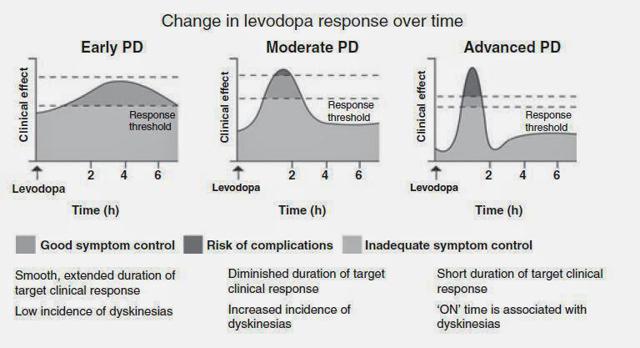 Source: Schapira et al, 2009
The range between the maximum tolerated concentration (MTC) and minimum effective concentration (MEC) defines the therapeutic window.
The therapeutic window for Parkinson's disease patients rapidly closes (narrows) as patients gain experience with Levodopa use (Olanow et al, 2006).

Source: Olanow CW et al, 2006
Apomorphine is a highly effective approved rescue medication for Levodopa "off" time in PD patients experiencing a narrowed therapeutic window to levodopa.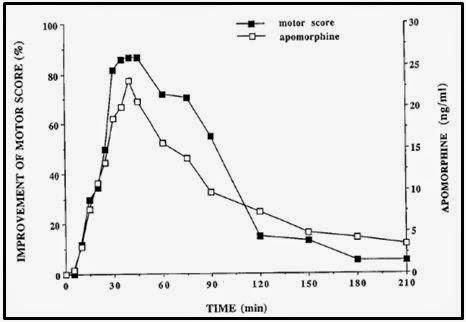 Source: Durif F, 1993
Subcutaneous injectable apomorphine, sold in the U.S. as Apokyn®, is a horrible impractical and inefficient drug, flawed by its delivery system and quick peak-to-trough pharmacokinetic profile.
For example, the Instructions For Use for Apokyn® is 27 pages long, and consists of steps that logically seem impossible for the frozen / rigid PD patient to complete. Self-administration of Apokyn® is nearly impossible, and thus places undue burden on the healthcare system.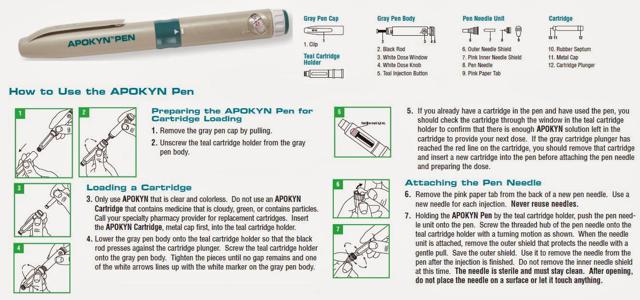 Source: U.S. WorldMeds, LLC 2014
As a result of the impracticality of subcutaneous apomorphine, sales are low at only around $70 million on a global basis. Patient and physician acceptance is poor.
Developing a sublingual formulation of apomorphine has a high chance of success given the excellent coverage of the therapeutic window seen in the CTH-103 and CTH-104 trial results.
Data from the CTH-103 study suggests that APL-130277 may offer a dramatically lower side effect profile and longer duration of action when compared to Apokyn®.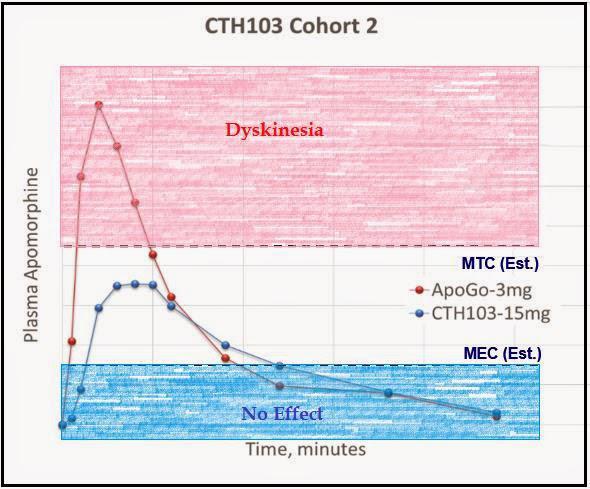 Source: Zacks SCR / Cynapsus Therapeutics, Inc.
Data from the CTH-104 study suggest that 25 mg APL-130277 can provide apomorphine plasma concentrations above the MEC for roughly 2 hours, an estimated doubling of the therapeutic effect vs. approved formulations of subcutaneous apomorphine.
Data from the CTH-103 and CTH-104 study suggest safety and tolerability consistent with limited exposure above the MTC.

Source: Cynapsus Therapeutics, Inc.
Oral irritation has been an issue inhibiting development of sublingual formulation of apomorphine in the past. However, Cynapsus's new formulation is a thin film strip, designed to maximize surface area on the tongue and facilitate rapid yet smooth and consistent dissolution. The apomorphine active ingredient is buffered to minimize oral irritation. In May 2014, the company announced preclinical results showing no buccal mucosal irritation with APL-130277 in multi-dose animal studies.
This improved profile should lead to a dramatic increase in market penetration. Company sponsored neurologist surgery (n=500) suggests 7.5-fold increase in penetration.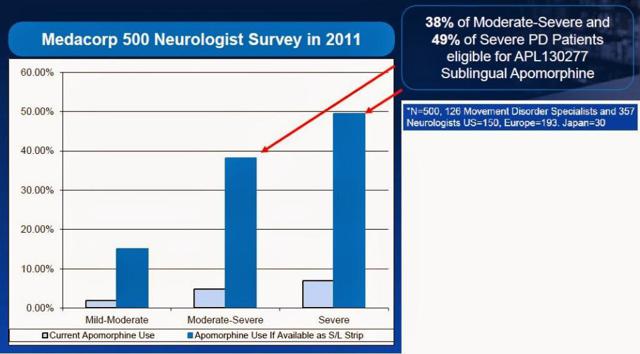 Source: Cynapsus Therapeutics, Inc.
For the purpose of our financial model, we assume only a 2.5-fold increase in penetration.
Priced at only a modest premium to the injectable formulation, APL-130277 is a ~$400 million U.S. revenue opportunity at peak.

Global peak sales could hit $700 million. This would be a roughly 10-fold increase from sales of the injectable. There is clear precedent that moving from an injectable to oral formulation will increase sales by this level.
For example, Imitrex (sumatriptan) sales in 1994 totaled roughly $165 million. Oral and nasal spray formulations became available in 1995 and 1997, respectively. Sales of the entire Imitrex franchise peaked at over $1.3 billion in 2008.
What's Cynapsus Worth?
Cynapsus has defined a clear exit strategy for shareholders. Develop the drug to the completion of the NDA and then sell the company. All-in costs to develop APL-130277 to this stage are estimated at around $25 million. Cynapsus has a current market capitalization of only $65 million on a fully-diluted basis. Fully-diluted share count would include cash in-flow of approximately $45.1 million from exercised warrants and $1.3 million in stock options. In April 2014, Cynapsus raised $25 million in cash. We believe this is enough cash to fund operations through the NDA filing. We expect no more dilution between now and a take-out.
...On DCF...
We have conducted a 10-year DCF model with first sales posted in 2017, peak sales in 2024, 4% terminal growth rate (patent protection to 2031 at least), 10% cost of goods sold, 10% marketing costs, 25% effective tax rate after approximately $16.6 million in NOLs, and a similar 20% discount rate and 65% probability of approval, we calculate fair-value at $302 million.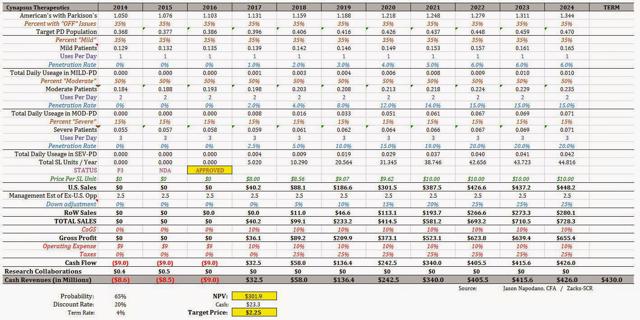 Our DCF analysis yields a fair-value of $302 million. Based on 144.6 million shares (current fully-diluted), we believe Cynapsus shares are fairly-valued today at $2.25 per share. We remind investors that our fully-diluted number would include an additional $45.1 million in cash, raising our fair-value to roughly $350 million, or $2.50 per share.
Our DCF model assumes 65% probability of success. To give investors a sense of what Cynapsus may be worth to a potential acquisition partner in 2016, we undertook two additional valuation approaches, a P/S multiple post NDA approval and a direct comparison to another small-biotech company with a similar asset.
...On P/S...
Biotech stocks are often valued on price-to-sales (P/S). Based on data we've obtained from Yahoo! Finance, the average P/S ratio for some of the industry's largest players (with a few smaller specialty pharma names thrown in) is 4.7x.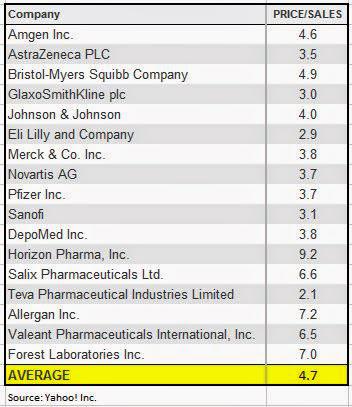 According to Motley Fool, the average P/S ratio for all pharma/biotech stocks trading with a market capitalization greater than $10 billion is 6.4x. To be conservative, we are applying only a modest 4x sales multiple on our peak 2024 revenue assumption. We then discount this value back to 2016 at 20% we calculate a potential take-out value of $662 million. This equates to a take-out price in 2016 of around $4.50 per share.
...On Comps...
Earlier in May 2014, H. Lundbeck A/S acquired Chelsea Therapeutics for $530 million in cash and a contingent value right that could bring the total deal to $658 million. Chelsea's leading product is Northera (droxidopa), a treatment of orthostatic dizziness, lightheadedness, or the "feeling that you are about to blackout" in adult patients with symptomatic neurogenic orthostatic hypotension ("NOH"). The primary causes of NOH are Parkinson's disease, multiple system atrophy, and pure autonomic failure.
Chelsea estimates that approximately 20% of Parkinson's patients experience NOH, or around 200,000 per year in the U.S. The two other causes of NOH, multiple system atrophy and pure autonomic failure, according to the company, add another 50,000 patients to the equation. We think this is an important comparable for Cynapsus because Chelsea estimated peak sales of Northera were around $350 million in the U.S. We peg APL-130277 at a very similar level. As noted above, 25% of the 1 million or so U.S. PD patients experience "OFF" issues, or around 250,000 to 500,000 patients according to PDF.
Chelsea already has FDA approval for Northera, so we estimate they are roughly 30 months ahead of Cynapsus. Lundbeck believed that Chelsea was worth up to $658 million. Cynapsus has a similar market potential going after a similar patient population. That leads us to believe that Cynapsus, in 2.5 years, could be worth $658 million, or around $4.50 per share - exactly what our P/S model predicts.
Conclusion
Above we've outlined our thesis on why we believe Cynapsus has a very significant market opportunity with APL-130277. We already know it's the right drug; now it's the right formulation for the patient population. There is clear precedent for expanding sales based on improved dosing compliance, convenience, and duration of action. This is a low-risk development in our view, and the company is fully-financed to NDA approval. Based on our current DCF model, we believe the shares are worth $2.25 right now. This $2.25 per share assumes full dilution, which would include another $45+ million in cash to the company. In 2016, based on P/S or comparable take-out values, we believe the stock could be worth $4.50 per share.
Disclosure: I have no positions in any stocks mentioned, and no plans to initiate any positions within the next 72 hours. I wrote this article myself, and it expresses my own opinions. I am not receiving compensation for it (other than from Seeking Alpha). I have no business relationship with any company whose stock is mentioned in this article.
Editor's Note: This article covers one or more stocks trading at less than $1 per share and/or with less than a $100 million market cap. Please be aware of the risks associated with these stocks.