By Chris McKhann
Option trading is bullish on the Russell 2000 today, even though the small-cap index remains in a downtrend.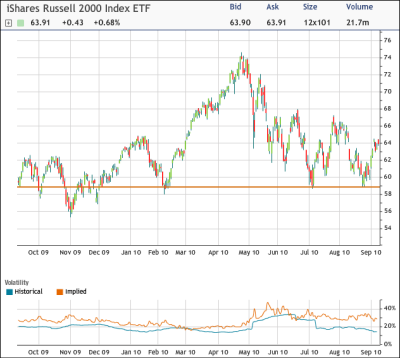 The iShares Russell 2000 (NYSEARCA:IWM) exchange-traded fund is up 0.68 to $63.91 on the day and continuing to rise off its long-term support at $59 (orange line on chart). Despite this run the ETF remains below levels of a month ago, and it has posted lower highs since hitting $74.66.
The IWM options are some of the most widely traded on the market, with an average of almost 300,000 contracts a day. It is unusual to find any option trading above open interest in the fund, but we so see such activity in the October calls.
optionMONSTER's systems show that 20,000 each of the October 64 and 69 calls traded at the same time, both above open interest. The October 64 calls appear to have been bought for $2.30 and the October 69 calls sold for $0.41 in a bullish call spread.
The net debit of $1.89 is the trade's maximum risk, while the maximum gain is $3.11 if shares do break the downtrend and are back above $69 by the October expiration.
(Chart courtesy of tradeMONSTER)